Brouwerij t'Gaverhopke - Zingende Blondine
ABV:

9.8%

Bottle Size:

750-ml

Serving Temperature:

50–57° F

Suggested Glassware:

Chalice, Goblet, or Tulip
Brouwerij t'Gaverhopke's Zingende Blondine is one of the most satisfying Belgian golden ales we've encountered in a while. This is 9.8% ABV, firmly hopped, and just delivering a beautiful expression of its Belgian yeast character: rounded fruit, peppery phenols, vinous warmth and berries. Zingende Blondine has never been sold in the U.S. before, so we're very excited to have had the opportunity to work with the brewery and importer to package this beer in 750-ml bottles and bring it across the pond exclusively for our Rare Beer Club members.
Overall this is a deliciously complex beer from Brouwerij t'Gaverhopke, reminding us a fair bit of both Belgian tripels and the broader strong golden ale category. Zingende Blondine pours a deep golden color, with a clarity dependent upon how gentle you are with the pour; the yeast appears pretty fine, and we'd encourage pouring this one a little gently. Firm white foam, and this left a lot of lacing behind along the sides of our glasses in distinct, kinda epic layers. One gets the idea that this is a particularly well-built beer from the pour alone.
Generous amounts of white pepper are immediately apparent in the aroma. Expressive yeast character appears beside honeyed elements, fresh tree fruits, and JuicyFruit gum. There's a clove-like spice alongside the pepper, and this shows a nicely dry approach despite its potent ABV. We found some herbaceous hops present as well, plus touches of limes and almond.
Lively effervescence and pinpoint carbonation keep this feeling dry and nimble throughout, despite Zingende Blondine's 9.8% ABV. Layers of deep pepper, honeyed malts, and diverse fruit character emerge from those initial sips. The golden core malt character is nicely toasty and crackly, while the core Belgian yeast presence continuously provides pepper and clove-like spiciness. This is a beautifully presented golden Belgian ale, with effortless drinkability and generous amounts of toasty pale malts and spicy yeast expression.
Our bottles' best-by dates indicated these would hold up for around a year or more, but the hop impact will fade a bit with time. That hop bitterness works in tandem with the slightly bitter phenolics of the Belgian yeast to keep this beer balanced, so we just wouldn't let these age too long. Our pairing advice for Zingende Blondine would follow that of Belgian tripels and strong golden ales: let that effervescence cut through the fattier aspects of rich cheeses, charcuterie, or seafood. Maybe a creamy cheese and proscuitto, or lemon-butter scallops.
We're excited to highlight two exceptional small Belgian breweries this month, including the particularly scenic Brouwerij t' Gaverhopke in Waregem. The brewery was originally started back in 1994 by the husband-and-wife team of Erik Ameye and Christiane Soens in the hamlet of Stasegem. Upon Erik's retirement, Gudrun Vandoorne and Bruno Delrue started to run the brewery in October of 2007. Brouwerij t'Gaverhopke saw a significant expansion in 2012 with the installation of a brewing system capable of producing 1,000-liter (8.5-barrel) batches at a time. The brewery relocated to a scenic new location in 2015, moving into the culturally preserved Goed te Nieuwenhove farmgrounds in Waregem. This small, traditional brewery in Belgium now also includes a beautiful courtyard, along with a bouncy castle for the kids.
Nieuwenhove in West Flanders was first mentioned in literature in 1403, with Nieuwenhove Castle being built around 50 years later. The castle's courtyard—the key grounds of current-day Goed te Nieuwenhove—were mentioned in writing back in 1533, when it was merely a wooden structure. After being sold to the public in 1799, the castle eventually burned to the ground and was in turn used to expand the existing farm. Excavations occurred in the 1960s and 70s to unearth what remained of the historic Nieuwenhove Castle, the city of Waregem purchased the site in 1990, and the gatehouse saw restoration in 1995. The current facilities include the courtyard and gate, a barn and stable, wagonhouse, and restored pigeon tower.
The historic underpinnings of Brouwerij t'Gaverhopke's current location serve to match the brewery's products: built around a strong core of more traditional Belgian triples and blonds and the like, but not afraid to build on the past, with releases like a Belgian double IPA and a 12% brown beer. Our featured beer this month, Zingende Blondine, highlights their ability to produce incredible Belgian classics. For those lucky enough to be able to visit the brewery anytime soon, you can enjoy sandwiches and croques, fresh ice cream, and a wide variety of house beers. The brewery's open every Saturday and Sunday starting at 3pm, with extended hours that vary seasonally. For more info, head on over to tgaverhopke.be/Main-EN.html.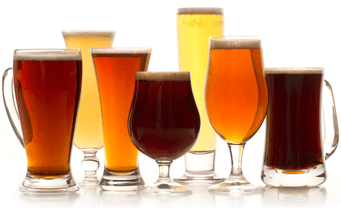 Unmatched Variety by style, brewery & country
Choose from Five different Beer Clubs offering unmatched variety by brewery,
country of origin, and beer style to suit your specific tastes.
DISCOVER OUR FIVE CLUBS