Brouwerij The Musketeers - Troubadour Westkust
ABV:

9.2%

Serving Temperature:

38–50° F

Suggested Glassware:

Snifter, Tulip, or Pinot Glass

Black Imperial IPA, brewed with 100% Belgian 'Westkust' hops. Dark and bitter ale with hoppy flavours. Refermented in the bottle. –Troubadour Westkust label
We always look forward to announcing our Rare Beer Club exclusives—as these, more than any other aspect of the club, encapsulate our favorite aspect of tracking down featured beers: discovering beer experiences that our subscribers otherwise generally wouldn't get access to. This time around, we managed to secure an allotment of the limited Troubadour Westkust: a black imperial IPA influenced by an assertive Belgian yeast strain. This one's only previously appeared in the U.S. once before, a few years back. Aside from this allotment for The Rare Beer Club, their importer doesn't expect for there to be enough for any further U.S. distribution.
Drink up. Enjoy this one. (We might not get another opportunity for a while.)
This poured a deep, dark chocolate-brown color, clear at first before transitioning to murkier territory toward the bottom from the bottle conditioning. Like dense wood, with a softer tan head atop, which quickly fades into a persistent perimeter of tiny-bubbled foam. This isn't as dark as many black IPAs, with that brown hue coming through as a secondary caramel note.
The dark specialty-malt additions seem to impact first, offering up well-roasted elements via chocolate and coffee notes, a nice undercurrent of a vanilla-chocolate interplay, and then, of course, hops: bright, citrusy, herbaceous bittering qualities that come through in surplus. It's a potent aroma, showing off both that depth of malt character and just how many hops they managed to stuff into this thing. It comes across as piney at times, sometimes like spearmint. There's a chocolate-and-peppermint match that appears; plenty of apple and pear fruitiness. A prominent spiced quality develops as this warms: clove and pepper and some soft allspice.
Despite everything going on in this beer, it can feel almost weightless. (That seems like truly one of the hallmarks of world-class Belgian brewing.) And Troubadour Westkust is certainly lively and well-carbonated from the start: effervescent, nicely trimmed by hop bitterness and peppery spice from the yeast, and with a lean overall feel, despite the density of some of the darker malts. Secondary details—beyond the bottle-conditioned bubbles and Belgian yeast—bring in notes of bitter and milk chocolate, impressive levels of roast and caramel (both very smoothly integrated), and, as above, generous degrees of fruity esters: pear, apple, cherry...
While this is young, roasted malts and coffee tend to lead, while that herbal hop character is firmly, firmly bitter throughout, keeping things zesty into the finish. After about six months or so, you'll start seeing much more volume from those middle-malt notes, as the secondary caramelized note ascends. We'd encourage our Rare Beer Club members to enjoy this one as fresh as possible, though it will still be quite endearing six months to a year or more into the bottling. But the emphasis here is clearest at the onset: a Belgian yeast strain showing off its bold, peppery spice, and a generous dose of Belgian hops, riding high atop toasty dark malt.
For pairing options, look to that core roast and chocolate as starting points for syncing with similarly minded fare: the roasted malts suggesting grilled meat; the chocolate offering up an immediate friendliness to various decadent dessert courses. The trick seems to be getting the herbal hops and spicy yeast bitterness to sync. The herbs and vanilla/clove seem ideal beside roast pork. For fattier fare, the firm effervescence can help cleanse the palate between bites.
"The troubadours of the medieval times were young men wandering from village to village, from court to city, bringing with them joy, music, traditions, poetry, history and legends of other places. The 4 brewers believe the Troubadour beer brings the same joy and entertainment to today's drinkers. Proud of their delicious creation, the 4 brewers, or should we say 4 Musketeers, want to extend the rich brewing traditions of Belgium not only to the citizens of Belgium, but to the rest of the world as well, just like the Troubadours from the Middle Ages."–Brouwerij The Musketeers' website (troubadourbeers.com)
Brouwerij The Musketeers started up back in 2000—after four brewing-engineer friends had graduated from KaHo Sint-Lieven, the best-known brewing school in the Flanders region of Belgium. The four friends: Kristof De Roo, Rikkert Maertens, Stefaan Soetemans, Sven Suys (whose names, it's important to note, alphabetize above by both first and last names...). As it turned out, there weren't a ton of brewmaster gigs in Belgium for brewing-school graduates, and the four friends decided to pool their resources. Finding kinship with the Musketeers of France, they found a name for the new brewery they would open together. The Troubadour Blond led the show—fruity, hoppy, refreshing ale at 6.5%—kicking off the Troubadour line.
That line has since expanded to include a diverse range of Belgian hybrid offerings that head far beyond traditional blonde ale. (We've been digging them at the office, most especially the featured Westkust.) Troubadour Obscura is essentially a Belgian stout, combining chocolate and roasted malts with softer vanilla tones. Troubadour Magma combines main elements of American-style IPA with those of a Belgian tripel. See also: that Troubadour Imperial Stout. If you find yourself digging Troubadour Westkust as much as we did, check out their others.
By Ken Weaver
One doesn't really come across many Belgian-styled black IPAs, let alone imperial ones. It's not often (given what I do for a living) that I find myself drinking a style, weirdo ingredients aside, where I'm like... I really don't think I've had one of these things before, possibly ever. The individual parts are super familiar: Belgium + Black IPA. The combination, a bit less so. These beers often combine firm hop bitterness with assertive Belgian yeast strains (offering notes like pepper, clove, vanilla and fruit). Occasionally there's dark chocolate, or caramel.
Aside from the Troubadour Westkust, there aren't many options of this sort available in the states. Brasserie de la Senne's Brusseleir Zwet IPA might be most common, and I would be inclined to try anything from the folks who made Zinnebir and Taras Boulba. De Struise in Oostvleteren released a barrel-aged blend along heftier lines: imperial IPA + imperial stout.
Ooh, also: De la Senne does another black IPA called Black in Japan, which I have had now that I'm looking at the thing: a Brussels-born black IPA that's crisp, toasty, and nicely bitter. Brussels Beer Project also does a "Belgian Black IPA" called Dark Sister, which is kind of a weird name and it may or may not be available outside of limited parts of Europe and Asia.
As far as options from elsewhere: Sierra Nevada's Beer Camp series featured a Belgian-style Black IPA a while back, but that one seems pretty much kaput. On a smaller scale, there are at least a few dozen examples of Belgian-style black IPAs brewed in the U.S., so keep an eye out if you dug the Westkust. Also of particular note: Great Lakes Brewing (the Ontario one) has a beer that's apparently called Only 30: The Only Black Belgian Milk IPA in Existence.
There is also, as you may have guessed, an imperial version.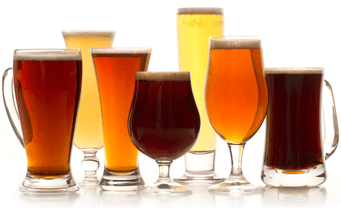 Unmatched Variety by style, brewery & country
Choose from Five different Beer Clubs offering unmatched variety by brewery,
country of origin, and beer style to suit your specific tastes.
DISCOVER OUR FIVE CLUBS