Brouwerij Van Eecke - Poperings Hommelbier - Fresh Harvest Limited Edition 2015
ABV:

7.5%

Serving Temperature:

44–52° F

Suggested Glassware:

Tulip, Goblet, Chalice or Pinot Glass

There's a particular friend of ours who pours like his arm's broken—causing egregious foam, kicking up sediment, ending up with just a tiny sliver of beer in his glass. It's terrible to watch. This beer… Well, it might pour a bit foamy. Try not to be like our friend.
Per earlier: the label mentions this will be at its peak around June 2016.
Keep in mind that this is brewed only once a year, and it's in pretty short supply. Give it a bit of time to settle and chill down post-arrival. Our Rare Beer Club members will be enjoying a significant chunk of this beer's U.S. allocation—so maybe include a friend/loved one/trusty UPS driver when you're checking it out. Compare your notes to ours below, or just scribble on them with crayons while sipping on this. Whatever brings out Hommelbier best for you.
I'LL JUST YELL OVER THE CRAYONS.
This beer looks like magic juice. Honey-golden approaching orange, pretty much nectar, and an enormous amount of bright white foam capping things, essentially filling the glass up with a billowing cloud. NOTE: this may head further into orange-amber territory, if you jostle the bejesus out of it like a certain someone. Still: It's one of those perfect-10 pours regardless. A bold, toasty white-pepper core emerges from the aroma as soon as this is poured.
The pepper surge is soon met by herbal and mineral notes, likely courtesy of the hops. Clove spiciness lands as well, against a soft backdrop of honeyed sweetness and caramelized sugar. Aspects of this had us thinking things like Tripel Karmeliet, honeyed and peppery, while the saison-y core and herbaceous hops added a whole different dimension. The aroma: inviting.
This feels like a fancy pillow when it opens up. Immersive carbonation, with dense channels of honey and dough and pepper carried along by the bubbles. This is bottle-conditioned, and finely carbonated for it. The hops still produce a significant presence of herbs and bitterness, working alongside the assertive yeast strain's white pepper and clove. But our focus also hits on those rounded notes at the core: vanilla, toffee, dried dark fruits. There's lots of space to explore here, particularly as caramelization increases with age. A beautifully crisp beer out of Brouwerij Van Eecke, but with complex honeyed malt character and generous herbal hops.
Especially if you dig the standard Poperings Hommelbier, we think you're going to love this one. Our bottles' best-buy date indicated we should be drinking up before 2018—but it does allow for a year or two of cellaring for those looking to see how this ages. Hops are fleeting, of course, so if you're digging those elements, drink up. For pairing opportunities: the honey and herbal qualities seem prime for a fresh goat's cheese, or alongside juicy roasted chicken.
1624 Watou, Flanders fields, even before Belgium was born, we already brewed in our traditional family brewery. 1981 hommelbier became the ambassador of the Poperinge Hops (which is called hommel in our local dialect). 2015 The mild summer with an occasional shower has marked this exceptional ale with a unique aromatic hop taste, at its best around June 2016. Ingredients: water, barley malt, hops, yeast. –Poperings Hommelbier FHLE 2015 label notes
Our featured Poperings Hommelbier Fresh Harvest Limited Edition 2015 is, as some of our members will recognize, a different take on the classic version (Poperings Hommelbier). The latter's just a brilliant beer—one of those pitch-perfect Belgian offerings that you have got to try at least once along the winding journey. This vintage is particularly rare stuff, brewed only once a year, with only around 175 cases making it into U.S. distribution as of late.
Brouwerij Van Eecke traces its lineage back to 1624, when the city of Watou was granted the status of an earldom—and, most importantly, the castle of Watou had a brewery added to it. In 1795, the brewery/castle was plundered and burned down during the French Revolution, to be rebuilt by a local farmer in 1820 with the slogan (translated): "Revolt all you want, but we still need beer." Amen to that. The Van Eecke family became involved with the brewery in 1862, becoming its new owners by marriage, and began to brew "top-fermenting country ales." It maintained a significant local importance that began to expand after World War II.
In 1962 the brewery was inherited by the Leroy family, a respected brewing family currently in its seventh generation of brewers. The brewery soon began international export. In 1981, the classic Poperings Hommelbier was specially created for the Poperingse Hoppefeesten, a hop-harvest celebration occurring every three years (mark your calendars for the next one in 2017!). It caught on quickly, started winning international awards, and things took off from there. As a more recent special tribute to the hops of the region, the brewery developed this special take on Poperings Hommelbier: brewed with just-harvested hops from Poperinge.
"Hommel," keep in mind, is the local dialect's word for hop.
Master Brewer Luc Lignel is his family's third generation at the brewery, and he created this special Fresh Harvest Limited Edition 2015 release along with brew master/owner Hendrik Leroy and brew master Thomas Duyck. It's brewed with four hops from the region: Saphir, Magnum, Challenger and Brewer's Gold, all added shortly after harvest. This limited-edition release was dry-hopped with fresh Saphir hops for three weeks, then conditioned with added yeast and sugar to referment in the bottle. It's a remarkable, one-time offering from a deeply rooted Belgian brewery, and we're looking forward to getting this one into the hands of our Rare Beer Club members. Do keep an eye out for other great releases from these folks!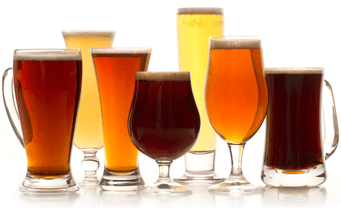 Unmatched Variety by style, brewery & country
Choose from Five different Beer Clubs offering unmatched variety by brewery,
country of origin, and beer style to suit your specific tastes.
DISCOVER OUR FIVE CLUBS