Brouwerij Van Steenberge - De Garre
ABV:

11%

Serving Temperature:

50–57° F

Suggested Glassware:

Chalice, Tulip, Goblet, or Pinot Glass

We love tracking down beers like Van Steenberge's De Garre for The Rare Beer Club, as this is currently seeing minimal availability stateside—which is a shame for how utterly delicious and drinkable this beer is. De Garre has very light distribution at the moment, as bottles are only available in Texas in small numbers and draft distribution is limited to like three accounts.
It's pretty rare stuff. Drink up and savor!
De Garre (along with appearing in a strikingly designed package...) pours without complaints as far as we're concerned: massive head that's a light shade of tan, long-lasting, and leaves no lack of thick lacing behind. We were trying out the newly released Riedel Veritas beer glasses when De Garre crossed our tasting panel, and this showed beautifully: honey-golden near its bottom, deepening to darker orange and amber elsewhere. Initial aromatics are already just a joy to dive into: striking apricot and vanilla, spicy pepper along with a warming, vinous note of alcohol that goes right along with the spice. There's even a hint of fresh-cut apple as this warms up: crisp and hinting at pear, while robust notes of sourdough bread rise behind it.
There's incredibly well-handled yeast character with vibrant, bitter notes of white pepper and pungent cloves set against juicy, ripe red fruit (cherries to cranberries) and plush details from vanilla to Amaretto. For such an ostensibly "simple" beer (you will note the lack of a laundry list of special ingredients in the style description), it's remarkable how much complexity gets packed into this one. As this warms, the core maltiness expands as well. Soft caramel, at first. Nuttiness and bread as the temperature rises and reveals what De Garre's offering up inside. It's beer that tends to disappear. It's also one that rewards you as long as you're able to keep some in your glass. We could sip this one all night, if our glasses didn't empty so oddly fast.
Beware: At no point does this beer feel anything like its 11%. The alcohol appeared most on the nose for us, but even there it was fluidly integrated as a subtle and warming vinous note. This is impeccably built Belgian beer: seamless, with beautifully developed yeast character.
This is the brewer of Piraat and Gulden Draak, and this particular beer is 11%. Rest assured that a bit of cellar time shouldn't do any harm—though do keep an occasional eye on any of these bottles that you happen to set aside. Pop a little something every six months or so, but we imagine the yeast character on this one developing for some time to come. That said: We dig this fresh and would be hard-pressed to leave bottles to the hands of time. There's plenty of fresh-cracked pepper and vanilla notes here that suggest pairings involved grilled fish, or a variety of seafood. Use those topmost notes—spice, apricots, vanilla—to your advantage.
From the wellspring of great brewing that is Belgium comes the Van Steenberge family brewery. Founded in 1874 by Jean-Baptist De Bruin, the brewery has remained in the family since. Jean-Babtist set up the brewery next to his farm. Despite his marriage to wife Angelina Schelfaut, the couple remained childless – never a good thing for those with visions of keeping the family brewery going. Fortunately, Angelina's nephew, Jozef Schelfaut, had learned the art of brewing, and upon Angelina's death (at the age of 92!), she entrusted Jozef with running the family brewery.
The benefit of being a farm-based brewery is that, in theory, you can produce just about every ingredient necessary for the brewing process. But it's no small feat to do so. These days, nearly all brewers order their grains already malted and already kilned, and their hops already plucked or even pressed into pellet form. But this was not the route that Jozef Schelfaut took. In order to provide for the production of the necessary ingredients, he (admirably) set up his own two-hectare hops field and also constructed a malt house and accompanying oasthouse (the name for a traditional hops drying building). Jozef Schelfaut: builder, brewer, maltster, harvester of hops, and shrewd businessman, able to get his beers featured near and far, helping secure the success of his family brewery.
Jozef's daughter, Margriet, wed Paul Van Steenberge, a chemical engineer who became a professor of microbiology at the Sint-Lievens brewery school in Ghent and at the Agriculture Faculty of the University of Ghent. When Jozef Schelfaut died in 1922, Paul Van Steenberge had gained enough knowledge to take over the family business, and eventually became the mayor of Ertvelde. Being busy on the mayoral front, it was largely thanks to his wife Margriet that the brewery stayed alive, particularly as Paul moved from mayor to senator. Paul's son, Jozef, studied law but still ended up in the brewery, taking over the business after his father's death in 1962. Today, Paul Van Steenberge (II), son of Jozef and grandson of Paul Van Steenberge (I), heads the brewery. He entered the family business in 1978, and in 1985 took over the management from his father.
The brewery produces some very highly acclaimed beers, most quite difficult to find (you may have come across their famed Piraat, a well-hopped, Belgian IPA-style beer, and their world classic Gulden Draak beers). Some of our long-time Rare Beer Club members will recall Witches' Brew: the brewery's delicious (/Halloween-ready) tripel that we featured some years back. This time around: we snatched up one of Van Steenberge's limited-edition, barely distributed products for our members—so, get your bottles chilled, your appropriate glassware ready, proceed to the tasting notes, and dig in to our latest Rare Beer Club pick.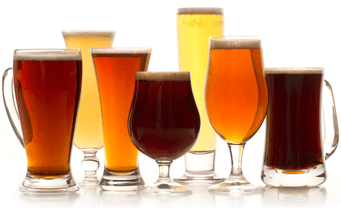 Unmatched Variety by style, brewery & country
Choose from Five different Beer Clubs offering unmatched variety by brewery,
country of origin, and beer style to suit your specific tastes.
DISCOVER OUR FIVE CLUBS