Brouwerij Van Steenberge - Monk's Cafe Grand Cru
ABV:

5.5%

Bottle Size:

750-ml

Serving Temperature:

48–55° F

Suggested Glassware:

Tulip, Teku or Pinot Glass
Monk's Cafe Grand Cru is a very limited one-off release from Brouwerij Van Steenberge, as only about 50 twelve-bottle cases will be making it to the U.S. outside of the club. This one's especially rare, and absolutely delicious. It starts as a blend of carefully aged and fresh tripels, before being aged for six months inside of oak casks. Right before things get bottled, a high-fermented lager gets blended in as well to bring the ABV down to a refreshing 5.5%.
Monk's Cafe Grand Cru is a beautifully presented take on Flemish sour ale, packed with dark fruits and intricate tartness and subtle accompanying caramelization throughout. This pours a caramelized amber color with golden edges, capped by light tan bubbles. It appears pretty clear aside from the very end of the bottle; just be a little cautious with the last portion if you prefer to avoid cloudiness. (We found this a touch more expressive without the yeast.)
There's a ton of aromatic expressiveness right from the start here. Vibrant red fruits and a streamlined, refreshing sourness arrive first, followed by accompanying notes of caramel, cola, and subtle hints of brown sugar. Some examples of Flemish sour ale can feel a bit stale, packed with an abundance of oxidation and more sweetness than sourness, but this one just stood out to us for how lively it presented itself. This has definitely seen some careful aging, but there's a ton of fresh red fruit and engaging malt character that never oversteps. This blended release from Brouwerij Van Steenberge is one of the most engaging examples of the style we've encountered in what feels like forever—and the aromatics come through with all kinds of engaging fruit, nicely orchestrated tartness, and complexity that just keeps going.
The flavor and mouthfeel here are something else. There's just the right level of carbonation, combining an impressive display of fruit, caramelization and tartness with engaging bubbles that makes this feel honeyed but still nimble. At its finest, a world-class Flemish sour ale will combine the robust acidities and caramelized malts into something that magically manages to be incredibly refreshing, as well as one worth savoring. This is one of those beers that works that magic. There's a rich, honeyed character that reminded us of Sauternes, plus additional layers of maltiness beyond the expected, including notes of brown sugar, figs and dates. The subtle touch of influence from oak provides a hint of vanilla and welcome tannic structure.
Monk's Cafe Grand Cru from Brouwerij Van Steenberge is just a beautiful and unique take on Flemish sour ale, remaining quite crisp and drinkable at its 5.5% ABV, while offering up an immense amount of fermentation character, fruit and caramel, plus just a ton of flavor for this modestly sized beer. For us, this is a brilliant showcase of a style that can be tougher to find stateside, and it fully captures how incredibly complex and drinkable these beers can be.
Putting further age on this will depend on your affinity to oxidation. We found a lot of well-developed (but not too far) oxidative characteristics already from the three-plus years of age certain parts of this blend have seen. For how rarely we'll encounter Flemish sour ale of this caliber, we'd be inclined to go with roasted duck—or a traditional carbonnade flamande.
From the wellspring of great brewing that is Belgium comes the Van Steenberge family brewery. Founded in 1874 by Jean-Baptist De Bruin, the brewery has remained in the family since. Jean-Baptist set up the brewery next to his farm. Despite his marriage to wife Angelina Schelfaut, the couple remained childless – never ideal for those with visions of keeping the family brewery going. Fortunately, Angelina's nephew, Jozef Schelfaut, had learned the art of brewing, and upon Angelina's death (at the age of 92!), she entrusted Jozef with running the family brewery.
The benefit of being a farm-based brewery is that, in theory, you can produce just about every ingredient necessary for the brewing process. But it's no small feat to do so. These days, nearly all brewers order their grains already malted and already kilned, and their hops already plucked or even pressed into pellet form. But this was not the route that Jozef Schelfaut took. In order to provide for the production of the necessary ingredients, he (admirably) set up his own two-hectare hops field and also constructed a malt house and accompanying oasthouse (the name for a traditional hops drying building). Jozef Schelfaut: builder, brewer, maltster, harvester of hops, and shrewd businessman, able to get his beers featured near and far, helping secure the success of his family brewery.
Jozef's daughter, Margriet, wed Paul Van Steenberge, a chemical engineer who became a professor of microbiology at the Sint-Lievens brewery school in Ghent and at the Agriculture Faculty of the University of Ghent. When Jozef Schelfaut died in 1922, Paul Van Steenberge had gained enough knowledge to take over the family business, and eventually became the mayor of Ertvelde. Being busy on the mayoral front, it was largely thanks to his wife Margriet that the brewery stayed alive, particularly as Paul moved from mayor to senator. Paul's son, Jozef, studied law but still ended up in the brewery, taking over the business after his father's death in 1962. Today, Paul Van Steenberge (II), son of Jozef and grandson of Paul Van Steenberge (I), heads the brewery. He entered the family business in 1978, and in 1985 took over the management from his father.
Today, the brewery produces some very highly acclaimed beers, most quite difficult to find (you may have come across their famed Piraat, a well-hopped, Belgian IPA-style beer, and their classic Gulden Draak beers). Some of our long-time Rare Beer Club members might recall Witches' Brew: the brewery's delicious (and Halloween-ready) tripel that we featured some years back. This time around: we snatched up one of Van Steenberge's limited-edition, barely distributed products for our members—the highly limited Monk's Cafe Grand Cru.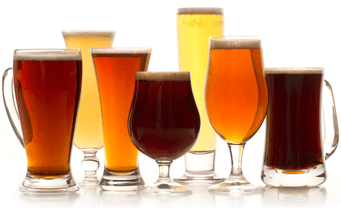 Unmatched Variety by style, brewery & country
Choose from Five different Beer Clubs offering unmatched variety by brewery,
country of origin, and beer style to suit your specific tastes.
DISCOVER OUR FIVE CLUBS