Brouwerij Van Viven - Viven Smoked Porter
ABV:

7.00%

Serving Temperature:

45-50° F

Suggested Glassware:

English Pint Glass or Chalice
Viven Smoked Porter fills our English pint glasses, rendering them a deep dark color that allows almost no light to pass, save for a ruby glow at the edges. This wonderfully dark beer is draped with a fluffy, dark tan head that lovingly clings to the glass as it very slowly melts away. The nose provides a multicultural beery experience—offering up notes reminiscent of sweetish English porter, the chalky-meets-chocolaty dryness of many classic domestic microbrewed porters, that oh-so-characteristic Belgian yeastiness, and even some German rauchbier notes. We got notes of plums, anise, wood, smoke and roastiness, espresso, chocolate, black licorice and a bit of citrus (orange). Look for a slight waft of tart stone fruits as well. This beer has a wonderfully lengthy flavor profile—we found it began with gentle, balancing sweetness, giving way to a much drier, roasty middle, then into a woody, lightly smoky, almost chalky character where notes of espresso and dark chocolate linger before fading out. Look also for distinct flavors of raw oats. With some warmth—and this beer can handle it—we experienced some earthy, mineralized flourishes. The 7% ABV is fairly high for your standard porter, but on par for your typical Belgian brew—and it's wonderfully well-integrated into the flavor profile, showing up less in the flavor and more in the belly as it offers some gentle warming. Rather a rustic brew, yet quite lovely. Lovely and rustic? You bet. Collectively, only about 125 gallons of this beer can be found in bottles elsewhere in the country, outside of what our club members are getting—so enjoy your stash. Viven Smoked Porter will hold up for at least 9-12 months in the bottle, continuing its drive toward full blown dryness, yet the distinctive upfront sweetness is quite nice, so we suggest consuming your samples within 6-9 months. But keep in mind that this is just about the perfect beer to pair with summer grilling—burgers, steaks, smoked salmon, sharp cheddars, thick-cut pork chops, smoked sausages and brisket, or even as an ingredient in marinades—the smokiness and caramelized flavors will complement all manner of grilled foods. Enjoy—summer is upon us—so pick up enough of this fine brew to partner with those grilled foods, and to offset all those paler beers likely to dominate the season.
"Vlaamse brouwkunst." Translation: The Art of Flemish Brewing. Quite a bold statement, given the profound brewing heritage of the Flanders region. Even more so coming from a brewery that was just opened in 1999. But founder Willy De Lobel had a bold notion—that his homebrewed beers could find their way to commercial success and perhaps even transcend the Flemish countryside. His first two beers, a blonde originally called Chapel of Viven, and a rustic brown named Monastery of Viven, reflected the monastic traditions that helped shape the landscape of Abbey-based Flemish beer. But there was a modern dilemma—Mr. De Lobel did not have his own brewery, let alone an Abbey, to brew his Viven beers. So he did the only reasonable thing—he brought them to a scientist brewer. Religious inspirations to be realized through modern science? Blasphemy? Sacrilege? Well, we'll leave that analysis to the philosophers, but there's a similar debate among beer aficionados—as though brewing beer at a brewery other than one's own reduces the authenticity or value of the stuff. Utter nonsense, and something people really need to get over. Through the work of Dirk Naudts of De Proefbrouwerij, many have seen that notion fundamentally dispelled. At De Proef, Dirk and his staff continued to perfect the brewing process of Viven with their creator. Essentially a hobby, given the very small batches that were being produced, it was a demanding endeavor for Willy. In 2003, Mr. De Lobel decided to pass the torch to a young and ambitious entrepreneur. In the little village of Sijsele, in the extreme northwest of Belgium, Willy found an enthusiastic successor in Tony Traen, the son of the local liquor dealer, Cyril Traen, who decided that the Viven beers would be a great addition to their drinks business. Under the Traen stewardship, the Viven beers have undergone several changes: new look, new recipies, and new names; Chapel and Monastry of Viven were baptized as Viven Blond and Viven Brown. And in 2009, a new concept was born, inspired by the desire to create more and unique Viven beers. So many beers and brewers around the world have been influenced by Belgian, even Flemish brewing. The idea occurred to Tony and Dirk that they'd like to apply a twist on that approach, taking Flemish brewing art and applying it to non-Flemish beer styles, within Flanders. With that slant in mind, the pair developed the recipes of Viven Ale (in the vein of an English Bitter), Viven Porter and Viven Imperial IPA (Imperial IPA is practically an obscenity among traditional Belgian brewers). The results are impressive and truly intriguing. For this month's featured beer, we picked up a brand new smoked version of their very tasty Porter—a rare treat indeed. Science at its finest? Art in liquid form? Divine intervention? Yes.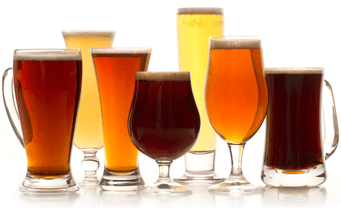 Unmatched Variety by style, brewery & country
Choose from Five different Beer Clubs offering unmatched variety by brewery,
country of origin, and beer style to suit your specific tastes.
DISCOVER OUR FIVE CLUBS