Bruery Terreux - Mélange No. 9 (2017)
ABV:

7.8%

Bottle Size:

750-ml

Serving Temperature:

42–49° F

Suggested Glassware:

Tulip, Chalice, or Pinot Glass
Mélange No. 9 was first created as part of a special blending competition back in late 2013 for The Bruery's Hoarders Society members. Teams were allowed access to a wealth of the brewery's barrel-aged beers, and could add special ingredients as they saw fit. The winning blend incorporated a sour blonde ale and Sour in the Rye, as well as a small amount of the bourbon-barrel wheatwine White Oak Sap (for a touch of sweetness). It also included the special additions of coconut and fresh ginger—added just a few days prior to bottling. The net result is one of the most intriguing sour beers we've crossed paths with in a long time.
Availability-wise: Mélange No. 9 has been exclusively available to Hoarders Society members up until now, aside from about 10 cases making it out into international (non-U.S.) distro. The beer is now retired, with no distibution in 2018 or 2019.
Mélange No. 9 pours a deep, golden, honeyed color, with the overall burnished look of a barrel-aged saison. Lots of effervescent bubbles apparent from the start. There's a solid off-white head present, with firm retention along the edges. Definitely getting a lambic vibe, or a barrel-aged golden sour of sorts, from the very get-go. For sure a layered, coppery look.
Expressive, tart, lemon-forward aromatics lead here. The blend leans into its underlying sour blonde ale and Sour in the Rye components, bringing forth a lot of the best parts there. Lots of accentuating lambic-like funk along with tons of tree fruits, ginger, and strawberries. The ginger addition does great work giving spiciness and crystallized ginger notes. It's mouthwatering from the start. Aroma contributions from coconut and the White Oak Sap components are modest overall, adding a touch of rounding sweetness to that delicious core sour profile. We found primary, long-lasting aromatic notes emphasizing citrus, strawberry, and spicy ginger.
The mouthfeel overall here is exceptional, with vibrant, well-tuned bubbles, and the impact of the White Oak Sap is superbly well integrated underneath the initial impact of tart lemons and ripe fruit. We found layers upon layers of funky, sour ale complexity and acidity, but it's tempered perfectly by that subtle underlying wheatwine. It's surprising how well these parts work together. Potent impacts of strawberry and tart peach—fruity and inviting in the mid-palate, especially—bring forth a generous acidity, but Mélange No. 9 keeps super drinkable and rewarding to explore. The impact of the White Oak Sap is particularly enjoyable to dig into as this warms: subtle but sticky hints of bourbon and barrel char, unexpected but still seamless. A masterfully concocted sour ale—with a very unique expression overall.
Mélange No. 9 will continue to age smoothly in the bottle, but it's very much ready to drink now. That ginger and tartness emphasis is particularly interesting for pairing options. We'd look to fattier meats for this: duck with ginger-plum sauce, or Japanese-style ginger pork.
One of our two featured beers this month comes from The Bruery's lineup of sour and wild ales, which was formally split off into the Bruery Terreux line as of April 2015. These beers are inspired by the traditional practices of Belgian brewing, and each spends some time inside oak barrels in the presence of wild yeasts and bacteria—creating some of the most delicious tart beers we've managed to track down stateside. This month we've secured an allocation of Bruery Terreux's Mélange No. 9—an incredibly detailed blended sour ale that was previously only available to The Bruery's Hoarder Society members (minus about ten cases that headed out to non-U.S. markets). This blend includes multiple sour ale components, along with just a touch of The Bruery's White Oak Sap (a bourbon-barrel wheatwine) adding further depth.
The Bruery Terreux line has been putting out some hugely expressive releases. Brazo Brazo is an oak-aged American sour ale packed with Brazos blackberries, while their Goses are Red is a rosé-gose hybrid combining the wheat, coriander, and salinity of the gose style with oak-foeder aging and grape additions. S'more BBLs (16.2%) is one of the highest-ABV sours out there, blending the brewery's Tart of Darkness and Black Tuesday and adding in (you know, for good measure) marshmallows, cacao nibs, graham crackers, and vanilla. And the recently released Stream Crossing, a mixed fermentation saison aged in oak foeders, is a collaboration beer with Green Cheek Beer Co. that combines wort first brewed separately at each brewery.
The Bruery Terreux line, as a whole, is where a lot of the Bruery's creative energy is heading these days, and we're excited to get their super-limited Mélange No. 9 into the hands of our Rare Beer Club members. For folks around or traveling to the Anaheim, California area, the Tasting Room at Bruery Terreux is just a few miles away from The Bruery's main location in Placentia, and it offers an up-close view into what Bruery Terreux is developing on the sour and wild-ale front. Currently open all week aside from Mondays, the Tasting Room at Bruery Terreux offers up to 48 different beers at a time, offerings tours on Saturday and Sunday. To learn more about The Bruery and Bruery Terreux, head over to their site at thebruery.com.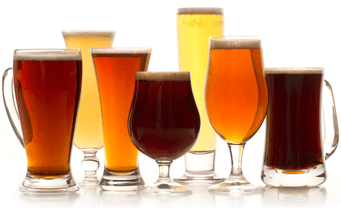 Unmatched Variety by style, brewery & country
Choose from Five different Beer Clubs offering unmatched variety by brewery,
country of origin, and beer style to suit your specific tastes.
DISCOVER OUR FIVE CLUBS