Calicraft Brewing Company - Ursa Major – The Great Bear
ABV:

10.0%

Bottle Size:

750-ml

Serving Temperature:

45–52° F

Suggested Glassware:

Tulip, Snifter, Goblet
We've been looking forward to getting this special, exclusive release from Calicraft Brewing Co. out to our members. We featured their sparkling ale Buzzerkeley a few years back, then followed that up more recently with their Reserve Series Rosé, and the highly positive response to those beers had us wanting to circle back again at the next good opportunity. We're glad that opportunity has finally presented itself.
The Calicraft Ursa Major, named after the constellation of the northern sky, pours a deep, dark, and intense opaque brown with a sturdy tan head. The base beer is somewhere between an imperial stout and a double brown ale: not as roasty as a stout, but more robust that a brown ale. It is infused with cold brew coffee made with beans that were custom blended and roasted specifically for this beer by friends of the brewery at Rooted Coffee Co., also in Walnut Creek, CA. It is added at the end of fermentation and brings out aromas of cold brew, cacao nibs, and vanilla as it's poured. As we lift the glass to our noses the aromas are further supported by notes of caramel, toasted nuts, and dark fruit. There is a subtle earthiness that comes through from the coffee as well, giving more depth and character to the aroma. As we swirl the beer in our glasses we lean in again looking for other intriguing aromas and we find them in very subtle hints of spices such as nutmeg, cardamom, and black pepper.
On the palate the coffee flavors in the Calicraft Ursa Major are prominent and accompanied by flavors of dark cacao nibs, toasted grains, dark caramel, and firm bitterness. Dark brown sugar comes in and out of the picture as does a hint of molasses and vanilla bean. The spices found in the aroma are less evident on the palate but haven't disappeared completely, adding nuance to the flavor profile. The mouthfeel is full-bodied and creamy, with a smooth mousse and drawn-out finish. The finish exhibits a finely layered sweetness that lingers on the palate, but not in a cloying fashion. We sipped this beer slowly to allow for slight warming to bring forward as many flavors and aromas as possible and this beer didn't disappoint. With each sip we were able to appreciate the beer's complexity and were handsomely rewarded for taking our time with it.
The Calicraft Ursa Major can be enjoyed now or cellared for years to come. We suggest stashing some away for two to three years, but recommend checking in on a few bottles every six months to track its maturity. For pairing options, definitely look to chocolate and/or coffee infused desserts with fresh black fruit and berries, espresso rubbed beef roasts, blackened cajun chicken, or your favorite backyard bbq. It's also complex enough to have as an after dinner drink as you relax and reflect on the day.
Calicraft Brewing Co., in Walnut Creek, California, should be a familiar name for many of our members. The brewery's been open since May of 2012. It's the only brewery we can think of that started with a sparkling ale as its flagship.
The brewery's founder, Blaine Landberg (alias: "Passionate Brewer"), grew up in Willows, California, up near Chico and its landmark of Sierra Nevada. His family had a holiday tradition of seeing which adults could bring along the most interesting beers, and Blaine's homebrewing Uncle Gary would bring over his own creations, featuring everything from labels with kangaroos ("Hoppin Good Time") to others with names like Your Mom's Favorite Pale Ale. The young Blaine Landberg was enthralled.
The original prototype for what later became Buzzerkeley was first brewed in a UC Berkeley dorm room, back when Blaine was 19 years old. The name of the impromptu brewery itself: Buzzerkeley Brewing Company. It basically existed in his dorm kitchen under cover of night. That initial batch began its fateful journey as a Duvel clone with California Starthistle honey, the initial results of which ended up far too sweet. Being pre-internet homebrew forums, Blaine asked around, trying to save the batch. Someone suggested trying Champagne yeast.
Blaine went into town and bribed someone to buy him Champagne yeast. As tends to be the case, the bribed individual didn't end up being the most diligent of shoppers, and he ended up buying the wrong kind of Champagne yeast. Beggars can't be choosers, so Blaine pitched it anyway. The result, somehow, ended up as one of the best beers he'd ever tried.
Fast-forward 20+ years, through iteration upon iteration of figuring out how that first batch worked and perfecting others. Key details include: (1) honey variety makes a huge difference and (2) fermenting with Belgian Trappist yeast and Champagne yeast separately also makes a big swing in the final flavor profile. Today, their final version of Buzzerkeley is actually done in two batches: one with a Belgian strain, the other with a Champagne yeast, blended one-to-one. Those two details made a huge difference in rediscovering the magic of that first batch.
Other highlights include their The City IPA, created with nine varieties of hops as well as California blackberry root and orange peel bitters, and Chez Panisse, their collab with Alice Water's famous Berkeley establishment using organic anise hyssop, Meyer lemon leaf, and lemon verbena blossom.
For those of you living in or visiting the San Francisco Bay Area, Calicraft has a taproom and beer garden in Walnut Creek, which include a variety of beers ranging from light and fruity, to hoppy and juicy, to imperial dark ales, sparkling-ales, and even a range of ciders. Open seven days a week with food trucks available each day. For the latest Calicraft hours, info and release news, head over to www.calicraft.com.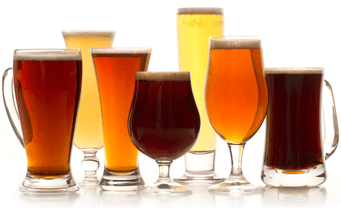 Unmatched Variety by style, brewery & country
Choose from Five different Beer Clubs offering unmatched variety by brewery,
country of origin, and beer style to suit your specific tastes.
DISCOVER OUR FIVE CLUBS