Cambridge Brewing Company - Sgt. Pepper
ABV:

6%

Serving Temperature:

50–56° F

Suggested Glassware:

Tulip, Tumbler, or Pinot Glass

We consider ourselves lucky to have been able to secure enough of Cambridge's Sgt. Pepper for our Rare Beer Club members this month. This beer sees very limited U.S. distribution on the whole, with only 160 cases sold throughout the U.S. in 2015. 70% of those went to New York and Massachusetts. In addition, this is the new and improved recipe of Sgt. Pepper (an enormous tweak in our opinion) as well as the very first batch that's been bottle conditioned.
This was brewed with four different varieties of whole peppercorns added to the kettle: pink, white, black and green. In addition to a charismatic Belgian yeast strain, Sgt. Pepper includes Pilsner, CaraVienne and Rye malts, as well as healthy hop additions of Magnum and Spalter.
As the label advises, pour carefully to avoid rousing an excess of the bottling yeast.
This pours beautifully in the glass: a nice, bright orange haze approximating a sunset, capped by billowing off-white foam that fills the upper portions of one's glass. This feels like cloudy nectar—the healthy orange of a spicy saison—while its lingering foam casts persistent lacing. Later pours tend to be cloudier, and we typically preferred early ones, focusing on the spices.
A rich diversity of peppers and bready aromatics lead from the glass, quickly expanding into notes of honey, roasted almonds and ripe apricots. The multilayered spices from hops, yeast and peppercorn additions keep this feeling dry throughout, even as this warms and expands into elements of peach jam and crème brûlée—sweet, creamy, but properly kept in check. A clear feature early on: smooth integration over various spices. And always enough bitterness.
The defining note from various peppercorns is interesting enough to spend some time on, as it remains properly diverse in this final product: the earthy, white-pepper elements of Belgian tripels appearing against deeper, fresh-black-pepper qualities, all soon heading into light heat. Overall, this latest batch felt more expansive on pepper flavor and less overt when it came to the accompanying bitterness than the preceding recipe. This new balance is a major step up.
Many of you have noticed our general proclivity towards saisons here at The Rare Beer Club, and we admit, it's because they're delicious. Cambridge's Sgt. Pepper lands along very similar lines to the broad saison spectrum: a peppercorn farmhouse ale with a reasonably dry core of honeyed cereal and toast, surrounded by generous emphasis on pepper and spice. The touch of tempered core sweetness hints at dried apricots, vanilla, even a note like cinnamon bread.
But the pepper stays at center stage. There's nicely effervescent carbonation here, providing a lift to that underlying, caramelized sweetness. Any contributing bitterness via the Magnum and Spalter hop additions blends into the overarching herbaceous/peppery theme, with the spicy, even lightly fiery peppercorn contributions poking through time and again to provide a welcome, bittering edge. This one stays lean, crisp, hugely expansive, and super-drinkable.
In terms of aging potential: The fact that this batch is bottle conditioned goes a pretty long way. While the ABV's modest at 6% and the fresh-cracked pepper character seems liable to fade with an excess of cellaring time, this should hold up reasonably well with a hint of age. Personally speaking, we dug it fresh—with that crunchy, black-pepper core note at its peak.
For pairing, it's hard to think of a more obvious angle to start from than the pepper. Pair it alongside roasted pork dishes, taking into account its herbal pepper and apricot/peach notes. This also seems reasonably fitted for lighter, flakey fish, in terms of those peppers and herbs. You could do way worse than fish and chips.
We're pleased to be featuring Cambridge Brewing Company's limited-release Sgt. Pepper as one of this month's Rare Beer Club selections. This farmhouse ale with peppercorns was originally brewed for Cambridge's 20th anniversary back in 2009—they were established back in 1989, in Kendall Square, Cambridge—and we (finally!) managed to secure enough of it to let loose upon our thirsty club members. Without spoiling too much of the suprise: there's not very much of this to go around, and we're just getting the newest version of this delicious beer.
Cambridge Brewing Company originally started as a draft-only brewery-restaurant back in 1989, a key player in the Pub Brewery movement since its start. After 22 years of holding out, they finally began bottling small amounts of the brewery's classics back in 2011 by partnering up with nearby facilities like Ipswich Ale Brewery in Ipswich and Mystic Brewery in Chelsea. A Cambridge brewer is always there to direct the brew day, monitor the ferments, dry-hop and, as CBC puts it, "Make sure that the beer we brew in Ipswich or Westminster is indistinguishable from what we brew here at CBC, and of the highest possible quality." It's a contract-brewing situation that deserves to be proud of its methodology and the end results.
We're thrilled when we get our hands on anything from Cambridge Brewing Company. Sgt. Pepper is an exceptional release from these folks—most especially this newest batch. If you like this one anywhere near as much as we did, but sure to follow the brewery on social media for the latest release news. Connect with Cambridge on Twitter and Instagram at @CamBrewingCo.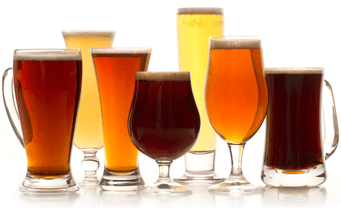 Unmatched Variety by style, brewery & country
Choose from Five different Beer Clubs offering unmatched variety by brewery,
country of origin, and beer style to suit your specific tastes.
DISCOVER OUR FIVE CLUBS