Cerveceria Artesanal BarbaRoja - Barrel-Aged Red Ale
ABV:

9.00%

Serving Temperature:

50-55° F

Suggested Glassware:

Snifter
This big red ale pours a deep amber color with ruby highlights when held to the light, with a big beige head fading to a solid covering and collar. On the nose, expect deep rich caramel notes, blanketed by an aromatic tingle from the hops. Look for notes of pears, over ripened apples, and the faintest possible impression of peat. Sweet molasses, maple syrup and floral notes mingle with wafts of alcohol and dark-skinned fruit, with minor notes of oak and a ghost-like note of vanilla. There is a hefty amount of sweetness implied by the nose, but remarkably, the flavor profile only dabbles in it. Look for notes of fresh grains, and fairly prominent notes of barrel-aged, single malt scotch with scents of orange and notes of candied orange peel comingling in the mix. Interestingly, some notes of Añejo tequila also come through after the beer has had a few moments to warm and breathe, similar to the flavors you might find in an old-world Scottish Wee Heavy ale, but with a heftier hop profile providing a leafy hop character. Expect this beer to finish a bit boozy in the mouth, and warm in the belly. Overall, this is a powerful, complex sipping beer, and another great example of what seems to be a distinctly Argentinean approach to bigger beers; they seem to possess a sort of crossover effect where the flavors begin to approximate flavors of other alcoholic libations, like wine, and in the case of this beer, liquors like scotch and fine tequila, no doubt as a result of being aged for two months in wood barrels. You could pair this with smoky lamb or goat in the Argentine tradition, from the asado (grill), served with Chimichurri (a sauce of herbs, garlic and vinegar, or even schnitzel-steak), but really, this beer is sturdy enough to be enjoyed as a digestif to sip at the end of any meal, or as a nightcap to be enjoyed in the winter months (go ahead and age a bottle at 50-55° F) until winter rolls around. While not bottle-conditioned (where some yeast is left in the bottle to permit maturation in the bottle) this beer will hold up just fine for 6-12 months.
South America is a land of great natural resources. Can beer be considered a natural resource? Well, we see no reason why it can't, so add that to the list because there's a burgeoning craft brewing movement afoot there. Notably, Brazil and Argentina have been making huge strides in bringing better beer to what has been a beery landscape starkly at contrast with the physical terrain of the region. Bland, lifeless, one-dimensional lagers have long been the only option in a region full of astonishing mountain peaks and lush deep valleys. Patagonia, in fact, in southernmost South America, is home to one of the richest sources of biodiversity in the world. Such breathtaking scenery may have been part of the underlying reason why Ferdinand Magellan decided to stop there during his 1520 circumnavigation of the world. Imagine his surprise when he encountered native "giants"—people reportedly 12 to 15 feet in height. Where this fanciful account came from we can only imagine; it might have been that these natives, being an average of six feet in height, seemed frighteningly and abnormally tall given the Spaniards' average height of 5'1". A 20% height difference might have been enough to set the stage for this over-appraisal of stature, or perhaps it was a means of crafting a legend to justify financing for would-be future explorations. In any case, this land of the giants remained an enduring legend in the minds of Europeans, even explorers that encountered Patagonian natives on separate voyages, for the next 250 years. It was the chronicles of Magellan's voyage that gave the region its name—the etymology remains suspect, but it seems to be derived from the word 'pata,' meaning foot, with Patagonia translating roughly as "land of the big feet" to describe these people who were supposed to be twice the normal human height. So with the local craft brewing revolution afoot, will Patagonia become home to the new giants of South America's microbrewing revolution? Time will tell, but the legend is beginning with the likes of brewing outfits owned by Antonio and Vivian Mastroianni. Cerveceria Artesanal BarbaRoja (the Red Beard Artisanal Brewery), located just outside of Buenos Aires, has been brewing up authentically Argentine beers since 1998. Located in the town of Escobar, Argentina's flower capital, the landscape begs to be consumed alongside their brews. And you can quite literally do just that if you pay BarbaRoja a visit. Patagonian hops and malts are used in their beers, and the brewery is a veritable paradise with roughly five acres of grounds to explore. Visitors frequently take up temporary residence here in the various cabanas available for lodging during summer months, partaking in delicious local cuisine served up in the Mastroiannis' on-site restaurant. A family-owned, resort-style, microbrewing paradise? Magellan is not alone in recognizing there's a legend being borne of this land. If you'd like more information about the brewery, visit their website (in Spanish only at this time) at http://www.barbaroja.com.ar.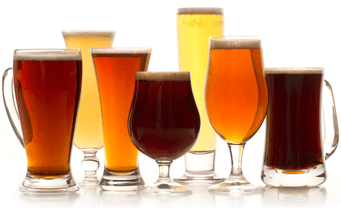 Unmatched Variety by style, brewery & country
Choose from Five different Beer Clubs offering unmatched variety by brewery,
country of origin, and beer style to suit your specific tastes.
DISCOVER OUR FIVE CLUBS