Cigar City Brewing - El Monstruo Lúpulo
ABV:

9.5%

Serving Temperature:

50–59° F

Suggested Glassware:

Snifter, tulip, or smaller nonic

Hops:

CTZ, Pacific Jade, Chinook, Citra, Mosaic, HBC 366 (Equinox), ADHA 527, ADHA 529
Cigar City's new Rare Beer Club-exclusive IIPA, El Monstruo Lúpulo, is a hefty, highly focused beer which has spent some careful aging time on both Spanish cedar and spruce – the result going way beyond the imperialized version of the cedar-aged Jai Alai we first imagined. But it still sings like that beer does: revolving around the careful marriage of wood and hops.
The pour color approximates copper, capped by a whitish head. (The haze depends on how careful one is with the initial pours.) And the core focus of this beer becomes apparent from the aroma forward. The Spanish cedar brings characteristic notes of white grapefruit, which match up perfectly alongside the grapefruit-inclined additions of New Zealand Pacific Jade hops. Those potent grapefruit notes are followed by white pepper and sandalwood qualities: secondary notes via the generous cedar. For the piney elements from spruce, Chinook hops bring similar, forest-conjuring aspects. Cedar beside Pacific Jade. Spruce alongside Chinook.
Those are only two of El Monstruo Lúpulo's hop additions, but these combinations form an important pair of top notes throughout this beer. But, beyond pine and grapefruit, there's an expressive (and intentional) Florida-conjuring angle of tropical fruit, tangerine, and orange as well—opening up and expanding as one's glassful is allowed to warm. This beer also has five different hop varieties added during the dry-hop window, with Citra offering a pithy, citrusy punch; HBC 366 (an ex-experimental hop now called Equinox) provides the hints of mango; and a variety called ADHA 527 adds some additional qualities of raspberry and blackberry.
This smooth hoppy monster features ADHA 527 and 529 hops, in fact, the latter bringing in some orange creamsicle and sweet orange peel notes (hitting those aforementioned Floridian aspects). ADHA stands for the American Dwarf Hop Association (which develops hops that can grow on lower trellises than traditional varieties), and the two experimental varieties used here were hand-selected by Cigar City's Wayne Wambles during his recent hop-farm travels.
Black raspberry. Orange creamsicle. The beer made us appreciate the diversity of hop flavors and aromatics even more than we normally do…which is not a small amount. The core malt complexity provides a soft, secondary underpinning of toast and very light toffee, but overall this beer maintains its pinpoint focus on exactly what we were hoping for via this collab: that exceptional mingling of charismatic wood and hops. We received that and a great deal more.
This isn't a beer style meant for aging, and the more delicate hop aspects will likely be among the first things to go from bottles as time passes. We'll be drinking ours fresh, appreciating it as a delicious nod in the direction of that Jai Alai that first hooked us. As far as food pairings are concerned, we couldn't help but want to place those cedar aspects beside grilled salmon.
In early July, MonthlyClubs.com, home of The Rare Beer Club, celebrates its 20th anniversary. As many of you have already heard, two very special beers have been created specifically for our members of The Rare Beer Club—because, what better way to celebrate? We also held a national naming contest to determine the final identity of each collaboration beer, and it was El Monstruo Lúpulo that was picked as the best one for our Cigar City collaboration beer (as chosen by the public out of hundreds of name entries).
Also: keep in mind we've still got our 20th Anniversary beer with The Bruery coming up later this year as a special offer: a hefty-but-deft blend of their bourbon-barrel anniversary beer (known as Bois in its most recent release), Smoking Wood, and Black Tuesday. Actually…this has been our most productively exclusive year to date. By the end of the year, we expect six out of our 24 featured beers will be available exclusively to Rare Beer Club members.
When it came down to deciding what world-class breweries we wanted to pair up with for a 20th Anniversary collaboration beer, we managed to eventually narrow things down to just a few. Cigar City has captivated us since we first tasted their Humidor Series (cedar-aged) Jai Alai IPA, which is just a hugely endearing combination of Spanish cedar and pungent grapefruit-like hops that match the woody notes. We couldn't help but wonder, What if we made that one…bigger?
Kris Calef, our president and founder, traveled out to Cigar City to work out the final recipe details with Wayne Wambles and their brewing crew out in Tampa. The concept started with the goal of creating a heftier, cedar-aged, complexly hopped beer in the vein of that cedar Jai Alai, which we chose as the first Cigar City beer to be featured in The Rare Beer Club. Then, we thought maybe it should include a second wood type as well. And then things kept going.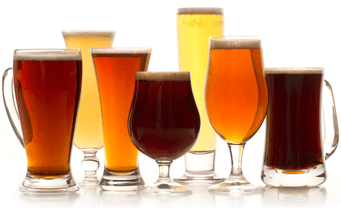 Unmatched Variety by style, brewery & country
Choose from Five different Beer Clubs offering unmatched variety by brewery,
country of origin, and beer style to suit your specific tastes.
DISCOVER OUR FIVE CLUBS