Cigar City Brewing - José Martí Oak Aged Imperial Porter
ABV:

8.00%

Serving Temperature:

45-50° F

Suggested Glassware:

Pint Glass, Mug or Snifter
This beer bears the name of 19th century Cuban national hero and literary figure José Martí, a key leader within the fight for Cuban independence from Spain. His eloquence and boldness motivated many to cry out for a better way of life for themselves. We think his namesake brew from Cigar City Brewing could have a similar effect on Floridians looking to get out from beneath the thumb of the big beer conglomerates. Pours a very deep dark brown color, as expected for an imperial porter. The head that develops is thick and tan, relatively sticky, and rapidly dissipates to a thick collar. The nose offers a complex mélange of notes; expect dark chocolate, vanilla, tangerines, floral aromatics, coffee, sweet bread, vanilla and a touch of char. Black licorice is also present, along with considerable booziness. In a nutshell, smells like a mocha that's been filtered through a bed of flowers and citrus fruits, and spiked with alcohol. On the palate, this is a firmly grounded porter—notes of coffee and chocolate are quite big—but the oak imparts ample notes of vanilla, and rather vocal suggestions of bourbon whisky, which become especially prominent as the beer warms. Look for a flourish of cherries, the way they can show up in aged bourbons. Finishes with lingering semi-sweet chocolate, caramel and citrus bitterness with hints of black licorice, with after-breaths of cherries and bourbon. What's remarkable about this beer is that it tastes like it was aged in used bourbon casks, yet it wasn't—the bourbon notes are due to the heavy infusion of oak via Cigar City Brewing's masterful methods of getting wood flavors so fully integrated into their beers.
What a turnaround the Florida beer scene has enjoyed over the past 2-3 years—where once we had essentially a wasteland in terms of locally-produced better beer, today, those who brew on the craft side of things are making extremely interesting beers. While the tourist culture of the state will probably remain a hurdle to widespread presence of better beer, at least people have options these days—and those options are no longer just the stepping stone sort; they're full-blown, pedal-to-the-medal craft brews. Let us introduce you to some! Cigar City Brewing was founded a mere three years back, by Joey Redner, a Tampa native with a thing for beer. He's owned a bar, sold beer at the retail, brewery and import levels, and has written about beer for several publications. A free spirit by nature, Joey tends to shun things like recipes, temperature gauges and gravity readings in favor of "flavor readings." While this keeps him happy in his home brewing pursuits it doesn't always produce a consistent product at the commercial level. This is why Joey is happy to be working with Wayne Wambles, a man who grounds unfettered enthusiasm within a foundation of sound brewing practices. In addition to beer, Joey is passionate about Cuban food and the colorful history of the city of Tampa—and the pair is working to contribute to that ongoing Tampa legacy by crafting some of the most exciting beers in the country today. In their first year of production brewing, they took home a Gold medal at the 2009 Great American Beer Festival—no small feat for a new brewery competing in a crowded microbrew marketplace. For the first time in many years, the number of entries at the 2009 GABF was not led by the India Pale Ale category; 134 entries were logged in the Wood- and Barrel-Aged Beer category—a clear indication of the rapid rise in popularity of wood-aged beers. It is truly remarkable that a new entrant into the competition, in the largest category of beers submitted, took home gold. The guys did it by introducing something new and fresh: aging beer on cedar. Aging on cedar was just not done outside of the homebrewer realm (and in the few years since their founding, only a handful of commercial brewers have tried it). Cigar City Head Brewer Wayne Wambles, a talented homebrewer turned pro, is all about creativity and experimentation. Cigar City Brewing's small 15 barrel brewery gives him the flexibility to brew what he wants, how we wants, in very limited quantities. Capitalizing on that flexibility, creativity and the mission of the brewery, he merged an element of the local traditions of Tampa, as the epicenter of cigar culture in the US, by aging beer on wood. Spanish Cedar is used extensively in the cigar industry, mainly as a lining for cigar boxes or humidors, where it has antimicrobial and anti-pest properties and helps to marry the flavor of different blends of tobacco in cigars. And Cigar City's use of cedar is a bit different—it's not added as chips, or in the form of a barrel (good luck finding a cedar barrel), but instead on spirals. This creative wood infusion method offers tremendous surface area and allows for lots of wood-on-beer contact. So why not apply that to oak and other woods as well? Well, they have, and this month's beer is a heavily oaked imperial porter that we think you're really going to love. What we're saying here, folks, is that Cigar City Brewing has got wood, and they're not afraid to use it. It's not just the wood that makes Wayne's beers remarkable—they are creative expressions on many levels, and above all, are exceptionally well made. Their Hunahpu's Imperial Stout, for example, is aged on Peruvian cacao nibs, Ancho and Pasilla chilies, cinnamon, and Madagascar vanilla beans. It's like a chocolate molé in an 11.5% ABV beer geek's dream—and they can't make enough of the stuff to satisfy its local devotees. Cigar City's Jai Alai India Pale Ale is a highly drinkable west-coast style IPA bursting with citrusy, hoppy notes and it was this beer that was aged in cedar to create the beer that earned them GABF Gold. Cigar City seeks to celebrate and integrate the culture and traditions of their hometown, and in the process, they are clearly creating a legacy of their own. Quote us on that, as you'll be hearing more about this clever little brewery from Tampa. For more information about Cigar City Brewing, check out their website at
www.cigarcitybrewing.com
or give them a ring at (813) 348-6363 ext. 206.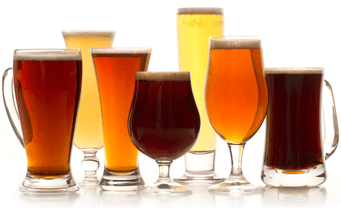 Unmatched Variety by style, brewery & country
Choose from Five different Beer Clubs offering unmatched variety by brewery,
country of origin, and beer style to suit your specific tastes.
DISCOVER OUR FIVE CLUBS