Cisco Brewers - Island Reserve Saison Farm House Ale
ABV:

5.50%

Serving Temperature:

45-50° F

Suggested Glassware:

Tulip or Oversized Wine Glass
Island Reserve means this beer is made on the island, for the island(ers). An extremely small quantity will leave Nantucket (other than roughly half this year's batch that we snatched up for our members; let's hope the locals aren't too upset with us!). We got a chance to speak to Head Brewer Jeff Horner for a while about this beer, and his enthusiasm impressed us. Well-spoken, though recovering from a cold (playing with too many bugs in "The Woods" perhaps? Just kidding…), this former collegiate athlete swimmer-slash-geophysicist turned culinary arts pro and brewing alchemist shared some inside info about Cisco's first revisit of last year's Island Reserve Saison Farmhouse Ale. In this edition of beers from Jeff's "The Woods" pet project (yes, he pets the bugs… hence the cold… No, just kidding… again…), he took a unique recipe—his own interpretation of saison—and allowed it to spend a brief amount of time in a used 50 hectoliter French oak foeder. Here, the influence of the oak does not make its way into the beer in the form or your standard vanilla and cherry aromas and flavors—the oak is used more as an inoculation vessel, allowing the microflora living within to take a dip in Jeff's beer. All told, there are at least 4 different types of Brettanomyces (wild yeast), as well as Lactobacillus (the sour milk bacteria), and who knows what else that had taken up residence in the barrel, in addition to our well-behaved friend Saccharomyces (in this case, a saison yeast). But this saison is interesting in a couple other areas of its makeup. Jeff uses 70% buckwheat in the beer, which is not only atypical as a grain in beer, it's an unusually high proportion of the grain bill (even "wheat beers" often have only 45-50% wheat). Buckwheat is difficult to find in America, so he imports his from Canada… OK, so, Canadian buckwheat, imported from the Great White North—to an island 30 miles of the coast of Massachusetts—used in a beer aged in massive French oak barrels… Boy, the 'numbers guys' over at Cisco must be having a fit! Hope they get a few bottles of the stuff to dull the pain (nice stuff, if they can get it!). Anyway, Jeff insists on this grain for its nutty, fruity notes and almost rye-like "slickness" in the mouth (think rye beer body, but without the peppery spiciness). And then there's the hopping—or rather, the relative absence of it, at a rate of about 1 lb. per 15 barrels (!), used only as aroma hops at that. Instead, Jeff went the old-school (really old school if you know your brewing history) 'gruit route' and decided to use a variety of herbs and spices grown at the brewery to provide the bittering balancing agents against the malt backbone. Rosemary, sage, thyme, verbena, and a number of others that he's keeping quiet about. So, what's it taste like? Well, that's actually tricky, because, what, with all the bugs working on it, this is a truly dynamic, living beer that will change over time and age with the best of them, if treated to proper cellar conditions. There's an intentionally long arc—and Jeff even encourages people to hang on to their new bottles for about 6-months before sampling them—so that it can get to where he intended it to be after some aging.

Some tasting notes from Jeff himself: expect assertive straw characteristics, Brett mustiness, rich stone fruit aroma (think dried apricot) and ginger, especially when young, in a medium-light nutty body, finishing dry and vinous. Over time, the acidity will come up quite a bit (courtesy of the Lacto) and balance the funkier notes. And that balance and rebalancing act will continue for years in the bottle, as the bugs essentially never die, continuing to work on the brew.

Essentially, Brett qualities will take center stage for a bit, with the spotlight later shifting to a refined acidity and bright lemon character, and then Brett stepping it up again with increased dryness, and intensification of the fruity characteristics. On and on the performance will run—and no one yet knows how long until the final curtain call—5 years? 7? 10? Quite possibly, yes. Have patience, and enjoy the show!
Thirty miles off the coast of Massachusetts lies the small island of Nantucket, famed for its artist culture (and no, limericks do not count as art here), pristine beaches, cranberry bogs, and, in many cases, its status as a home away from home for the hyper-rich. A place that for quite a while outlawed cars—back around 1910-1918—just as they were becoming popular. There's rich history here, with English settlement dating back to the mid-to-late 1600s. Many historical structures remain, including the island's oldest house (built in 1686!), the completely cobblestoned downtown Main Street (a tourist attraction today, but laid quite parsimoniously, as the stones once served as the ballast for whaling ships) and the country's oldest functioning windmill, constructed in 1746. There's also a certain sense of independence, not unusual for island dwellers. In fact, in 1977, Nantucket (and Martha's Vineyard) actually attempted to secede from the Commonwealth of Massachusetts. It didn't happen, but you get the idea.

And in part borne out of this sense of independence, the need for Nantucket's own 'national' libations was recognized. In 1981, Dean and Melissa Long founded the Nantucket Vineyard. In 1992, they met Randy and Wendy Hudson—who moved into the loft over the winery and began lending a hand to the Long's wine endeavors. Wendy had a history of homebrewing beer, and she turned Randy onto it—so much so that in 1995, the pair founded Cisco Brewing at the vineyard. These days, the term "nano-brewery" is getting a lot of attention (truly tiny commercial brewing outfits, sometimes glorified homebrew set ups in the family garage)—but in 1995, not so much (things were still "micro" in those days). Well, the Hudson's were, in a very true sense, nano-brewers when they started—in fact, the brewery was outside in the Longs' backyard—which made it, officially, America's only outdoor (commercial) brewery.

Things have scaled up a bit at Nantucket's only brewery since then (the brewery is now indoors, FYI). There's even a micro-distillery on site now, but the brewing remains as a small, artisanal outfit—as they hang on to their motto "nice beer, if you can get it." In 2007, Jeff Horner joined the ranks as Head Brewer, and he was essentially given total creative control of the beers. When he came aboard, there were already a number of established Cisco Brewery beers—and they're still around (solid beers, no doubt). But Jeff wanted to branch out—as a homebrewer since 1994 and a graduate of the CIA (that's the Culinary Institute of America, of course)—he had some big ideas about where to take the Cisco beers—into the woods. "The Woods," is his self-described "pet project," where beers are exposed to used barrels—and whaddya know, having a winery next door with used wine barrels turns out to be a rather handy thing for such an endeavor. But that's not the extent of the use of wood—oh no. How's this sound? Little sugar pumpkins, grown just a few hundred yards away on a farm near to the brewery, roasted and smoked for two hours over the burning staves of the distillery's 10-year old "scotch-style" whisky barrels, then macerated in barrels with a bit of whisky still in them, then, added to the mash of a new ale. Now that's what we're talkin' about!

"The Woods" program has earned Cisco Brewing two medals from the World Beer Cup (2010 and 2012). Nice work Jeff! And that work continues in this month's featured beer—which is, naturally, part of "The Woods" program. Here, the use of the wood is taken to yet another level: inoculation. Read more about this outstanding beer in the tasting notes below—you're definitely going to want to stock up on this stuff.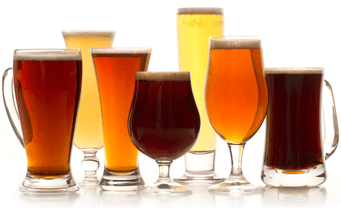 Unmatched Variety by style, brewery & country
Choose from Five different Beer Clubs offering unmatched variety by brewery,
country of origin, and beer style to suit your specific tastes.
DISCOVER OUR FIVE CLUBS