Crazy Mountain Brewing Company - Local's Stash Reserve Series Black Barleywine
ABV:

11%

Serving Temperature:

55–61° F

Suggested Glassware:

Snifter, Tulip, Chalice, Goblet or Bordeaux Glass

Pouring a dense, deep, dark hue, very nearly black save for some reddish flashes when held to a strong light, this brew looks impressive in the glass as its cap of foam slowly settles to a persistent ring. Chocolate overtones are obvious immediately in the aroma, invoking both milk and dark chocolate varieties, augmented by touches of ash and scorched caramel. There's an earthiness too, strengthening with a good swirl, along with some spice and a certain fruity undertone, the latter contributing to a bit of a vinous impression along with just a wisp of the expertly camouflaged alcohol.
The claim can be made that, strictly speaking, a black barleywine is really quite similar, if not identical, to an imperial stout, and upon taking one's first sip of this brew, it's hard to deny that Crazy Mountain is seriously blurring the lines between barleywine and imperial stout. Robust roasted notes hit immediately with a big bitter chocolate character. But there's something quite barleywine-esque here, too, as the vinous character so central to barleywines is central to this brew's character as well, in a way that's not always the case in many weighty stouts. It's at once full-bodied and also spritely, the carbonation and alcohols serving to lift what is otherwise a very malty brew. Whereas many modern American imperial stouts tend to veer a bit more towards heavy viscosity and a big dose of residual sweetness, this brew keeps the sweetness to a moderate level while allowing the high alcohol content to provide some lightness on the palate, an effect we also enjoy in high-gravity Belgian ales.
Effortlessly countering the residual sweetness and deeply caramelized malt flavors are plenty of bitter hops, generating some earthy, spicy, and woody notes, which are augmented by the roasted malt elements in concert with those alcohols and the carbonation. Under it all, and easy to overlook amongst the other fireworks, is a shot of fruity esters conjuring dried red and black fruits. The whole thing comes across balanced, complex, deliciously intriguing, and quite drinkable, but do mind the high ABV.
Crazy Mountain actively encourages the aging of many of their Local's Stash beers, and this 11% black barleywine is absolutely a prime candidate. We'd not hesitate to cellar bottles for at least a year, and likely quite a bit longer if we have the patience. Expect the bitterness to subside somewhat, perceived sweetness to increase a little, and possibly some sherry-like oxidized notes to evolve over time. Grilled meats of all kinds are a natural pairing, and don't be afraid of the spices as this beer is not going to be easily overwhelmed.
Crazy Mountain Brewing Company was founded in January 2010 by Kevin Selvy and his wife Marisa, and it is the Vail Valley's first production brewery. A Colorado native, Kevin had worked in finance after graduating from Colorado State, living in Europe and California while pursuing that career, and developing a taste for great beer. It was while he was in California that he got his big break in the brewing industry when some of his homebrew crossed paths with an Anchor Brewing Company employee – leading him on a new path that would take him to positions at several California breweries.
One day in 2007, Kevin got off his shift at Anchor and went to have a beer in the tasting room. It was here that he met Marisa, who had just finished a tour of the brewery. Three short years later the pair would find themselves married, relocated to Colorado, and the owners of their very own brewery. Named after the Selvy family's Crazy Mountain Ranch, the brewery demanded a ton of hard work to turn it into the success it is today. In the early days, the husband and wife team did everything, including brewing, packaging, remodeling, running the tasting room, and delivering beer to their local accounts via an old pickup truck.
While Kevin leads the brewing operations, Marisa leverages her extensive experience working with marketing and advertising agencies in her position as VP of Marketing. The last seven years have delivered tremendous success, with the brewery being expanded twice to meet increased demand, and the Edwards tasting room becoming a popular destination for Vail tourists. Their choice to embrace canning has also paid off, as it's a natural fit for the outdoorsy Colorado lifestyle. Crazy Mountain now has two brewing facilities, one located in Edwards and the other recently opened in Denver's Sante Fe Arts District. They currently produce a wide range of seasonal beers in addition to their core year-round offerings, and have grown to create over 100 different types of beer each year across their two breweries. Crazy Mountain now makes its way to 22 states as well as nine countries internationally.
Their Local's Stash series consists of unique, weekly releases available in very small amounts, and we've managed to secure their Black Barleywine from that series as an exclusive offering this month for our Rare Beer Club members. Outside of the Club, only a limited amount will be available at their Tap Room, and that's it. We're pumped to feature one of our favorite up-and-coming breweries! For additional info on what the folks at Crazy Mountain are up to, feel free to get in touch with them at 970-926-3009 or www.crazymountainbrewery.com.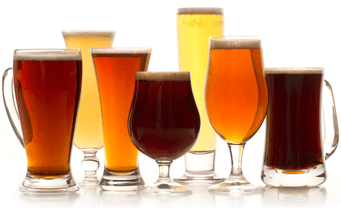 Unmatched Variety by style, brewery & country
Choose from Five different Beer Clubs offering unmatched variety by brewery,
country of origin, and beer style to suit your specific tastes.
DISCOVER OUR FIVE CLUBS