De Leyerth - Urthel Bock
ABV:

7.5%

Int'l Bittering Units (IBUs):

27
In October, Michael had the pleasure of spending some time with Hildegard Van Ostaden, the talented owner/brewer at De Leyerth, and tasting a virtually unknown style of beer - her Belgian Bock. In the hunt to bring remarkable beers to the club, new styles like Urthel Bock can be the wonderfully fulfilling result. What follows is a portion of their conversation over a glass of this month's feature selection.
Michael: Really quite dark color, isn't it? A very German type of color, like a Doppelbock.
Hildegard: It is indeed very dark - and when the light comes through it, it's a little bit reddish in color.
Michael: Yes, a hint of mahogany.
Hildegard: Well, it's meant to be a heart-warming beer, so the color also has to be warm for the eye.
Michael: It doesn't drink quite as sweetly - it has a lot more dryness to it than what one might expect; it's very well balanced, in fact.
Hildegard: Bock beers are quite sweet in taste, and we wanted to make a Flemish Bock. It's a shame that we in Belgium don't know what Bock beers are. So two years ago, I looked for old recipes of Bock beers. It's a culture we miss in Belgium, and nevertheless, I still wanted to have my Belgian influence worked into the beer. So maybe that's why the dryness comes across.
Michael: What malts are in here?
Hildegard: The basic malt is, of course, pilsen malt. There's also pale ale malt, because it gives a nice dryness to the beer. Russet, for the beautiful color, and also some caramel malts.
Michael: Would I call that a dark Vienna?
Hildegard: Well indeed, and you have to put very little in, because otherwise it gives you a very harsh taste to it.
Michael: A small amount of the malt makes a big difference in flavor. Quite a lot of hops in this beer too.
Hildegard: Yes. Well, you know, we like to work with hops because the bitterness to the beer is very nice and it provokes the drinkability of the beer. Hops is an herb which is left out too much, or is reduced too much, these days in beers.
Michael: Do you have Saaz hops in here?
Hildegard: Yes, indeed, we add a little bit of Saaz hops at the end of brewing so that the flavor comes out fully in the beer.
Michael: Which certainly works. You and I know that it was once quite normal for women to be brewers. Except that then they were called brewsters, and it is less common these days.
Hildegard: In the Middle Ages, making beer was part of housekeeping. Now it's strange when a woman drinks beer. You see people looking strange, but it's quite normal that women make beer, and that they taste it and that they drink it. They should do it more. But I think one of the most beautiful things to see is on Sunday morning, when you go to Antwerp or Ghent, and you see an old lady sitting there with a beautiful Trappist beer before her. That's the most beautiful woman you can see at that moment.
Michael: What would you drink this beer with - meat dishes?
Hildegard: Yes, or something with poultry or rabbit. Really nice winter meals.
Michael: Rabbit's quite popular in Flanders.
Hildegard: We drown our rabbits with beer.
Michael: So that they die happy. Did your husband write these strange books about small people before he met you and started drinking these strong beers?
Hildegard: Yes, he had his illusions before he met me. So he started to write some stories, but not in a book form, just some stories that he told himself and people around him. And when we met I was brewing for other breweries, and he said, "Why don't we make our own beer? Why don't we call it Urthel, named after those little guys, Erthels?" Now he is writing the book about the Erthels, so I hope next year we also will have the book.
Michael: So it's a beer, soon to be a book...A votre sante.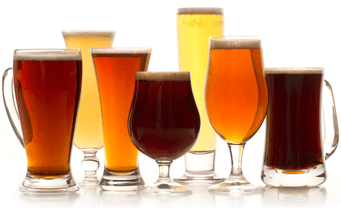 Unmatched Variety by style, brewery & country
Choose from Five different Beer Clubs offering unmatched variety by brewery,
country of origin, and beer style to suit your specific tastes.
DISCOVER OUR FIVE CLUBS