De Proef Brouwerij and Allagash - Les Deux Brasseurs
ABV:

8.5%

Hops:

Hallertau & Czech Saaz
Following the success of last summer's highly sought-after inaugural Signature Series Brewmaster's Collaboration beer brewed by Tomme Arthur of Lost Abbey with Dirk Naudts at DeProef Brewing in Belgium, the Rare Beer Club is again proud to debut the 2008 model: Les Deux Brasseurs.
Developed in a creative partnership effort between Naudts and Allagash brewmaster Jason Perkins, this golden ale of 8.5% alcohol was fermented with 2 strains of brettanomyces yeast: Allagash's proprietary strain, which was discovered and isolated at the brewery and flown to Lochristi just before brew day, along with Naudts' personal favorite strain.
The beer is brewed to a gravity of 1070 using Pilsner malt and a small percentage of wheat. Hopped in the kettle with German Hallertau, and then dry hopped with Czech Saaz during its 4 month fermentation and aging period, the resulting beer has remarkable character. Fruit notes of pear, apple, and subtle pineapple are complimented by flavors of graham cracker, and bread crumbs. It is rounded out with an herbal, spicy hop finish.
This is the first beer that the club has featured using the great talent at Allagash, and as such we thought that you might like a little background on this esteemed producer.
Allagash Brewing Company sold its first batch of beer in the summer of 1995. The Allagash story, however, has roots that go much further back then the time that the Portland, Maine brewery has been in operation, into the early 1990s when founder Rob Tod saw something missing in the American beer market. They are interwoven in the craft brewing movement that has allowed the creativity of brewers to flourish over the last twenty years, and with ties that go back centuries to the monasteries of Belgium, whose own ancient brewing methods are now practiced today by the brewers of Allagash. The brewery began as a one-man operation, with Tod assuming all brewing duties in a small space located on the outskirts of the maritime city of Portland. Tod had worked in brewery settings before and recognized a void within the craft brewing movement. While both German and British styles had become prevalent throughout the U.S., the ever-creative Belgian styles were very difficult to find. Through his travels, Tod had sampled many of these unique beers and felt that the flavors and traditions of this European nation needed to be shared with the American drinking public. He designed a small 15-barrel brewhouse specifically to embrace the Belgian tradition of beer making, gathered the finest array of authentic raw materials and began his quest towards the production of traditional Belgian style ales.
Allagash began with the release of its Allagash White, modeled after the traditional white beers of Belgium. Also referred to as "wit" beers, they get their unique flavor from the use of wheat in place of barley, Curaçao orange peel, and the careful sprinkling of coriander and other spices. Allagash combined these ingredients with their very own proprietary Belgian yeast strain to create the remarkably unique and refreshing beer that remains their flagship brand. It developed a strong cult following around the Portland area where it was available at selected draft accounts.
With the success of the first release, Rob realized two things: that the public was asking for some new styles, and that the workload was getting to be too much for one person. Soon after, two experienced brewers were hired and Allagash released their second brew, Allagash Double Ale. Using the philosophy and techniques created by the Trappist Monks of Belgium centuries ago, the staff created this beer using seven different malts, a traditional sugar, and their own Belgian yeast strain. The result was another unique yet balanced beer crafted in the classic Belgian style.
To truly appreciate the classic styles and brewing traditions of Belgium, one must experience beer created in the classic Belgian package. This is why Allagash, after an extensive period of research, released their distinctive "Reserve" line of cork-finished 750 ml bottles. This unique line employs the ancient tradition referred to as the méthode champenoise. The technique calls for two fermentations, one in the brewery's fermenting tanks and the second in the bottle itself. It is this second fermentation that produces a notable increase in carbonation, a softer mouthfeel, and beers of remarkable complexity. This method of bottle conditioning leaves a small amount of yeast in the bottle, creating what is known as a "living" beer. As a result, these styles have a greatly enhanced shelf life and some styles will age exceptionally, much like a fine wine. Just as the styles originate in Belgium, so does the package itself. To insure authenticity, Allagash imports the bottles and corks directly from the same country that designed the techniques. This enables the beers to reach carbonation levels similar to champagne while allowing the corks to "pop" characteristically upon serving. Today Allagash still remains one of very few breweries in North America using this distinctive package.
From the very beginning, Allagash has strived to produce the finest Belgian-style and experimental ales on this side of the Atlantic. It began as New England's original Belgian-style brewery and has grown into one of the industry's most distinguished and well-respected brands. Following the time-tested brewing traditions of ancient Belgium, Allagash now produces a broad-ranging portfolio of artisanal beers with uncompromising quality.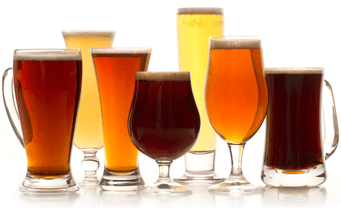 Unmatched Variety by style, brewery & country
Choose from Five different Beer Clubs offering unmatched variety by brewery,
country of origin, and beer style to suit your specific tastes.
DISCOVER OUR FIVE CLUBS