De Proef Brouwerij & Cigar City Brewing - Tropical Tripel
ABV:

9.5%

Serving Temperature:

45-55° F

Suggested Glassware:

Snifter, Chalice, Pineapple
This collaborative beer from De Proef and Cigar City definitely veers a fair distance from an ordinary Belgian tripel, finding its conceptual kernel as a "peaches-and-cream tripel." While brewed with Belgian candi sugar and a traditional Trappist yeast strain, the recipe also adds a dose of lactose for additional mouthfeel (the "cream") and finishes up with dried peaches. A Brux III strain of Brettanomyces and assertive hop additions add to the tropical angle, while further contributions of toasted coconut and medium toasted oak appear as well. Actually, it may make sense to just forget we said anything about this as being a tripel in the first place.
For starters, it's certainly on the far-darker side of tripel territory, pouring a deep, orange hue that's not quite transparent. A lacy, off-white edging of small foam remains at the perimeter, leaving behind a bit of shimmering lacing. Throughout, it proves vital to let this beer warm a bit for best results, allowing some of its peppery phenols from the Trappist yeast to manifest more intensely (and necessarily), balancing out the sweeter elements of the beer. After some time in the glass, the aroma will put those white-peppery notes at the forefront, followed up by an engaging mélange of secondary notes from the other ingredients: piney bitterness from the Simcoe hopping, some passion fruit and lemony citrus from the Brettanomyces, the soft stone-fruit sweetness from the dried peaches, and those touches of vanilla-like tannins from the contributions of toasted coconut and oak. While that initial phenolic note gives this beer the core backbone of a tripel, the quieter peach and tropical-fruit qualities steer it elsewhere.
At initial sip, the roundness seems higher than one's expectation of a Belgian tripel, which is why allowing it a bit of time to warm proves necessary here. Misbalanced beer is lesser beer, and those white-pepper notes are clutch. There's a lively, small-bubbled carbonation and the firm sharpness of yeast-derived pepper and hop-based piney bitterness that cut through that heavier core: zesty, lifting, and lightly effervescent. A modest tannic quality from the toasted coconut (maybe?) and the medium toasted oak (more likely) helps out here as well. It's those dried-peach notes, though, and a juicy Brett character (kaffir lime leaf, passion fruit, lemons) that tend to stand out the most, providing a fruit-driven but never syrupy riff on the typical Belgian-tripel formula—which tends to rely more on balancing a yeasty pepper and alcoholic warmth with a bit of honeyed sweetness at the core. That lactose addition does contribute an extra feeling of roundness in the mouth (there's some heft there if one swishes their tongue), but the pepper and bitterness and restrained tannins balance that out quite nicely. It's a deft, careful balance, all told, and perhaps more dependent upon proper serving temperature than most of our Club's other offerings in recent memory. Give it some time to warm, allow that it operates on a different balancing scheme than conventional Belgian tripels—then savor it.
The potent alcohol content suggests this beer will stay on point for some time, though try to sample a bottle every few months to ensure the others are still heading in the right direction. We suggest pairing it with foods that appropriately match its higher alcohol (although it stays hidden) and robustness, such as crab cakes with citrus-based salsa, or a tropical-fruit torte.
Over the years we've developed a long-standing relationship with Dirk Naudts and De Proef Brouwerij in East Flanders, one that's allowed us to give our members access to some of the finest limited-release offerings coming out of that brewery (most recently: Mikkeller's Mexas Ranger). Dirk's De Proef is a bit of an anomaly within the artisanal-beer world, operating as both a cutting-edge research facility and a prolific brewery designed to produce the creative ideas of outside clients—specifically in the form of pitch-perfect beer. Every year we feature a particularly special release from De Proef: their annual Brewmaster's Collaboration beer. In previous years, De Proef has worked with top-tier brewers like John Mallett from Bell's and Alan Sprints from Hair of the Dog. For the 2013 Collaboration, De Proef chose Cigar City.
It won't be a surprise to many of our long-term members that we're pretty thrilled about the whole thing. Wayne Wambles and his compatriots have helped change the landscape of craft beer in Florida since opening up in 2008, winning four Great American Beer Festival medals (two gold!) and being named the #4 brewery in the world by the users of RateBeer.com. The brewery has been crafting many of the most coveted special releases in the country (three of which we've offered previously through the Rare Beer Club), and we're pleased to be able to offer our members the first crack at this one as well. You'll receive it about 2-4 weeks before any of the limited batch makes it to shelves. Tropical Tripel combines the creative direction of Cigar City with that mad-science-y perfectionism we've learned to expect from De Proef.
by Ken Weaver
My first book (a beer guide to Northern California) was just published this past summer, and with it came a bit of fanfare that I wasn't necessarily built for: promotional events, signings, a scattering of radio and television appearances, plus an hour-long presentation (complete with PowerPoint slides and an elaborate pairing menu, at a women's athletics and social club). In brief: writing a book was the easy part. Perhaps nothing quite highlights my awkwardness as well as my inability to answer a very simple, inevitable question: "What's your favorite beer?"
It's not a hard question. You can say the name of any beer—any beer, in the thousands upon thousands of beers existent in the world today—and fare generally better than I did. Because even knowing that I'd be facing this question, over and over and over again, I felt the strange and all-too-familiar need to overthink the answer every single time. Did they mean the beer I drink the most often? The beer that I've had the single best experience with? Should I limit myself to Northern California? If they meant my highest-rated beer—they didn't, but at least I'd have my bearings—that would mean a beer from Cigar City: specifically their Hunahpu's, specifically that first (second?) batch, specifically a counter-pressure-filled bottle I got from a dude in upstate New York. An imperial stout with cinnamon and chiles, named after a father from Mayan mythology. I had it once. I'll sound like a crazy person if I say any of this aloud.
So I start over. And eventually say most of the above anyway.
There's a lesson here. Probably. It's likely something about overthinking beer, or not getting hung up on word choice, or being able to confidently discuss something that might not exist while standing at a podium hustling books. Regardless, that next time someone asks what my favorite beer is—and maybe this was it all along—I'll try to point to my glass and say this one.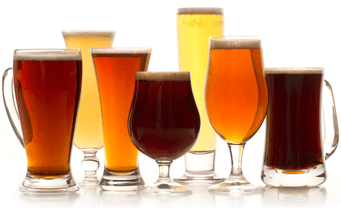 Unmatched Variety by style, brewery & country
Choose from Five different Beer Clubs offering unmatched variety by brewery,
country of origin, and beer style to suit your specific tastes.
DISCOVER OUR FIVE CLUBS