De Proef Brouwerij - K-O
ABV:

10%

Bottle Size:

750-ml

Serving Temperature:

45–52° F

Suggested Glassware:

Chalice, Tulip or Goblet
De Proef's K-O is one of our favorite beers to date from this Belgian brewery—and we've had a ton of them over the years. Bright, explosive fruitiness matches with peppery phenols and sweet candied notes, resulting in a potent Belgian blonde ale that still stays super nimble. Spritzy carbonation and a precise fermentation profile keep everything on point.
K-O has seen very limited U.S. distribution, with only about 25 cases being sold here in the last year. (Aside from the club, Shelton Brothers doesn't plan to import more anytime soon.)
For how many out-there De Proef beers and collaboration releases we've featured over the years, a Belgian strong blonde seems so comfortably in this brewery's wheelhouse. As you'd expect from these folks, this is a potent blonde ale with impeccably dialed-in and expressive yeast character, a nicely rounded mouthfeel, and well-developed kettle caramelization. K-O pours a well-hazed, orange-golden color capped by substantial off-white foam. Lots of firm bubbles here, well retained, leaving a good amount of lacing around the edges of the glass.
This golden ale's Belgian yeast character expresses itself firmly in the aroma: white pepper, pear, cotton candy… a mélange of fruit esters and spicy phenols coming together. There's also a significant degree of caramelization, giving the aromatics substantial roundness along with those yeast-derived top notes. This is very tripel-like in a lot of ways, delivering a good bit of the same spice and bitterness impact, with pillowy esters and a toasty core sweetness.
De Proef's K-O is super light on the palate despite the depth of fruit, toast, and caramelized notes. Tiny-bubbled carbonation, well integrated, keeps this feeling lively on the tongue, and a touch of warming alcohol provides some lean core fruit while keeping things light. Lots of tripel-like qualities: bold peppery phenols, apparent bitterness and alcohol, toasty core malts. K-O feels particularly ambitious on this front, with round maltiness and caramelization that adds a lot of depth but doesn't ever feel heavy on the palate: this beer keeps nice and crisp. Complex fruit throughout: apple, fresh-cut pear, subtle ripe berries… A brilliantly handled strong Belgian blonde ale, with a lasting finish of clove, white pepper, and honey.
This bottling of K-O is drinking at a really good spot right now, with the core caramelization coming through at an appropriate volume. Still, this should continue to develop nicely for at least another year or so in one's cellar. The core emphasis on honeyed fruitiness and lively carbonation has us looking to pair this with roasted chicken or a triple crème cheese.
Rare beer—that's what this club is all about. And this month, we have again lined up a beer that our members will be hard pressed to find on their own, as only around 25 cases have been allocated for the U.S. this past year. As a member, you're going to be one of the few lucky souls to taste a very exceptional brew created in Belgium by world renowned Belgian Brewmaster Dirk Naudts. Brewer extraordinaire and well-regarded brewing innovator and educator, Naudts is the proprietor of De Proef Brouwerij, located in the brewing haven of Western Flanders, Belgium. His nickname, "The Prof" (as in professor), is well deserved and worn as a badge of honor, serving as the moniker for his highly respected, über-scientific brewery. Never shy about experimentation or collaboration, he is a scientist by nature, and an artisan by trade. Brewers from around the world have contacted The Prof in the interest of collaboration and recipe development. Over the years, we've featured a number of the results of these collaborations between De Proef and other world-class breweries like Hair of the Dog, Surly, Cigar City, Left Hand, and Bell's. They've been some incredible beers.
Among Dirk Naudts's other notable collaborators are Tomme Arthur of Port Brewing & The Lost Abbey, Jason Perkins of Allagash Brewing, Spike Buckowski of Terrapin Beer Company, and numerous others. People are clamoring to work with The Prof. But it's not just brewers—better beer distributors Shelton Brothers launched a project with De Proef way back in 2004, which we featured in the club a bit thereafter. Like the commissioned work of a painter in which multiple panels are produced, the beer that was the subject of this artful experiment came in six different versions (plus a special Vintage Reserve in 2008). Known as "Flemish Primitive Wild Ale," the beer was built upon a base of rich golden continental malts, fermented with several strains of Brettanomyces (wild yeast), and hopped with a generous amount of local hops. The difference between the six versions came down to different hop varietals and hopping rates, as well as the "Flemish Primitive" artwork of master painter Hieronymus Bosch that adorned each bottle. As with so many of the beers from De Proef we've had over the years, that limited-edition Flemish Primitive combined a breadth of generous flavors into an impressively coherent whole. It's kinda what Dirk does.
This month, we're going rare but traditional, with De Proef's potent K-O. With only about two dozen cases sold stateside in the past year, our Rare Beer Club members will be getting the bulk of K-O reaching these shores. The strong Belgian blonde ale is a tough beer to pull off successfully, as so many of these Belgian styles require deep familiarity with one's yeast(s) and fine-tuned fermentations. For us, K-O is the work of a brewery that we know can make super-crazy stuff, bringing all that talent to bear on one of their country's traditional styles.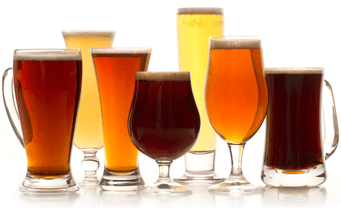 Unmatched Variety by style, brewery & country
Choose from Five different Beer Clubs offering unmatched variety by brewery,
country of origin, and beer style to suit your specific tastes.
DISCOVER OUR FIVE CLUBS