De Proef Brouwerij & Left Hand Brewing Company - Wekken Sour
ABV:

8.9%

Serving Temperature:

48¬–53° F

Suggested Glassware:

Tulip or Snifter
We're really looking forward to getting this one to our members: the latest one-off collab out of the annual De Proef Brewmaster's Collaboration series, and the ninth edition thus far. We will be getting this to our ever-curious members about two week before most anyone else.
The first thing we discussed on tasting this beer was how good that blending session had to be. You're taking Left Hand's massive, deeply nuanced imperial stout—a chewy mixture of raisins, dark chocolate, cocoa, and licorice—and bringing it together with what seems to be an ideal counterpoint for this sort of beer. De Proef's Zoetzuur is one of our favorite takes on the Flanders red style, with bright acidity and chewiness that does its sweet + sour right. We were continually impressed by how this collab feels like more than the sum of its parts.
This pours a deep, chocolate-brown color, mostly opaque. There's a creamy, light-tan head on top of things, reasonably well formed and providing some nice lacing. If there's a main, composite view we kept coming back to with Wekken Sour, it was the sensory execution of a milk chocolate-covered cherry: aromatics offer up some rich cocoa, set alongside the dark and juicy cherry qualities of the Zoetzuur. And this doesn't seem overly heavy, and certainly not syrupy. Instead that toasty undercurrent of the Left for Dead offers some really nice lift: toasted marshmallow, cake ice cream cone, plus a rich cherry quality that feels like ripe fruit.
Chocolate-covered cherry... Chocolate-covered cherry... (Ad infinitum.)
Again, you have to imagine what other versions of this blend might have tasted like. There had to be a more imperial stout-forward take on this, of course: hitting heavier on that dark chocolate, a higher level of alcohol to the whole package, a whisper of funky red fruit there on the periphery—but mostly a fruit-slanted imperial stout. Then the opposite side, with an assertive acidity and cherry quality leading things, the high-ABV influence of those imperial stout notes just beginning to make their presence felt. If anyone's made a dark Flanders red ale (or a Cascadian Flanders amb... no, we're not going to go there), that's probably what the Zoetzuur-heavy blend would taste like. The midpoint's glorious, though: full dark chocolate and cocoa and ice cream cone from the Left for Dead, with a well-volumed fruit counter via the Zoetzuur. The combination's lively, well balanced, and a great expression of both beers.
The brewers indicate that this will be fine with some age behind it—but do keep an eye on it as things progress. (That's true of most things one allows in the cellar these days.) You could likely guess that we'd suggest maybe putting this beside some actual chocolate-covered fruits. But some other great options would be counterpoints to the core notes of chocolate and red cherries: creamy cheesecake definitely feels like a good option. Try roast pork. Or apple pie?
De Proef Brouwerij's annual Brewmaster's Collaboration series has been a regular feature in The Rare Beer Club® for years, and with good reason. Some of our longstanding members are likely able to conjure up their own personal highlights. For us, the Van Twee collaboration is quick to come to mind, the 2009 release between De Proef and Bell's Brewery in Michigan: a strong, rich fruit beer combining the influences of dark cherry juice, Belgian candi sugar, and a complementing addition of both Brettanomyces yeast and the expressive Nelson Sauvin hop.
Or, in 2012, the Brewmaster's Collaboration release of Flanders Fred: a blend combining the masterful (and massive) framework of Hair of the Dog's Fred with lambic sourced from the Flanders region of Belgium. (That golden nectar's aged particularly well in the time since.)
And then there was the subsequent year's release, the Tropical Tripel from De Proef's collab with the ascendent Cigar City in Tampa, Florida. The result was unlike anything else we had ever tasted in the beer world: an engaging and unique tripel-ish concoction employing both oak chips and peaches, Belgian candi sugar and coconut. Experimental, in the best of ways.
Which is to say nothing of other highlights from the series: interspersed collabs with Surly's Todd Haug, Terrapin's Brian "Spike" Buckowski, and Sly Fox's Brian O'Reilly. We've been fortunate enough to continually get access to each of these releases for our RBC members.
For their latest one-off Brewmaster's Collaboration offering, Dirk Naudts at De Proef has teamed up with Left Hand Brewing Company's Eric Wallace on an intriguing blend of two great beers. Our members will be getting this two weeks before pretty much everyone else.
Eric, Left Hand's founder, has spent major amounts of his time over in Europe, and, as with many American brewers, his experience with the exceptional beer from Belgium and Europe as a whole inspired him to start up Left Hand Brewing Co. in Longmont, Colorado back in 1993. After more than two decades of putting out exceptional releases, this seemed a wholly fitting tribute to come back around to the beer culture that got him started on this journey.
De Proef, much like Left Hand, will be very familiar to many of our members. Whether you have sampled through bottles of their Brewmaster's Collaborations over the years, or dug in with a bottle of Mikkeller (many of which are produced at De Proef), or simply sampled any of the myriad brands orchestrated by that scientist-brewer Dirk Naudts at his magic brewing establishment in East Flanders—chances are you're familiar with De Proef's work by now.
Our longstanding appreciation (and thirsty support!) of Dirk's efforts have resulted in more than a few De Proef offerings popping up in The Rare Beer Club® over the years. This latest is a knockout: a charismatic, artful blend of Left Hand's dark fruit- and licorice-laden Wake Up Dead Imperial Stout with De Proef's Zoetzuur sour ale. Back when The Rare Beer Club's founder, Michael Jackson, was at the club's helm in 2004, we actually featured Zoetzuur on its own merits—and we think this blend may be even better.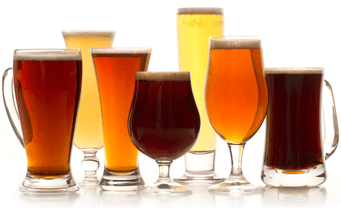 Unmatched Variety by style, brewery & country
Choose from Five different Beer Clubs offering unmatched variety by brewery,
country of origin, and beer style to suit your specific tastes.
DISCOVER OUR FIVE CLUBS