De Proef Brouwerij & Port Brewing - Signature Ale
Everything promised by the brewers, and more. Aromas fresh as a forest. A hint of green wood. Firm, smooth, rounded, body. Lemon grass, lemon zest, and cedar. A suspicion of sulfur and sweat. A long and distinct finish - you don't want it to end.
This month's selection is a stylish and artistic collaborative brewing effort that combines the enormous talents of Dirk Naudts, at Belgium's De Proef Brewery, and Tomme Arthur of Port Brewing and Lost Abbey in southern California. Here is what all of the key players have to say:
Dirk Naudts—
From the beginning, Proefbrouwerij has been about experimentation. While we have worked with other brewers in the past as a pilot brewery or on contract production, this is our first co-brewing and co-branding of a commercial product. I was intrigued by the proposal from our importer to design a beer and brew with the highly regarded Tomme Arthur. It was quite a day to have Tomme and his team of Port Brewing brewers at our facility after Zythos weekend!

We designed a complex pale beer using 4 different malts, saccharomyces & brettanomyces fermentations, combined with aggressive "west coast hopping." This was a unique brew for us as we do not often use the more aggressive Phoenix & Amarillo hops. For me, the most interesting aspect of the beer is the interplay of the brett and hops. While at first the bouquet is dominated by the citrus hop notes, as you experience it through your palette (and especially as the beer warms), the brett notes come more to the front - almost trading back and forth with the prominent hop notes.

The merging of the worldwide brewing cultures has always been of great interest to me, and I am glad to have had the opportunity to participate in the creation of this unique beer.
---
Tomme Arthur—
Famous for small batch beers and intense flavors, members of the Port Brewing Crew came to Belgium for the first time as a group in March 2007 to attend the Zythos Beer Fest and created this collaborative brew at DeProef Brouwerij with Dirk in a celebration of brewing cultures.

We designed this Signature Ale as a hybrid of American and Belgian brewing techniques.
The stated end goal was a Signature Ale made with decidely American Hopping additions and finished with the traditional Belgian yeast flavor of brettanomyces. It is brewed to an original gravity of 1.076 (19 Plato) and an SRM of 10. We used a generous amount of Amarillo, UK Phoenix and German Brewer's Gold hops in the boil and for dry hopping during conditioning. We fermented using both strains of traditional sacchromyces and brettanomyces yeast.

Signature Ale is a pale golden colored ale capped with a prodigious rocky white foam.
The hops come together in a blend of far east spices and new world citrus which are tempered by an underlying subtle tartness from the yeast. These notes would be out of balance were it not for a generous maltiness that holds the beer in check without becoming too sweet. Designed with a resinous hop quality in mind, we believe this to be a new world example of old world exploration.
We salute the brewers and their journey as we release this beer on its travels.
Sesame toast. Omelettes. Pickled salmon. Miso soup. Bean curd. Sweet plum tart. Passion fruit.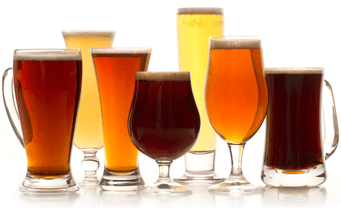 Unmatched Variety by style, brewery & country
Choose from Five different Beer Clubs offering unmatched variety by brewery,
country of origin, and beer style to suit your specific tastes.
DISCOVER OUR FIVE CLUBS