De Proef Brouwerij & Surly Brewing Co. - Zwart Black Star
ABV:

8%

Bottle Size:

750-ml

Serving Temperature:

52–59° F

Suggested Glassware:

Snifter, Tulip, or Pinot Glass
De Proef Brouwerij's collaborative old ale with Surly Brewing Co. is a one-time collaborative release in De Proef's ongoing Brewmaster's Collaboration series. Zwart Black Star employs a vibrant old ale as its base, using contributions from star anise and aging the beer on sassafras wood with Brettanomyces to create something completely unique for this series. As we have often been able to do with this release series in the past, we've managed to secure allocation of Zwart Black Star early in the process, and Rare Beer Club members will be receiving this one approximately two weeks in advance of bottles arriving elsewhere in the U.S.
Zwart Black Star (despite the name's overtones) pours a deep, orange-copper color, sort of like dense wood, but still light for the hints of the packaging. Despite the potent ABV, this offers up well-structured off-white foam: finely bubbled and well retained, leaving significant lacing behind. Old ales often pour relatively headless and with a pretty modest carbonation, and the appearance here gives an early heads up that Brettanomyces has been evolving this old-ale base into something else. The early aromatics offer up a bunch of caramelization and dark fruits, with the subtle influences of that anise coming through as a soft edge of licorice.
The overall effect of the anise on flavor is subdued and brilliantly integrated—even for those who tend not to be especially keen on heading deep into licorice land. The impact of anise in this old ale rendition is reminiscent of oak tannins to a certain degree, providing an edge for structural purposes, and letting the dense caramelization remaining in that old ale roll out as dried dark fruits, cotton candy and chewy taffy. The impact of the Brettanomyces makes this comparatively dry and more easily drinkable than most old ales, and while there isn't potent tartness present, there is a welcome savoriness and bright-lime note apparent. Taking a step back: the anise is careful, the old ale is careful, and the Brett use is careful... And all of these contribute to a beautifully structured collaboration beer—packed with fruit and complexity.
As Zwart Black Star is allowed to warm up in the glass, this slowly starts to feel a bit more like its base beer, adding in further notes of caramelization, building in malt-based nuance beside the dark fruits, and gradually showing off notes of baker's chocolate and spice. We found a lot to love in this new De Proef collaboration, and it's one of our favorites so far!
While this release is likely sturdy enough to do just fine in one's cellar, we're inclined to have folks check this one out while it's fresh, as the overall balance seems ideal right where it's at. A bit more caramelization in the middle will have this slowly feeling more and more like the traditional take on chewy old ale. Pairings present a fun challenge with the licorice, and we'd be inclined to try it with roasted fowl, grilled octopus, or a vanilla-y dessert like panna cotta.
De Proef Brouwerij's annual Brewmaster's Collaboration series has been a regular feature in The Rare Beer Club® for years, and with good reason. Some of our longstanding members can likely conjure up some of their personal highlights. For us, the Van Twee collab is quick to come to mind, an early release between De Proef and Bell's Brewery in Michigan: a rich fruit beer combining dark cherry juice, Belgian candi sugar, and a complementing addition of both Brettanomyces yeast and the expressive Nelson Sauvin hop.
Or, in 2012, the Brewmaster's Collaboration release of Flanders Fred: a blend combining the masterful (and massive) framework of Hair of the Dog's Fred with lambic sourced from the Flanders region of Belgium. (That golden nectar's aged particularly well in the time since.) And then there was the subsequent year's release, the Tropical Tripel from De Proef's collab with the ascendent Cigar City in Tampa, Florida. The result was unlike anything else we had ever tasted in the beer world: an engaging and unique tripel-ish concoction employing both oak chips and peaches, Belgian candi sugar and coconut. Experimental, in the best of ways.
Which is to say nothing of other series highlights: interspersed collabs with Left Hand's Eric Wallace, Terrapin's Brian "Spike" Buckowski, and Sly Fox's Brian O'Reilly. We've been fortunate enough to continually get access to each of these releases for our RBC members.
For their latest one-off Brewmaster's Collaboration offering, Dirk Naudts at De Proef has teamed up with Surly Brewing's head brewers Jerrod Johnson and Ben Smith to craft an old ale with star anise and Brettanomyces, creating a delicious beer that will continue to develop with time. Our members will be receiving this one-off brew two weeks before pretty much anyone else.
Surly Brewing has established a pretty substantial regard among the beer cognoscenti with offerings like Furious (an American-style IPA) and Bender (an exquisitely built brown ale), along with more potent releases like Darkness imperial stout and Abrasive double IPA. Surly was once again named to the list of Top 100 breweries worldwide in the latest RateBeer Best competition, and everything we've gotten to sample from them so far has been exceptional.
De Proef, much like Surly, will be very familiar to many of our members. Whether you have sampled through bottles of their Brewmaster's Collaborations over the years, or dug in with a bottle of Mikkeller (many of which are produced at De Proef), or simply sampled any of the myriad brands orchestrated by that scientist-brewer Dirk Naudts at his magic brewing establishment in East Flanders—chances are you're familiar with De Proef's work by now.
Our longstanding appreciation (and thirsty support!) of Dirk's efforts have resulted in more than a few De Proef offerings popping up in The Rare Beer Club over the years. And this one's a standout—a stellar combo of star anise, Brettanomyces, and a delicious old-ale base.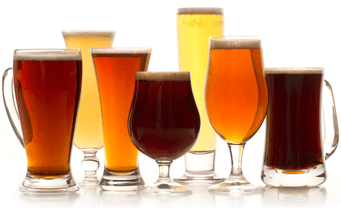 Unmatched Variety by style, brewery & country
Choose from Five different Beer Clubs offering unmatched variety by brewery,
country of origin, and beer style to suit your specific tastes.
DISCOVER OUR FIVE CLUBS