De Proef / Surly - Brewmaster's Collaboration Series - Long of Tooth
ABV:

10.0%

Serving Temperature:

50–57° F

Suggested Glassware:

Snifter, Tulip, or Pinot Glass
Long of Tooth, the latest entry we get to show off from De Proef's extensive Brewmaster's Collaboration series, is an English-style old ale that's spent some time aging on toasted oak and cacao. It seems like somewhat of a departure from the norm for both breweries. But its detailed maltiness seems to point to offerings like Surly Darkness, and the fermentation and precise packaging reflect what we've come to expect from these De Proef collaborations.
Let this monster warm up a bit. If it helps, imagine the skeletal figure on the label shouting, "You should be more patient!" That probably doesn't help—but letting this warm up does. There's a rich, candied midsection to this beer that's one of the consolidating notes for this style: a luxurious, long-palate expression of caramel and toffee and ripe red fruits. It's one of those beers where oxidation just mellows out that core note, slowly, by subtle iteration.
We anticipate these bottles aging well for quite some time.
For summer, this feels appropriately lean: a subtle brush of alcohol (which tended to lighten the body); not a ton in the way of residual sweetness. A dense maltiness, for sure, but in the way that German lagers tend to give complex malt character without accompanying heft. By fall this will perhaps be even more ideal: with a touch of added caramel, perfect for pouring into a snifter and letting that alcoholic warmth slowly build and amplify one's mood. There's a firm fruitiness, ripe and red and rather strawberry-like, fitting perfectly alongside it.
The aroma captures the picture: leaning alcohol, strawberries and cherry pits, plus the tannic edge of toasted oak. The lattermost adds a well-placed vanilla quality to the whole enterprise, one of those warming, underpinning notes that fits fruit and alcohol and caramel together in a pretty darn endearing way. We see this aging very well. As this warms (skull: "Seriously just a little bit of patience won't kill you!"), an initial too-narrow candied note dissipates, replaced by more interesting stuff. A freshly cut note of red apple. Cacao. A dash of darker chocolate.
Lots of red fruits leading the front and mid-palate here. But it's the special ingredients that the latter parts of the presentation bring clearly. Those lightly tannic oak notes provide a sort of rudder, a firmly bitter edge that steers this well. And the cacao is more subtle, a secondary note approximating bitter chocolate and coffee. Without either, this would feel sweeter. This would feel less on point. ("This would feel like it was made by impatient people!" says skull.)
This is not beer made by impatient people.
When we're finally in the right temperature gear, the beer just sings. The oak-tinged fruits, an interlaced note of crisp caramel. The beer settles into its proper shape, and all the pieces just fall together seamlessly: red fruit budging up against the alcohol; that toasty, oaky note giving its caramelized center the hint of oxidation. It's impactful, long of both tooth and finish, and the extra ingredients, at least as implemented here, end up making sense in English-y old ale.
We'd have a hard time imagining that, given this blind, we'd somehow arrive independently at either De Proef or Surly as the obvious participants. But the end result is world class, just a generous English-style old ale that offers an immense amount of middle-malt complexity, without cloying bulk. The cacao and toasted oak do nice work. It's carefully executed beer.
The combined forces of Todd Haug from Surly and Dirk Naudts from De Proef suggest the pairings of aged cheeses, roasted and grilled game (we could see this going very well beside a duck confit or grilled pork loin), and desserts pairing chocolate and caramel. Use the caramel notes to your benefit for sure. They also recommend Long of Tooth as we do, "all by itself."
De Proef's Brewmaster's Collaboration series has been a regular feature within The Rare Beer Club, and with good reason. Long-standing members may fondly recall things like the recent Cigar City collaboration, a 9.5% Tropical Tripel, and Hair of the Dog's Alan Sprint's work in Flanders Fred. De Proef, whether through releases like vintage versions of their Surly Bird or collaborations with Mikkeller and the aforementioned, remains a regular around these parts.
Surly, on the other hand, may be a new name to some of our members, but probably not too many. While a new feature within The Rare Beer Club, they've established a pretty substantial regard among the beer cognoscenti with offerings like Furious (an American-style IPA) and Bender (an exquisitely built brown ale). More potent releases like Darkness and Abrasive are highly coveted in the trading community, and the most recent RateBeer Best Awards named both of them to its list of the top 100 beers worldwide. Surly Brewing was also named to its list of top 100 brewers, and everything we've sampled from them so far doesn't dissuade us.
Surly is headed by its president, Omar Ansari, and head brewer, Todd Haug. Todd partnered with our friend Dirk Naudts at De Proef in the new Brewmaster's Collaboration. "The result is Long of Tooth Ale, dark gold in color with a complex grain bill, rife with notes of toffee, caramel, dried-fruit, cocoa, oaky-vanilla and finishing with classic Belgian character that only Brett can produce." We found the Brett rather light in early bottles, but a great beer present. This will be a one-time collab, and our members will be among the first to sample the result.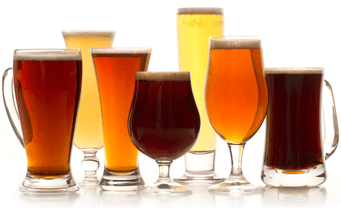 Unmatched Variety by style, brewery & country
Choose from Five different Beer Clubs offering unmatched variety by brewery,
country of origin, and beer style to suit your specific tastes.
DISCOVER OUR FIVE CLUBS