De Proefbrouwerij - Saison Imperiale
Nominally seasonal beers for the summer, but available all year round. Only in a country with so many strong beers would brews of at 5.0 to 6.5 per cent be regarded as "light" summer specialties. Despite their typical strengths, Saisons usually have a citric, peppery, quenching, quality, due variously to hard water, heavy hopping, spicing or deliberate souring. They are usually amber to orange in colour, and often very quite dry.
Saisons are largely local to the French-speaking part of the country, especially the western part of the province of Hainaut, in old, small, farm-like, breweries close to the Borinage coalfield. Examples include the crisp Saison 1900, from the brewery Lefèbvre, in Quenast, south of Brussels; the tart Saison Silly (named after its home village); and the spiced Saison de Pipaix. The last is made by a steam-powered brewery dating from the 1780s.
The brewery Brasserie Vapeur (1 Rue de Maréchal, Pipaix) works only on the last Saturday of the month, starting at 9 in the morning. It also has tours on Sundays at 11, and a shop open in the second half of the week (tel 069-662047).
The hugely lively Saison Dupont is made at farm brewery that uses its spent grain in bread and produces a hop-flavoured cheese (5 Rue Basse, in the village of Tourpes, near Pipaix. There is a café opposite the brewery). The perfumy Saison D'Epeautre (made with the grain spelt) is produced commercially at a private house in the village of Blaugies, near Dour, South of Mons 435 Rue de La Frontière, tel 065-650630). The aromatic Saison Régal is from a larger independent brewery, in Purnode, in the province of Namur. A variety of interpretations for different seasons are made by the Fant™me brewery which opens its own café at weekends and school holidays (8 Rue Préal, tel 086-477044, village of Soy, province of Luxembourg). Many small breweries in the French-speaking part of Belgium make similar beers, not necessarily identified as Saisons.
The style does not exist in the Flemish-speaking part of the country, but a paler, wonderfully flowery, hoppy, beer called Sezoens, made by the Martens brewery, of Bocholt, in Belgian Limburg, is something of a counterpart. This is a house specialty at a café called De Ultieme Hallucinatie, in Brussels (316 Rue Royale, tel 02-217-0614).
Color: tamarind, ripening on the tree. Cinnamon-colored head, very attractive.
Nose: angelica. lemon-grass. cut grass. hayrides.
Palate: cereal grains. some nutty barley sugar. sweet potato. caramelized vegetables.
Finish : earthy. dusty. faintly astringent. Hessian...punch of warming alcohol.
Comments: a robust beer to meet an adult taste. some refreshing, melon-like sweetness and acidity. some green pepper bitterness.
Food pairings: Belgian endive, caramelized vegetables, stir-fries, gumbo.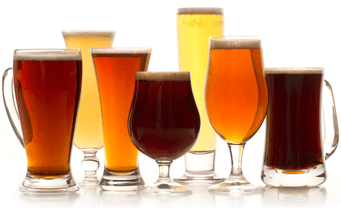 Unmatched Variety by style, brewery & country
Choose from Five different Beer Clubs offering unmatched variety by brewery,
country of origin, and beer style to suit your specific tastes.
DISCOVER OUR FIVE CLUBS