De Scheldebrouwerij - Hop Ruiter
ABV:

8.00%

Serving Temperature:

45-50° F

Suggested Glassware:

Tulip or Oversized Wine Glass
The label looks like a playing card, which ties to the history of the town it comes from (see label for more info). The beer lands in the glass with a minimally hazy medium straw color, buried beneath a massive, extremely frothy head that looks like it was just whipped up by a barista. Beautiful Belgian-y nose, replete with all you'd expect in a well-crafted Belgian Strong Pale Ale, and so much more. Three different hop varieties (none American) are used: one in the boil and two noble varieties in dry hopping. Look for notes of peppery spice, lemon (maybe lime as well), honeysuckle and an herbal flash of coriander, along with a bit of sulfur and pilsner malts, all bouncing off of LOTS of delicate noble hop notes, blending with maltier characteristics like fresh baked bread drizzled with honey. Spicy alcohol notes as well. Eminently pleasant. A flash of yeasty brine splashes on the palate, revealing the vigor of the yeast involved, with notes of white grapes and fortified white wine taking aim at the palate. The hops contribute spiciness, but also quite a bit of citrus and tea-like notes, yet there is a tingling spiciness akin to finely ground white pepper, which spikes things up quite a notch. Fruits and sweetness slide out from beneath the bite, but spice returns in the finish, along with a keen note of alcohol. There's some bitterness in the finish, but it's an herbal and floral, rose-like alcohol note. We got little hoppy bitterness at the end, and in fact, an unexpected little bit of funkiness asserts itself. With all the spice and yeastiness and everything else, the beer feels like it is a bit unstable, as though it could meltdown into some sort of explosive disaster—but it keeps it all together, like that rickety roller coaster you rode as a kid (the name, which translates roughly to "hop rider", makes perfect sense). In that way, this beer feels a bit dangerous—keeping you guessing, making you pay attention, all the while disappearing far too quickly; despite its complexity, it possesses extreme drinkability. It brings to mind the "original" Belgian Strong Pale Ale (Duvel) as much as it does an extremely Saaz-heavy Czech Pilsner, blended with a dash of Wild Ale—and it's a very nice combo. Really quite a unique beer, with raucous subtlety that doesn't need to cite a flashy ingredients list to "go extreme." Deftly done. The importers suggest you enjoy Hop Ruiter as an aperitif , or over a game of cards. Given the hunting history of the region near the brewery, you'll find it a fine companion to game birds, venison and hare. They also like to offer Hop Ruiter at Belgian brunches—with egg dishes, sausages, baked beans, croques monsieurs, and grilled tomatoes & asparagus.
In the better beer revolution that we continue to enjoy, the glory often goes to the brewers. But there's an important player we often overlook, and that's the importer. These are the folks who select which beers to pull in from afar, and their influence has been critical over the years, as they drive access to many of the beers that helped spur on the US microbrewery movement. One importer who's done a particularly tremendous amount of good work shaping the landscape of better beer available domestically is Vanberg & DeWulf, out of Cooperstown, NY. In 1982, founder Don Feinberg was the first to import Duvel, a beer that most beer connoisseurs will recall as a game changer in their perception of what beer can be. Duvel was a favorite of Don's during his graduate studies in Belgium, as were many other beers from the region. His efforts also led to the introduction of Rodenbach, Affligem, Boon's lambics, Dupont and Scaldis, among others—all responsible for creating some of the hallmark icons of various Belgian beer styles. In 1990, Don's wife, Wendy Littlefield, joined him in the business. In 1996, they co-founded Brewery Ommegang, the first farmstead brewery built in America in a hundred years. Ommegang was the first brewery in the US dedicated to Belgian-style, all bottle-conditioned, cork-finished beers. Vanberg and DeWulf's philosophy is to work exclusively with breweries that are independent, family-run and artisanal in their approach. They are dedicated to educating beer enthusiasts about the rich and varied beer culture of Belgium, and winning over the hearts and minds of American beer drinkers by helping them realize what real beer has to offer. Their trade is not limited to importing or brewing beer; the company published the first US edition of Michael Jackson's The Great Beers of Belgium—which is now in its 6th printing and is the classic work on the subject. They've also championed the virtues of food pairings and cooking with beer, working closely with Ruth Van Waerebeke, the Belgian chef and writer who authored Everybody Eats Well in Belgium, a standard reference for US chefs. When seeking a beer from their portfolio, we were especially interested in Hop Ruiter, a beer that Don and Wendy like to say "is imported from 1982" from the days when Don was a grad student in Belgium and "strong golden ales were funky, malty and full of character." This 8% ABV bottle-conditioned strong golden ale combines Belgian appreciation for aromatic esters with the American love of hops. It is a "cooperation beer," created with feedback from Vanberg & DeWulf, by Belgian brewers from De Scheldebrouwerij. In the summer of 2009, Don had been made aware of this promising little brewery, and paid them a visit. The brewer, Pieter van den Eijnden, and managing director, Gust Hermans, sat down with Don to taste their excellent beers. A plan was hatched to cooperate on simultaneously launching a proprietary new beer that would pay homage to the raucous aromatic strong beers that Don remembered from his early days in Belgium in the late 1970's, but that would add a forward hoppiness so favored in America and increasingly appreciated in Belgium. The result is a surprising time-capsule-esque experience in better beer; while De Scheldebrouwerij is a modern establishment—often acting as a sort of renegade, not afraid to break the "rules" of traditional Belgian brewing—they've managed to brew a beer that looks, tastes and feels like we found a perfectly preserved stash of beer hidden away since the 1970s. Enjoy!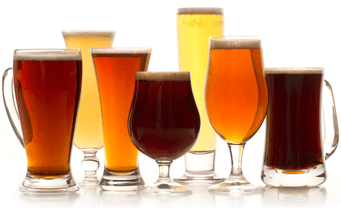 Unmatched Variety by style, brewery & country
Choose from Five different Beer Clubs offering unmatched variety by brewery,
country of origin, and beer style to suit your specific tastes.
DISCOVER OUR FIVE CLUBS