Dovetail Brewery - Vignette
ABV:

6.5%

Bottle Size:

750-ml

Suggested Glassware:

Tulip, Teku, or Chardonnay Glass
As one of two exclusive Rare Beer Club options this month, we're pleased to offer members the first taste of Dovetail Vignette—the brewery's inaugural take on a Belgian gueuze. Made with a turbid mash and spontaneously fermented in the brewery's custom coolship—using local wild yeasts native to Chicago, for an entirely unique fermentation profile—Vignette's a blend of ten specially selected barrels from the brewery's first three years in operation. It's a brilliantly handled take on blended Belgian-style lambic, with its various components aged in oak barrels for up to three years, and the final blend proves to be exactly what we're looking for from the style: especially nuanced, vibrantly tart, and impeccably drinkable and dry. The folks at Dovetail have been doing amazing stuff with their sour program, and there's simply no better beer for getting a clear sense of what Bill and Hagen and company are capable of.
Dovetail Vignette pours a deeply honeyed golden color approaching orange, with a modest coverage of off-white foam capping things. The aromatics are full-on gueuze from the start, with tart lemons and grapefruit, a mélange of sourdough and expressive funk, and just a bit of salinity around the edges. Hints of tangerine, and very subtle oaky vanilla from its time in barrels. It's incredibly well blended for a U.S. take on gueuze, and even moreso for a brewery that's barely been open three years. It would hold its own beside some of our fav Belgians.
The mouthfeel on this is phenomenal—modestly carbonated, for just a lift of bubbles, with assertive core acidity steering things. Lots of vibrantly tart fresh lemons and assorted citrus, with complex tartness and a toasty underpinning of subtle white pepper and sourdough. It could very well pass for traditional Belgian gueuze at first sip, firmly funky and lemony and sour, but those secondary notes of sourdough and pepper, even some limes and tangerine, bring Vignette into a very unique expression of blended, spontaneously fermented beer. It avoids an onslaught of sourness in favor of the superb drinkability of great gueuze, while a subtle blend of less-traditional citrus character and yeast presence fits in seamlessly here. A huge success from the Dovetail folks, and a perfect way to celebrate their first three years.
This should continue to age gracefully over the course of another year or two (at least). For food pairings, this should work nicely beside the same suggestions we provided for Yazoo's Monteur de Houblon: some creamy and/or funky cheeses, buttery seafood—but especially the traditional option of mussels and Belgian-style frites.
While Dovetail's founders Bill Wesselink and Hagen Dost are both from Chicago, they first met while working on their Master Brewer Certifications at Doemens Institute in Munich. Sharing an appreciation for the traditional brewing methods of Europe, as well as the finer points of high-quality beer culture, the two decided to combine their talents and launched Dovetail Brewery back in Chicago in June of 2016. As they put it: "We decided to join our talents and shared vision into a stronger form, like a dovetail joint. Our goal is to produce beer of the highest quality, similar to the level of craftsmanship found in fine woodworking." Not long after opening, Dovetail was named one of BeerAdvocate's Best New U.S. Breweries.
Dovetail Brewery has built a highly customized brewhouse toward these ends, making use of Hagen's previous experience as a mechanical engineer. Their setup includes a custom-built and -designed coolship for traditionally cooling wort, a custom water processing plant and malt handling system, and maturation tanks made from reconstructed stainless steel dairy tanks. Their copper kettle is itself over a century old, acquired from the millennium-plus-old Weihenstephan brewery in Germany. Dovetail sources their specialty malt from Franconia, while their raw wheat and fresh fruit additions come from farmers within 150 miles of their brewery in Chicago. Noble hops are used exclusively. Lagers and hefeweizens both receive a double-decoction mash for its added benefits in flavor and head retention, while lambic-style releases are turbid mashed for better yeast complexity and allowed to rest for up to 24 hours in their custom coolship, to inoculate with wild yeasts native to Chicago. Throughout all the processes, Bill and Hagen aim to combine the very best of traditional and modern brewing.
The options on-site strongly reflect the brewers' respect for traditional European styles, with German classics like Helles, Vienna, Altbier, Pilsner and Rauchbier. Their Kriek is fermented for over 2 ½ years in the Belgian tradition—using 2,300 pounds of Balaton cherries sourced from Michigan. Dovetail's Framboise and Pomme are both spontaneously fermented for up to 10 months atop Michigan-sourced raspberries and apples, respectively. Their draft-only Petit Gueuze is a particularly limited blend of one- and two-year-old batches, while the more experimental X02 Wild Table Beer combines Dovetail Lager with spontaneously fermented lambic-style beer. They even offer radlers—including a particularly intriguing blend of their Dovetail Rauchbier blended 70/30 with Filbert's Draft Root Beer (also made in Chicago).
As a Rare Beer Club exclusive offering this month, we've managed to secure bottles of the brewery's Vignette: a celebration of the brewery's first three years in operation. Dovetail's Vignette combines ten selected spontaneously fermented barrels that vary in age, up to 3 years, in the tradition of Belgian Gueuze. It's a perfect showcase of what the folks over at Dovetail have been up to, and we're pumped to be able to offer it exclusively through the Rare Beer Club. We really dig what these folks are up to, and definitely swing by their spot should you happen to be in Chicago. They're open seven days a week, with food trucks and frequent special releases, with tours every Saturday at 11am. More at dovetailbrewery.com.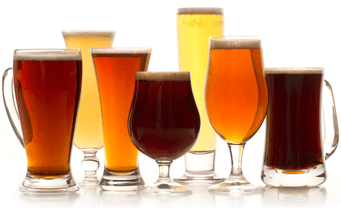 Unmatched Variety by style, brewery & country
Choose from Five different Beer Clubs offering unmatched variety by brewery,
country of origin, and beer style to suit your specific tastes.
DISCOVER OUR FIVE CLUBS