Elevation Beer Company - Arête
ABV:

12.5%

Serving Temperature:

55–64° F

Suggested Glassware:

Snifter, tulip, or Bordeaux glass
There wasn't much of this beer made; only about 300 cases will see any distribution. And it's a seasonal, one-time run of this single-hop barleywine. Elevation's Arête is actually a blended barleywine, constructed over two separate batches (one of which was particular dry and high in ABV), the result being a significantly detailed American-style version that feels like it gives much more depth than a beer of this size normally would, especially this early on. We would encourage our Rare Beer Club™ members to at least sample a bottle of this quite fresh, before the hops fade—as they dry-hopped the bejesus out of this with additional Centennial doses.
Which brings us around to another core facet: this is 100% Centennial hops throughout, and in a way that feels way more expansive that a single-hop beer should. We found a jolt of that grassiness from the dry-hopping right from the get-go (despite the ABV and other aspects of this beer): an herbaceous, fresh-mown, even almost lime-like hop character that carried us in with zero complaints. You should feel more than comfortable setting down this 12+% beer for a good bit of time in whatever cellar space you're working with—but at least try it fresh.
This pours reasonably clear, with a deep amber-brown color that simplifies to gold closer to the edges. We managed some light-tan bubbles that persisted for a while, but head retention isn't really to be expected in beers pushing these ABV levels. Those early herbal Centennials are met by some deeper and subtle citrus notes, along with an engaging floral character that, if we'd been left to our own devices, certainly wouldn't have had us thinking anywhere near to it being a one-hop wonder. To be fair, it is a one-hop wonder. We just wouldn't guess so.
The other core element throughout is a really endearing, carefully placed fruity alcohol note, which we imagine transmuting into some pretty magical sherry and dried-fruit qualities with a bit of time behind it. Or, we should say, more of those qualities, as this already offers some of that dark-fruit, leathery complexity really early on. The aroma also offers an undercurrent of very softly integrated brown sugar and caramel, but the soft, red-fruit alcohol runs things.
Fine carbonation in the mouth, along with the leanness and subtle chest-warming alcohol in this, keep things firmly on point, and really allow all those other aspects to play out. There's again a firm but not overpowering presence of grassy and floral hop aspects, with that fruity alcohol affording a complex note beside it. The bitterness is just enough, steering things with the help of lean alcohol and small bubbles, and allowing more and more of the interior notes of this beer to slowly come forward as this warms: chewy caramel, toffee, brown sugar. Even a hint of smoked meat and leather ultimately play out as we begin nearing ideal temperatures.
This is a massive, but hugely nuanced blended barleywine that we're really proud to offer up. We've very much enjoyed working with Elevation over the past few years, and (if we happen to feel like choosing favorites) let's just say this is up there. Elevation's Arête is way up there. We regularly consult Janet Fletcher's Cheese & Beer tome for pairing insight, and a barleywine section sits right upfront. She suggests aged Goudas, smooth triple-creams, or buttery blues.
We first featured Elevation Beer Company in The Rare Beer Club™ in late 2012, which is right around the time they first opened. We knew a good thing when we tasted it, and the smoked doppelbock (known as Prostator) that we featured was in support of the Pints for Prostates project, which seeks to raise prostate-cancer awareness through the shared language of beer. That smoked doppelbock was a big hit with our members, so much so that we made sure to get four more Elevation beers offered together for a special offer early that next year: Signal de Botrange (a farmhouse ale aged in Napa Valley Chardonnay barrels), Apis IV (reminding us of a honeyed Belgian quad), Oil Man (their potent but highly drinkable barrel-aged impy stout), and Señorita (an imperial porter with just the right amount of vanilla and cinnamon).
At the time of the original smoked doppelbock feature, we included a quote from the Head Brewer and Co-founder at Elevation, Christian Koch: "Our plan is to build a reputation for brewing rare artisan beers. We are going to focus on adventurous specialty beers and barrel-aged seasonals that will appeal to craft beer fans like us." Looking back, it totally didn't take them very much time to get there. The brewery has been growing in leaps and bounds, with multiple incremental expansions to try to craft enough Elevation beer for a thirsty public. They've been running at full capacity for a while now, and we were grateful to (once again!) be able to snag a special, limited-release offering from these folks: a single-hop barleywine.
Even after all the fanfare and excitement (including a number of international beer awards, and more than half a dozen of their beers scoring 90+ by the hedonists on RateBeer.com), Elevation remains the shared vision of four friends—Carlin, Christian, Sheila, and Xandy—who, over backyard barbecue and beers, decided that they should build something together. As with countless small, up-and-coming breweries that we've featured over the years in The Rare Beer Club™, it's been an absolute pleasure for us to help in supporting world-class beer.
This month you're in for a particular treat, and, frankly, one especially suitable for that cool weather that's fast approaching. Elevation Beer Company's Arête weighs in over 12% ABV and is one of the highest ABV beers we've featured in a while. Alcohol in itself isn't all that interesting to us, and to be honest it takes something special for us to choose anything that clocks in over 10%, as we've had too many "extreme-beer" examples that arguably weren't worth the incurred buzz. Despite its alcoholic heft, Elevation's Arête brings us back around to what we originally found so endearing about this Colorado brewery: it's a highly drinkable creation (which we generally encourage sharing!), with a mode of expression wholly its own.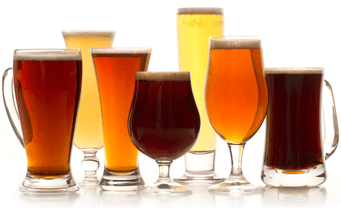 Unmatched Variety by style, brewery & country
Choose from Five different Beer Clubs offering unmatched variety by brewery,
country of origin, and beer style to suit your specific tastes.
DISCOVER OUR FIVE CLUBS