Especialidades Cerveceras - Casta Unica
ABV:

7.5-8.5%

Int'l Bittering Units (IBUs):

25-30

Malts:

Base malt, caramel and chocolate malts

Hops:

Two hop additions, East Kent Golding and Styrian Golding
When you think of Mexico, what kind of beer do you think of? Very, very light tasting beer, with a name that means "crown", perhaps? Most of the beers that come out of Mexico are even lighter, blander, and sweeter than American beers are. But this unusual beer could be called the treasure of the Sierra Madres, if you are a film buff. It's as big and rich and flavorsome as its rather elegant bottle suggests. You see this bottle and you think that it could be a Belgian beer, it could be one of the great beers of Belgium. But wait a minute, Mexico?
Well, there is a rather tenuous historical link. Belgium was ruled by Austria at one point, and so was Mexico. And while this is a beer that is worthy of the respect of the great beers of Belgium, it does not date from that time. Mexico may have a lot of light, tasteless beers, but it's got a very long pedigree of brewing. It is true that brewing, and especially certain Vienna-style beers, were introduced to Mexico by Austrians, Swiss, and Germans, dating back to the 1700's but the very old and distinguished brewing family that made this beer came over from Spain. They decided recently to start the first real microbrewery in Mexico. The inspiration came from the United States, and many Americans don't realize that a number of the world's great beers are made in the U.S., and that it is a great influence on the rest of the brewing world.
The first revolt against bland beer came in Britain in 1971 with a consumer organization called The Campaign for Real Ale; but it was when this campaign came to the attention of some Americans that things really started to happen with the creation of new breweries.
This is really a Belgian-style abbey beer, and they call it "Unica", meaning that it is unique. Though this can be a very misused word, they have really gone for the gold and made a very flavor-packed beer. At the time that I was beer hunting and found this beer, there was only one of its type being made in Mexico, by the new Especialidades Cerveceras in Monterrey. They make three principle products, but this is a very special top-of-the-line beer that goes well beyond that range.
What we have, in a way, is a real global beer here: a golden style, English hops, very cosmopolitan but in a global or cosmopolitan way that brings us more taste. It is 7.5 to 8.5% alcohol, and has a lot of hop on the nose, with a banana-like fruitiness that comes from the yeast. You've got to wonder…is this Westmalle yeast, perhaps? It's a very big beer. I've had this bottle in my cellar for a month or two, and it's developed a bit more of that banana-like character. It's probably going to peak at about 18 months, but who knows?
We talk about beers being food beers, being very compatible with food, but this beer is really suggesting food, urging one into the kitchen to start cooking. It could be very nice with chicken, perhaps with lemongrass – some Thai food. They serve Thai food at my local in London, and I'd like to have this beer to try with it. But on second thought it is quite obvious; it will go well with chicken, or turkey, mole. That's it, turkey mole with dinner tonight. Salud.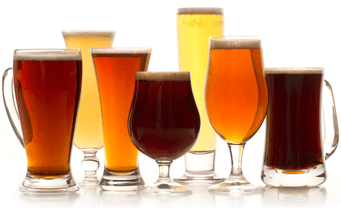 Unmatched Variety by style, brewery & country
Choose from Five different Beer Clubs offering unmatched variety by brewery,
country of origin, and beer style to suit your specific tastes.
DISCOVER OUR FIVE CLUBS