Flying Dog Brewing Company - Raging Bitch Belgian-Style India Pale Ale
ABV:

8.30%

Serving Temperature:

40-45° F

Suggested Glassware:

Tulip, Oversized Wine Glass or Snifter
This beer is available to Rare Beer Club members before general release—but keep this in mind: the beer label is going to be prohibited in something like 13+ states (take a close look and you'll figure out why. Hint: it's not just the name). More importantly, it's been put into special, very limited edition 750mL bottles just for us and a handful of European distributors. The only other place you can get these coveted ¾ liter bottles is to pay a visit to the brewery in Maryland, but word is, they're quickly running out of their own supply (yeah, we cleaned 'em out pretty good. Feel guilty? Don't. You deserve it). This beer is brewed as a double IPA, fermented with Belgian yeast, to give a uniquely US-meets-Belgium profile that we feel could just become the benchmark for this new "style" of beer known as Belgian IPA (well, a Belgian-Style IPA you'd have to call it, being made stateside). It pours a golden color with brassy highlights and is capped by a two-fingers-thick head that decays to a thick collar, dropping plenty of lace on the glass as the beer is consumed. Look closely under good light and you'll see the diffraction caused by the hop oils, creating the tiny rainbows you expect to see in a slick of oil on water—an instant giveaway that this beer is well hopped. Of course, one sniff would tell you the same. Expect an alluring bouquet. A raging bitch? Not so sure; this beer smells elegant, refined, and kind. Look for inviting notes of herbal, spicy hops to leap from the glass, offering seductive notes of lavender, mandarin oranges, hints of peppery spice and melons. Yes, this bitch has some sweet melons. Of course, bigly aromatic U.S. hop notes are in there as well, giving off leafy, evergreen characteristics and general citrus rind qualities. Belgian-style spicy phenolics are present in abundant supply due to the use of the Belgian yeast strain. Flutters of warm alcohol catch the nostrils a bit here and there, but between the spicy, hoppy, phenolic qualities, these are deeply blended in the overall aroma profile. Raging Bitch is expectedly spicy on the palate as well, in part due to the Belgian yeast byproducts, in part the hefty dose of hops. Expect a sensation of tingling in the mouth, almost like the effect of inhaled menthol, or the burn of cinnamon (but no cinnamon flavors). Some alcohol warmth kicks in, especially as it warms, but like the aroma, it's blended beautifully and supports the other flavors, which include grapefruit peel, coriander-like spice, white pepper, blonde tobacco, woody spiciness, pine sap, and some faint, crackery malt notes like those found in most traditional Belgian Pale Ales. The beer finishes very dry, with lingering reedy spice notes and a gentle tartness like immature peaches or apricots. You can tame this bitch with some spicy food, or a very sharp cheddar melted over a buffalo burger.

Raging? Well, it's definitely got some kick. You can feel this beer the whole way down. It won't let you off the hook easy. It won't be forgotten. Perhaps the raging bitch part is the way that this beer sort of blows up at you just when you think all is calm and quiet. Or maybe it's the way the beer isn't afraid to let you know exactly who she is and that she don't give no damn what your ass thinks about it, yet still manages to keep you coming back for more. A delicious, intriguing, sexy beast of a beer befitting Flying Dog's 20th Birthday. Rage on baby. Rage on.
Flying Dog has gained nationwide success since its founding twenty years ago in 1990. By combining bold, uncompromising craft beers with branding that captures the irreverent spirit of today's better beer drinker, they've created quite a few canine-inspired "characters" in the beer world. Not surprising, considering what an interesting character founder George Stranahan is. The heir to a multi-million-dollar fortune from the Champion Spark Plug company, he was never content to simply live the trust-fund life. Early on he rejected authority and the stuffy, elitist attitude often found among the wealthy, opting to pursue a Ph.D. in Physics. In 1959 he proposed what has become the Aspen Center for Physics. Since then, he's been a cattle rancher, pal of Hunter S. Thompson, whiskey distiller, barkeep & cook, trusted publican, brewery owner and investor. When he opened the Flying Dog Brewpub in Aspen, Colorado, it was the first brewing business to open there in over 100 years.
Clearly, a can-do spirit like his has much to do with the success of Flying Dog. In 2006, Flying Dog purchased the Wild Goose Brewery in Frederick, Maryland to serve as an east coast brewing center for their growing brand. Ultimately, they moved all brewing operations to this site, closing their original Colorado brewery. Yes, this dog truly is flying, all the way to Europe! Flying Dog's beers are now available in select locations in Sweden, Finland, Denmark, Austria, Italy, UK, and Holland, representin' the US with their tasty beers. As they say, in their forever-irreverent style, "we are taking this bitch international!"
Every dog has its day, but on September 26th, 2009 at The Great American Beer Festival, Flying Dog had its best day. With 3,308 beers entered by 495 breweries, Flying Dog took home gold medals for their Dogtoberfest Marzen, Gonzo Imperial Porter, 2007 Vintage Horn Dog Barley Wine and a silver medal for whiskey-barrel-aged Gonzo Imperial Porter. To top it all off, they also won "Mid-Size Brewery of the Year!" Very impressive.
Now, most of Flying Dog's beers aren't exactly rare—they have pretty good distribution in the US. However, their newest beer, just brewed and yet to be sold in bottles (save for the bottles we procured and the few available only at the brewery), is coming to you before just about anyone else in the world can get it. And damn is it a good beer—it ought to be, it was brewed specifically to celebrate Flying Dog's 20th Anniversary in 2010. Enjoy being among the first in the world to celebrate this monumental occasion for one of the great US microbreweries with a suitably monumental brew, named irreverently, as always: Raging Bitch Belgian-Style India Pale Ale.
For more information about the brewery and scheduled tours, call (301) 694-7899 or check out their web site at www.flyingdogbrewery.com.
Note: As you may have noticed, one of last month's features, from the US as well, was also a 20 year anniversary commemorative brew, and also had the word "Bitch" in the title. Two Bitches in a row? Are we trying to be vulgar? Nah, but hell, after all, last year was a bitch of a year, let's be frank. But you have to be able to take it all with some levity, and we hope that membership in the Rare Beer Club gives everyone a chance to kick back & relax, and that the beers we select help pull you through some of the "bitchier" moments in life, donning a smile, if possible, while drinking the good stuff!
Here's to 2010 and plenty of great beer (we've got some killer stuff in the works). Cheers!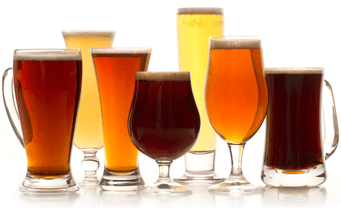 Unmatched Variety by style, brewery & country
Choose from Five different Beer Clubs offering unmatched variety by brewery,
country of origin, and beer style to suit your specific tastes.
DISCOVER OUR FIVE CLUBS