Fulton Beer - War & Peace
ABV:

9.5%

Bottle Size:

750-ml

Serving Temperature:

48–55° F

Suggested Glassware:

Snifter, Tulip, Teku or Coffee Mug
Despite the recent expansions mentioned above, even Fulton Beer's flagships don't make it particularly far beyond the brewery. Their specialty releases, even less so—and this one only sees the light of day each winter. Distribution is very small this year (as always), but we managed to get enough War & Peace for our Rare Beer Club members—specially packaged for us in 750mL bottles rather than their new-normal smaller formats.
A brief primer: this is a Russian-style imperial stout that's been conditioned with whole-bean Peace Coffee. (Hence the name, and a hat tip to Tolstoy.) More specifically: dark roast, local, delicious, nicely integrated, Minneapolis-made coffee. The brewery explains: "Like Tolstoy's masterpiece, it may take some time to finish, and require some thought along the way."
The core of this isn't letting any light through—pouring dark chocolate and opaque—while the edges are more of a golden cola-brown. There's a noticeable haze and extra viscosity to this one, or at least it looks that way at first pour, and the initial sip really doesn't dissuade as far as density goes: this is rich, plush on the tongue, with a whole load of nuance going on.
The aroma isn't shy about the coffee contributions in the slightest, and they show beautifully here: well roasted, with aspects of dark chocolate and even a hint of smoke, and nothing but a deep, endearing, fresh-ground quality. There's lots of roast here even beyond the coffee (as this was brewed with "historic quantities of chocolate malt and roast barley"). Even without coffee additions, this would be massive. The aromatics of the hops are on the quiet side, but the bittering elements play in later. We found some herbal notes herein, plus a touch of pine.
We were hugely impressed by how this coffee imperial stout was executed. There's a clear balance, with sweetness of milk and dark chocolate tempered by roasted coffee beans, and even some significant hop presence beside the darker malts. There's some potent bitterness going on (this clocks in around 81 IBUs), and it's a combination of roast and char as well as hops. That coffee, though, plays center stage throughout: malty chocolate and roast setting the stage and giving this a robust foundation, with coffee, bitter chocolate, and nuanced fruitiness steering.
This one's super rich on its own, but we'd be inclined to try it alongside some legit ice cream: none of the icy-sugar nonsense, but the good stuff in a creamy coffee or vanilla bean variety. Having watched how bottles of War & Peace developed over time, Ryan over at Fulton Beer suggested sampling it early on for sure: "there's nothing quite like when it's fresh." Those of a mind to cellar some bottles should know that it's reliably safe to age for about a year or so, at least, with the volatile coffee-ness dropping off over time and that base stout emerging.
The Minnesota brewing scene has been changing dramatically in recent years, and we have kept a close eye on up-and-coming breweries in the region. One of the biggest changes out in Minnesota was a provision enacted back in 2011 allowing small breweries to sell pints of their own beer on-site, enabling the existence of craft taprooms and all the meet-the-brewer benefits those sorts of things tend to afford. One of our two featured breweries this month was the second brewery in the state to open a taproom after that legislation passed, and the first in the Minneapolis–St. Paul metro area. Fulton Beer's been making huge strides since.
Around a decade ago, the four folks behind Fulton Beer—Ryan Petz, Brian Hoffman, Peter Grande, and Jim Diley—were just starting to homebrew together in Jim's piddly (and cold) one-car garage. Rest assured, Minnesota gets cold. But that homebrewing inlet, like so many unexpected and fiscally questionable paths into professional brewing, led them, a few years later, to start Fulton Beer together. As the story goes: Ryan and Jim were in debt from grad school, Pete and his wife were expecting, everyone else was newly or about to get married... The four had no savings, no cache of brewing connections, and no real industry experience. The circumstances, in other words, were perfect.
In the time since, we've been able to watch Fulton Beer grow from a small, contracting brewery into something much more established—and all in spite of the less-than-super-great chances for the whole endeavor. We could probably make some sort of awkward Pinot Noir analogy here, but we'll instead just simply say that maybe beer's better when you've really got to work for it. The first keg of Fulton Beer was served at The Happy Gnome out in St. Paul; this was back in late October of 2009. The intrepid four signed a lease for their first brewery in September 2010, which became the first brewery taproom in the Twin Cities. And, having quickly exhausted that production space, they began building a second brewery in late 2013.
Today, the majority of Fulton Beer's production takes place at their second facility: a 51,000-square-foot facility in northeast Minneapolis, about five minutes from their original location. For pretty much the first time ever, the brewery's been able to spend significantly more time and resources bottling their specialty beers. Many of the beers in their limited-release Garage Series are seeing the inside of a bottle for the very first time. War and Peace was the first of them to be released, and it's back in a 750mL format exclusively for the Rare Beer Club.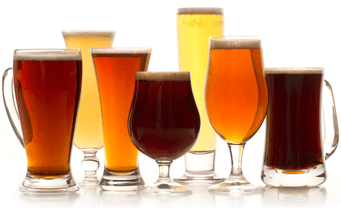 Unmatched Variety by style, brewery & country
Choose from Five different Beer Clubs offering unmatched variety by brewery,
country of origin, and beer style to suit your specific tastes.
DISCOVER OUR FIVE CLUBS