Fulton Brewing Company - Garage Series: Maitrise
ABV:

9.5%

Serving Temperature:

52–59° F

Suggested Glassware:

Tulip, Chalice or Chardonnay Glass

Fulton's delicious Maitrise, in their limited-release Garage Series, is a seasonal offering that is only available once each year, with very limited Minnesota and Wisconsin distribution (plus a wee corner of North Dakota). Fewer than 250 cases are expected to be available outside of those snagged up by Rare Beer Club members. We were grateful to get enough of this one!
This pours a beautiful, bright honeyed-orange color that glowed in our glasses, capped by a spirited, marshmallow-white head of tiny bubbles that lasts then persists at the edges. It's a great looking pour, super-fine carbonation, and its generous aromatics are already showing, with expressive notes of honeycomb and tree fruit spilling out of the glass. Very generous.
The nose changes quite a bit over a range of temperatures. Cool, it leads with mellow honey and mineral, noble-like hop notes, an endearing blend of bitter-sweet that's perked up with that effervescent carbonation. There's a whole lot to like, and Maitrise quickly expands into much vaster aromas as this warms: complex floral notes that hint at rose and apple; peppery phenolic notes from that saison yeast strain that add a welcome edge; plus, of course, a rich melony, even cantaloupe-like tropical character from the Nelson Sauvin hop additions. Tree fruit. Crème brûlée. Every once in a while: a sourdough tartness and a whiff of passion fruit. It's a pretty amazing, atypical nose once you let it open up. Never too heavy. Proudly vast.
Alright, alright... Dive in. Sniff and a mouthful. And... Maybe the first thing to notice is how perfectly tuned the texture is, with those tiny bubbles showing in the lacing coming through with creamy, effervescently prickly texture that feels alive on the tongue like a great Belgian-style beer... That texture uplifts effortless layers of honey, pepper and clove (seemingly even more phenolic depths than we noticed in the aroma, adding a yeast quality somewhere in the middle of peppery saison and tripel), along with plenty of cotton candy, light caramelization, and expansive fruit character that avoids feeling fruit-cocktail-ish. Key fruits: lime, Meyer lemon, the mentioned melons, pear... Fulton calls this limited 9.5% release in their Garage Series an imperial farmhouse ale, and it's indeed a generous mix of contributions from that core saison yeast and diverse, hoppy goodness from the Nelson Sauvins. Pinpoint levels of bitterness. So easy to drink, with textbook texture. This disappeared from our glasses. Unique. Delicious.
While the ABV and remarkably sturdy feel of Fulton's Maitrise might encourage you to send some bottles into the cellar—just keep in mind the effect of the Nelson Sauvin hops in early-on tastes. Its tree-fruit and melon hop notes will tend to dissipate with additional cellar time, with the pepper and clove edges of that underlying yeast strain gradually taking on a greater bittering role. We expect this will change quite considerably over even a span of six months, so keep an eye on things. The assertive carbonation would make this perfect alongside some moderately aged Gouda (especially with its light caramelization) or beside some creamy Brie.
The Minnesota brewing scene has been changing dramatically in recent years, and we have kept a close eye on up-and-coming breweries in the region. One of the biggest changes out in Minnesota was a provision enacted back in 2011 allowing small breweries to sell pints of their own beer on-site: enabling the existence of craft taprooms and all the meet-the-brewer benefits those sorts of things tend to afford. One of our two featured selections this month was the second brewery in the state to open a taproom after that legislation passed, and the first in the Minneapolis–St. Paul metro area. Fulton Beer's been making some huge strides.
Around a decade ago, the four folks behind Fulton Beer—Ryan Petz, Brian Hoffman, Pete Grande, and Jim Diley—were just starting to homebrew together in Jim's piddly (and cold) one-car garage. Rest assured, Minnesota gets cold. But that homebrewing inlet, like so many unexpected and fiscally questionable paths into professional brewing, led them, a few years later, to start Fulton Beer together. As the story goes: Ryan and Jim were in debt from grad school, Pete and his wife were expecting, everyone else was newly or about to get married... The four had no savings, no cache of brewing connections, and no real industry experience. The circumstances, in other words, were perfect.
In the time since, we've been able to watch Fulton Beer grow from a small, contracting brewery into something much more established—and all in spite of the less-than-super-great chances for the whole endeavor. We could probably make some sort of awkward Pinot Noir analogy here, but we'll instead just simply say that maybe beer's better when you've really got to work for it. The first keg of Fulton Beer was served at The Happy Gnome out in St. Paul; this was back in late October of 2009. The intrepid four signed a lease for their first brewery in September 2010, which became the first brewery taproom in the Twin Cities. And, having quickly exhausted that production space, they began building a second brewery in late 2013.
Today, the majority of Fulton Beer's production takes place at their second facility: a 51,000-square-foot facility in northeast Minneapolis, about five minutes from their original location. For pretty much the first time ever, the brewery's been able to spend significantly more time and resources bottling their specialty beers. Many of the beers in their limited-release Garage Series—of which War and Peace was the very first to be released, featured here previously—are seeing the inside of a bottle for the very first time. We're excited to get this tasty imperial farmhouse ale (with a dose of Nelson Sauvin hops!) into the hands of our Rare Beer Club® members, and can't wait to see what's next from this brewery well past its garage phase.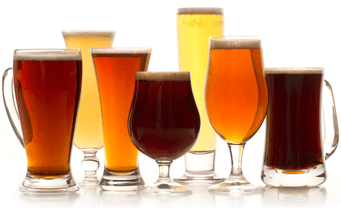 Unmatched Variety by style, brewery & country
Choose from Five different Beer Clubs offering unmatched variety by brewery,
country of origin, and beer style to suit your specific tastes.
DISCOVER OUR FIVE CLUBS