Funkwerks - Saison
ABV:

6.8%

Serving Temperature:

45–53° F

Suggested Glassware:

Tulip or Burgundy Glass
We're excited to get this one into the hands of our members. Funkwerks has been making some exquisitely finished beers, and this one is exceptional. It's a snappy, crisp saison with a yeastiness that seems as if precisely guided by lasers, or something. A careful white-pepper note distinguishes this from so many of the sloppier American saisons out there that never seem to find a clear focus within their ferment. We've seen various U.S. examples as of late that more closely resemble German hefes (banana goes better in weizenbocks, to be sure) or some sort of honeyed Trappist-y tripel. We find ourselves far more drawn to peppery, firmly dry, highly distinctive examples—such as this one, which reminds us of what saison can be.
Be sure to give this at least a touch of time in the glass to warm up before diving in. Taking a look at what we're working with: this shows nice haze, with a lemony yellow hue, and an off-white head atop everything. The foam hangs out for quite a while: tiny bubbles forming like Champagne, solid lacing, regenerative CO2 rising in thin threads of bubbles from the glass's bottom. There's precise carbonation, and many small shows of solid construction overall.
The aroma on this, in addition to white and black pepper, has a surrounding complexity that took us a bit by surprise (particularly given how lean this is). We found accompanying notes of vanilla, almond, tangerine; even the delicate tartness of passion fruit. (We have a certain preference for passion fruit, tenfold over grapefruit as tart breakfast accompaniment. This is so besides the point.) Fresh oranges fill out the aroma as a last bit of plushness: juicy, spritzy, and like an actual jolt of fresh-squeezed juice. Things fit seamless in a fresh, generous aroma.
Even from the look of this, one can foretell the tightly bubbled, vibrant CO2 along the tip of the tongue. That lifts up the detailed notes that follow: black pepper, almonds, even a hint of cola. Additional juiciness is provided by splashes of tangerine, an aroma-fulfilling orange jolt, along with pithy, citrusy lemon verbena. It's also a pleasure to drink: smooth, tiny-bubbled carbonation, with just an herbaceous and satisfying show across the board. Savor this one.
There's a nicely firm bitterness to this beer fresh, but plenty of room to accommodate the soft, caramelized qualities of oxidation that would come from a year or so in the cellar. We think it should work just great here. Pairing with the food-ready nature of saisons is pretty difficult to steer too far awry, and Funkwerks recommends putting this alongside soft and creamy, ripened cows' milk cheese. We could see sampling this GABF-gold saison beside buttery lobster or (per Janet Fletcher's Cheese & Beer saison recommendations) St. George, Fontina Val D'Aosta, and the Brie-style Fromage de Meaux, produced in Seine-et-Marne.
Funkwerks, depending on one's point of perspective, seems to have come out of nowhere in certain regards. Five years ago (this September), Funkwerks' founders were just meeting for the first time—in professional brewing school. Gordon Schuck and Brad Lincoln were both attending Siebel Institute in Chicago. They were quickly working to get a new venture called Funkwerks aloft, working out test batches of their Saison and White in Gordon's backyard.
The prototype batch of Saison was finally completed in June of the following year, a journey that had started with homebrewing almost a decade earlier and (even then) still remained at a very modest production scale. They had transitioned from backyard test batches to a single-barrel warehouse operation, and then to a 15-barrel system shortly before officially opening the Funkwerks taproom in December 2010.
The following year, Funkwerks Saison was awarded a silver medal at the Great American Beer Festival. In 2012, both Saison and Deceit (a Belgian-style Golden Ale) took home gold at GABF. For good measure, Funkwerks was named Small Brewing Company of the Year.
None of this, from other points of perspective, should come as much surprise. Colorado has been ground zero for a vibrant outgrowth of craft-beer culture, and every trip we take out to that state for GABF seems to bring along at least a dozen new nearby breweries. The world-class quality of brewing resulting from many of these relatively new entrants tends to happen when up-and-coming artists do so en masse. (It's a model we should be pursuing elsewhere.)
Funkwerks has much of their focus dedicated to producing saisons in Belgium's traditional Wallonian vein. Make no mistake, saisons were historically a rather motley crew of artisanal beverages to start off with, adhering to seasonal cycles and the local harvest allowances, but that doesn't mean they should be purple, sweet, and like a nose of banana, just because they started with a reasonably wide berth. We tend to very much go towards Funkwerks' take on saisons: "What defines these beers as a style are an extremely high attenuation [dryness] and a spicy flavor profile due to the unique yeast strain." Not overly constraining, it hits our top two archetype points for what we expect from any sort of beer labeled saison. (It's not a lot to ask.) The results from Funkwerks' philosophy on the topic tend to speak for themselves.
We've readily found ourselves impressed by other offerings from Funkwerks, including the Tropic King (an Imperial Saison brewed with New Zealand Rakau hops) and their GABF-gold Deceit. But their core Saison captures everything perfectly. The crackle of crisp malt, a spicy accompaniment of pepper, plus firm bitterness throughout. It's an exquisite release.
We expect even more success and growth for this brewery in the years ahead, and we're very glad to be able to bring them to our members' glasses now. Mark our words: the future will be blissfully full of saison—and tasty, dry, spicy saison if we have anything to say about it.
By Ken Weaver
It seems like every year when I head out to the Great American Beer Festival in Denver, that area's craft beer scene is once again reborn. Per the Brewers Association's latest figures, the state's breweries numbered 126 as of 2011. That number rose by 25 in 2012, and by another 24 in 2013—a two-year jump of almost 40%. The count sits at 175 as of early this year, and we currently have 201 active Colorado breweries listed in the RateBeer database as of this July.
I've apparently tried beer from 19 of them (at least). Not even 10%.
Per the BA's aforementioned figures, Colorado currently ranks #4 nationwide as far as having the most breweries goes, trailing only California, Washington, and Oregon. As of March, at least, the Colorado breweries ranking among the 50 largest nationwide included familiar names like New Belgium, Oskar Blues, Odell, Left Hand, and Breckenridge. So not shabby.
In considering other Colorado-brewed saisons that are also getting glowing reception, I did a quick pass with RateBeer and pulled the well-worn throttle of the trusty "Advanced Search" feature. (Does one pull throttles? Mechanic isn't one of my fallback careers.) If you enjoyed Funkwerks Saison, keep an eye out for other top CO saison-ish offerings like Crooked Stave's Surette Provision Saison and Vieille Artisanal, Funkwerks' Tropic King, and (as some of you may have sampled earlier through The Rare Beer Club) Odell's recently introduced Celastrina.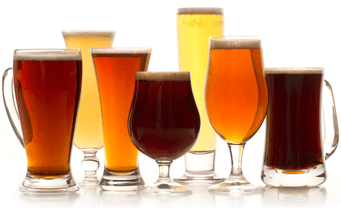 Unmatched Variety by style, brewery & country
Choose from Five different Beer Clubs offering unmatched variety by brewery,
country of origin, and beer style to suit your specific tastes.
DISCOVER OUR FIVE CLUBS