Golden Prairie Fermentations - Doppel Alt
ABV:

9%

Bottle Size:

750-ml

Serving Temperature:

45–52° F

Suggested Glassware:

Tulip, Snifter, Chalice, or Pinot Glass
We're excited to showcase Golden Prairie's Doppel Alt this month as an exclusive offer to our Rare Beer Club members. This new release from Golden Prairie is going to be especially limited, with the first ever distribution of it going straight to The Rare Beer Club. It will see some light public availability in 2018, primarily in kegs around the Chicago area, plus a very limited number of bottles to be sold out of the brewery's tasting room. Our members get first dibs.
There are rather few examples of extra-strong altbiers out in the world—even today. Golden Prairie's is a darker, stronger version of the brewery's flagship Golden Prairie Ale (which has 6% ABV and a lighter impact), and both are stellar examples of difficult-to-find beer styles.
This pours a bright, generally clear but deep orange-burgundy color, capped by fine-bubbled off-white foam that lingers, leaving some modest lacing behind along the perimeter. There's a strong start of bright red fruits and dates in the aroma—candied cherries plus burnt brown sugar. When cold, there's a whole lot of candied dimensions dominating, but allowing a bit of time to warm up broadens the aromatics significantly, as generous notes of cotton candy, red licorice and vinous alcohol warmth contribute to additional layers. Malt focused with a fruit-forward yeast character, we found the full depths of that malt complexity super impressive.
We've featured a number of altbiers in The Rare Beer Club over the years, as they can prove to be incredibly satisfying when done well. Some of you may recall Les Trois Mousquetaires' Sticke Alt from a few years back, a bonkers-good strong example from Canada. We've also had the pleasure of recently featuring Jester King Brewery's Simple Means—a farmhouse alt made with smoked malts that somehow still managed to be incredibly refreshing. This take from Golden Prairie is certainly one of the most memorable examples of altbier that we've ever had the pleasure of crossing paths with; following an aroma that continuously expands with time in the glass, we finally dig into this especially memorable German-style rendition.
Like most of our favorite altbier examples, this is incredibly smooth from the outset: lots of rounded red and dried dark fruits emerge from the core of this, never overly sweet but very generous in the breadth of malt character. There's a subtle, noble-like hop bitterness present that provides a gentle edge to the beer, very traditional in execution, offering mineral, spicy, and muted herbacous notes—never overshadowing the malts, but fully supporting them. It isn't easy to make a world-class altbier, and the precision to the overall mouthfeel here helps everything come together: small-bubbled carbonation that livens up the texture, that careful ferment tempering sweetness throughout, plus the hops and brightness of the fruit notes.
As this warms, some of the darkest fruit character emerges: plums and black-cherry notes, as emergent velvety texture brings everything together. At 9% ABV, the alcohol stays carefully tucked away and never distracts, merely adding that soft, wine-like warmth. Deeper caramels and cotton-candy layers help hint at the overall direction of this beer, which will continue to develop with some time in the bottle. For us, we're digging the overall balance of this one as it stands: a brilliantly done strong altbier, showcasing vast maltiness in a seamless package.
While drinking great right now, the hefty ABV on this gives it some cellaring potential. We'd go easy on the aging though, as the delicate balance of this beer will likely tilt in the direction of full-on sweetness if the core caramelization increases too much. For food pairing options, the fruit focus of Golden Prairie's Doppel Alt had us looking for ideal classic counterpoints: roasted pork tenderloin, or duck confit, seem ideally tuned to the fruit components, though crème brûlée might offer a promising match to the beer's more subtle burnt-sugar facets.
The original Golden Prairie Brewing Company got its start back in the early 1990s, stationed along Elston and Webster Streets in Chicago, producing an altbier as its core flagship brand: Golden Prairie Ale Altbier. The brewery distributed kegs to North Side bars and restaurants, along with a handful of other accounts, as Golden Prairie and its founder Ted Furman were able to make a name for themselves as pioneers of that early Chicago craft beer industry. Of the four breweries operating in Chicago at that time, Ted recalls, only Goose Island had the finances to weather the tough times ahead for the industry... Golden Prairie, during that first run, released one-of-a-kind hybrid products such as Golden Prairie Maple Stout—which was arguably the first 'breakfast stout' of its kind in 1993—Golden Prairie Buckwheat Ale, and the award-winning Golden Prairie Honey Ginger beer. The original Golden Prairie lasted a glorious decade or so serving Chicago's neighborhoods, during which time Ted was able to train brewers who'd go on to work at world-renowned spots like 3 Floyds and Jester King.
Fast forward another decade or so. Today, the Golden Prairie beers are produced at Argus Brewery in the south side of Chicago, where Ted now serves as brewmaster of both Argus' lineup and the beers of Golden Prairie Fermentations: the new home of the Golden Prairie line. After brief revitalization of the brand at the very-small-batch Lunar Brewing Company, Ted joined the Argus team in April 2016, affording the classic Golden Prairie beers new life. The altbier flagship remains as the brand's key year-round offering, alongside Honey Ginger. But, with decades of industry experience behind him, Ted's been looking to step things up.
This spring, when the maple trees get tapped (as us non-maple-tree-tappers understand it, at least), the brewery will be making a fresh batch of Golden Prairie Maple Stout. And Golden Prairie has also been working closely with the folks at nearby Quincy Street Distillery, which is currently getting around 10 barrels of the brewery's flagship altbier each month to go into Golden Prairie Single Malt Straight Whiskey—the first single malt straight whiskey in Illinois since Prohibition—which should hopefully be available in more steady supply to consumers in a year or so. Ted and the team at Argus Brewery have a whole range of projects cooking.
But, this month, we're especially excited to announce the debut of a brand-new release from Golden Prairie Fermentations: Doppel Alt, a double-strength version of the flagship Golden Prairie Alt, appearing for the very first time, exclusively through The Rare Beer Club. It's also one of the very few examples of this strong altbier style on earth—the other main proponent being the world-renowned Uerige of Düsseldorf. We're digging everything by Golden Prairie we've sampled so far, and you can swing by www.goldenprairiebrewing.com for the latest.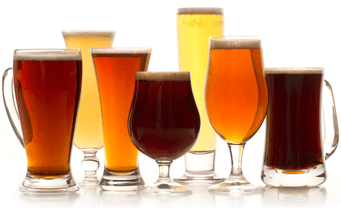 Unmatched Variety by style, brewery & country
Choose from Five different Beer Clubs offering unmatched variety by brewery,
country of origin, and beer style to suit your specific tastes.
DISCOVER OUR FIVE CLUBS