Goose Island Beer Co. - Imperial Brown Goose
When the first Goose Island Brewpub opened its doors in 1988, domestic, mass-produced beer was deeply ingrained in Midwestern culture. The craft beer industry was still in its infancy, with only a handful of brewpubs in existence in the Midwest. In his travels across Europe, beer-lover John Hall had enjoyed a distinctive local brew in each region he visited. Hall was convinced that Midwesterners could produce beers as good or better than those he'd tasted in his travels. Living on the shore of the largest system of fresh water on the planet Earth, in a city with rapidly evolving tastes – John decided that his hometown, Chicago, would be the ideal place to do just that.
The key to building interest in craft beer, Hall decided, was to allow consumers to watch the brewing process – while providing them with the then-novel experience of enjoying a wide variety of distinctive beers that had been produced on-site. Hall wanted to not only cater to his customers' tastes, but to challenge them as well. Goose Island's brewers set to work crafting a diverse selection of unique beers – and on Friday, May 13, 1988 Goose Island Brewpub was born.
It turned out that John was right; Chicagoans palates evolved rapidly once Goose Island Brewpub opened its doors, thus introducing the city to distinctive craft beer. In fact, by 1995, the brewpub had become so popular that John Hall and his son Greg, who had by then become Goose Island's brewmaster, decided to open a larger brewery and bottling plant to keep up with demand. Finding still more room for growth, in 1999 the father-son team opened a second Goose Island Brewpub just a stone's throw away from historic Wrigley Field.
Today, Goose Island continues to brew an innovative selection of over 50 craft beers at the brewpub, the best of which are then bottled at their Fulton Street brewery. Goose Island is also involved in the production of a small selection of craft sodas. The company currently ships its beers to 15 states and the U.K.
The idea behind brewing something special for MJ's beer club was very intriguing. We must impress, perhaps a Belgian style (Michael's on record as being a big fan of our Matilda). Or maybe a hop monster, blow drinkers away with aroma and bitterness. Alas, there are too many good brewers making Belgians (both in the US and Belgium, of all places!) and uber IPA's. What sets Goose Island apart, what would be more original? Wood. That's it, a barrel aged beer. MJ was among the first to give Goose Island props for our Bourbon County Stout back in the day. Let's do something in wood.
Brewer Wil Turner first brewed Naughty Goose at our Brewpub several years ago. He's won medals at the Real Ale Festival and the Great American Beer Festival for the beer. When Chicago became home to the Barrel Aged Beer Festival, the natural extension of Naughty Goose was to beef it up enough to stand up to the barrel, thus Imperial Brown Goose is a strong brown ale aged for nine months in Heaven Hill Bourbon Barrels. In past years we have used younger barrels. But the result of the marriage of beer and mature barrel is a malty English brown ale that shows the flavor and aroma of the barrel well.
Pours a big, billowy tan head. Foam tastes of bourbon and cream. Liquid not quite black, but a deep a brown as you can imagine, hiding a whisky red only visible with direct backlight. Nose is all barrel: bourbon, wood, charry notes. Drinks all bourbony at the start, but then comes the malt, big and fat on the tongue. But then the barrel comes back, lots of tannin. Enjoy with an English Setter at your feet, maybe with a slice of earthy Stilton.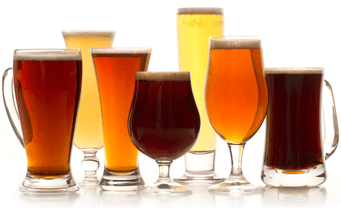 Unmatched Variety by style, brewery & country
Choose from Five different Beer Clubs offering unmatched variety by brewery,
country of origin, and beer style to suit your specific tastes.
DISCOVER OUR FIVE CLUBS