Grand Teton Brewing Company - Bourbon Barrel Aged Black Cauldron
ABV:

7.85%

Serving Temperature:

45-55° F

Suggested Glassware:

Pint Glass or Snifter
This beer pays homage to women in the history of brewing. From Grand Teton Brewing Company's website:
"Brewing has been women's work since the dawn of civilization. In all ancient cultures, beer was a gift from a goddess, and women maintained status and power through their skills as 'brewsters.' [Note: the use of the term "brewster" as indicative of exclusively female brewers is debatable, as the term seems to include any brewer, regardless of gender, depending on where the term was used—in the North of England and in Scotland, for example, brewster is commonly used for any professional brewer, while in the South of England, it tends to have been applied exclusively to female brewers.] This remains true today in indigenous cultures from Asia to Latin America, Africa to remote villages in Scandinavia. Around the world, women baked bread and brewed their own beer. In Europe, the rise of cities brought commercial brewing, as governments realized the potential tax revenue to be had from large breweries. By 1445, the first all-male brewers' guild was established, the campaign against witchcraft burst forth across Europe, and the purge of women from brewing had begun. Beer historian Alan Eames has written that, when an occupation was listed, most of the women burned for witchcraft in Europe were brewsters or alewives. Most of the imagery we associate with witchcraft today originated with the brewster. The large black cauldron bubbling over with foam? A brew kettle, of course. The black cat? Necessary to keep rats out of the grain store. The tall pointed hat? It allowed the brewster to be seen over the heads of taller men in the marketplace. A broom? The symbol of household domesticity, it is still associated with brewing all over the world. Without the work of these women through the ages, it's entirely possible beer would not exist today. To learn more about the role of women in today's brewing industry, visit www.pinkbootssociety.org."
The beer's packaging includes a foil wrapping that has a burnt metallic look, as though it was singed in a cauldron's fire. Nice touch. This beer is actually Grand Teton's seasonal Black Cauldron, but was aged in bourbon barrels for an exclusive release to the club (with the exception of about 20 cases reserved for the brewery). It pours a very dark brown color, letting only a bit of light pass at the edges, and is dressed with a dark beige head. Fresh out of the bottle, the bourbon aroma is quite bold, but dissipates quite a bit as the beer breathes. The recipe includes a small amount of beechwood-smoked malt, which contributes a hint of smokiness. A mélange of dark fruit abounds, including plum and sherry-soaked raisins, with a distinct cherry note and some vanilla coming from the bourbon barrels. Also expect scents of ultra-dark chocolate, espresso and alcohol. On the palate, the beer is quite a bit softer than the aroma suggests—look for a velvety smoothness to wash the palate in flavors of chocolate, coffee, cherries, vanilla, sherry and brine. Bourbon notes are present, but are more represented in the cherry and vanilla notes than in a strong booziness. A cushy pumpernickel bread note underpins the complex flavor profile. Wisps of smoke and a prominent roastiness linger long into the finish, and the beer fades out with a lightly hoppy, dry bitterness with what we found reminiscent of a splash of bourbon and cola.
The brewery suggests pairing with full-flavored grilled or roasted meats, or with desserts such as chocolate cakes, truffles, fruit tarts, caramel flan or crème brûlée. We're looking forward to laying down a few bottles and checking in on this "members-only" brew over time. As the beer ages—and we do encourage you to lay some bottles down for 6-12 months—we expect the sherry notes will increase and the beer will continue to dry out, taking on increased notes of roastiness and walnuts. Enjoy!
Well, here we are, on the eve of another year gone—so long 2012! But it's not gone, really—think of it as having been "invested" in The Rare Beer Club beers that you are cellaring from this year's offerings. Looking at it that way, there's no reason to get down about being another year older—age gracefully along with our carefully selected series of rare beers that you've been stashing away. And if you're new to the club—we've got some great things lined up for you in 2013—so get that beer cellar ready to accept some new additions!
To close out 2012, we've got something very special for you—a beer produced exclusively for members of The Rare Beer Club! Read on friends, read on…
This month we're featuring a beer from the small town of Victor, Idaho, courtesy of the Grand Teton Brewing Company. We have a lot to thank these guys for, beyond just the beer being featured this month—which they were gracious enough to produce just for the club (as if that weren't enough!). They are innovators and trail blazers. Pour yourself a glass of this month's tasty, dark, bourbon-barrel-aged beer and let us tell you more about these folks.
Picture it: Wyoming, the mid-1980s; images of rolling waves of wheat along the Great Plains, wild animal preserves, Yellowstone National Park, grand mountainous terrain and world class skiing. Absolutely gorgeous country and boundless resources, standing in stark contrast to an almost total lack of good beer. Necessity is the mother of invention, and this was a period of time when a few pioneering brewers decided enough was enough—it was time to get full-flavored, freshly-brewed, locally-produced beers back into the fold. Thankfully, two brothers from Wyoming stepped forth to brew and sell beer in ways not seen in that state since Prohibition. Charlie and Ernie Otto, brothers of German-Austrian descent, had long been familiar with great beers. Charlie had become a well-respected area homebrewer, with friends and family constantly asking him to brew more beer (perhaps some of you homebrewers out there know the feeling?). Of course, the pleas for his brew soon spread beyond familial lines as locals caught wind of his fine handcrafted ales. This interest in better, pre-Prohibition style beer got the brothers thinking about starting their own commercial enterprise. But because Wyoming did not issue licenses to homebrewers, Charlie had to muscle up and take on the law. Through an ambitious effort, he eventually helped get a bill passed which would allow him to start selling his beer commercially. In 1988, he was awarded Wyoming brewery license "no. 1".
That license came just in time—the brothers had already built a small brewhouse in Wilson, Wyoming (just outside Jackson Hole)—so securing the first malt beverage manufacturers' permit issued in the state in over 35 years made it possible for them to start selling their delicious brew (which is sort of crucial to a business model that calls for the selling of beer). In 1988, the Otto Brothers' Brewing Company, officially the first modern microbrewery in the state of Wyoming, opened for business.
They soon began presenting their original amber "Teton Ale" to local draught establishments and for the next two years their beers were only available on tap. Seeking a wider distribution through bottling, the brothers decided to get creative. In 1989 they rediscovered a long forgotten container: a European, lidded tin-pail known as a "growler". The term "growler" was originally used for the tin buckets used to transport beer from the tavern at which it was purchased to the home or local eatery. The Otto Brothers' Brewing Company reintroduced it in a modern, 64-ounce glass jug version. No doubt you're familiar with growlers as they have since become commonplace at brewpubs and better beer bars throughout the nation, and the brothers Otto enjoy the credit for having resurrected and recreated this novel (and environmentally-friendly**) idea.
Thus far we've told you how the Otto brothers contributed to the good of the nation by setting the stage for a new generation of Wyoming brewers to spring up, and by bringing back the growler. You might think these accomplishments would be enough for these guys to be contented, but they had big plans in the works still! The brothers wanted to bring Wyoming its first brewpub, but again, state law prohibited breweries to act as retailers. Not surprisingly, Charlie was undeterred; with victories in previous legal triumphs already under his belt, he began three years of letter writing, phone calling and grass roots organizing to bring about the legalization of brewpubs in the Cowboy state. And wouldn't you know it, the guy came through for his fellow citizens; in 1992, Otto Brother's Brewing Company opened Wyoming's first brewpub. We'll just say it, this guy is a hero of ours—a true beer champion.
The brewpub brought a surge in popularity to the Otto Brothers' beer line up (at that point numbering about three ales) and in 1992 they acquired a 22-ounce bottle production line. This meant higher portability and deliverability of their brews, prompting an even greater demand for their microbrews and leading the brothers to break ground for a new, high-capacity brewery at the base of the Teton Pass in Victor, Idaho in 1998. The site was chosen for its proximity to locally-grown barleys and Northwestern hops, as well as nearby Teton Glacier water.
In the Fall of 2000 the Otto Brothers' Brewing Company was officially renamed the Grand Teton Brewing Company in order to portray a more regional and recognizable marketing approach, while still retaining their proud history and tradition of beer-brewing in the area. While they have moved to Idaho, they left Wyoming, and the region, a better place for beer and brewers. Raise a glass in toast to GTBC and their 24 years of making a difference in the world of better beer.
For more information about the brewery, brewpub or scheduled tours, call (888) 899-1656, or visit their website at www.grandtetonbrewing.com.
** Today, the use of glass growlers by beer patrons is estimated to have stopped over 1 billion cans and bottles from going into the trash each year.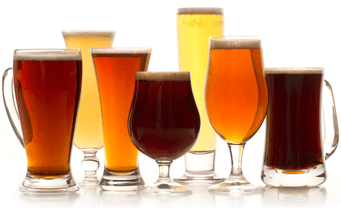 Unmatched Variety by style, brewery & country
Choose from Five different Beer Clubs offering unmatched variety by brewery,
country of origin, and beer style to suit your specific tastes.
DISCOVER OUR FIVE CLUBS