Grand Teton Brewing - Vintage 2014
ABV:

8.5%

Serving Temperature:

54–61° F

Suggested Glassware:

Snifter, Tulip, or Bordeaux Glass
Vintage 2014 is an exclusive offering, crafted by Grand Teton just for our club members; it's not seeing distribution anywhere else. Seeing this project come together was a blast, it being one of the most involved Rare Beer Club exclusives we've had in a while. The Grand Teton folks went all-out on this: from the 40-year-old Colombian rum barrels, to their careful blending of the base beer (from two of our favorite Grand Teton releases), to the configuration of the final blended spice additions.
Let's back up a second and get the lay of the land—as this beer came together via a number of steps. The base beer is approximately a two-to-one blend of two-year-old XX Bitch Creek Double ESB and fresh Coming Home 2014, the brewery's Belgian-style quad. The XX Bitch Creek has aged beautifully, with its initial hop character mellowing significantly, and plenty of chocolate and caramel malt character coming to the forefront. That Coming Home quad, on the other hand, was blended in super fresh and brought in its fruity-spicy combination of things: peppery spice from the Belgian Trappist yeast used to ferment it, and a generous core of raisin and fig notes from the core malts and candi sugar additions. Combined together, in proportions that brought out the best of both, made for an especially generous base beer.
Then there are the other two core elements of this beer: rum barrels and spices.
First up: rum. Grand Teton managed to source some exceptional rum barrels from Colombia that have been used for aging rums for the last 40 years or so. They were sourced wet, which is to say freshly emptied of rum—preserving their freshness and spirit character—with brief time spent in Mexico for some quick re-cooperage. In a nutshell, this meant that their seams and staves were all tightened up for long-distance travel, preserving the contents inside, and their exteriors were sanded down to remove the dust and wear from four decades of use. At Grand Teton, they arrived looking basically brand new—the insides smelling like rum magic.
The base blend spent about four weeks total in these Colombian rum barrels—and was then treated to a full range of spices chosen specifically to pair well with the result. The blend had picked up buttery rum notes along the way, and the extra spicing counterbalanced the central sweetness perfectly: ginger, cloves, cinnamon, allspice berries, vanilla beans, and orange peel.
There's rich caramel, toastiness. Bright oranges. A full-bodied profile suggesting spiced rum.
The final result is stunning. The four weeks in the barrel contributed gentle rum components (approximating caramelized and burnt sugar, a molasses-like depth, and soft, integrated spirit character), while the spice additions served as a seamless counterpoint to the barrel time and caramelized base beer. This feels lush on the palate, velvety aside from its lift of carbonation, and comforting notes from vanilla and orange peel rise pleasantly to the top. Feel free to get this one closer than typical to room temperature: savoring that core generosity of spicing and what's ultimately one of the most impressive beer profiles we've sampled in quite a while.
This rum-barrel blend is also bottle conditioned, and the brewers indicated that it should be developing nicely over time, as there's a touch of residual sugar left for that yeast to occupy itself with. The spice will be most pronounced early on: so if you really enjoy it, drink fresh.
In the mid 1980s, two brothers from Wyoming stepped forth to brew and sell beer in ways not seen in that state since Prohibition. Charlie and Ernie Otto, brothers of German-Austrian descent, had long been familiar with great beers. Charlie had become a well-respected area homebrewer, with friends and family constantly asking him to brew more beer (perhaps some of you homebrewers out there know the feeling?). Of course, the pleas for his brew soon spread beyond familial lines as locals caught wind of his fine handcrafted ales. This naturally got the brothers thinking about starting their own commercial enterprise. But, because Wyoming did not issue licenses to homebrewers, Charlie had to muscle up and take on the law. Through an ambitious effort, he eventually helped get a bill passed which would allow him to start selling his beer commercially. In 1988, he was awarded Wyoming brewery license "no. 1".
In 1988, the Otto Brothers' Brewing Company, officially the first modern microbrewery in the state of Wyoming, opened for business and soon released their original "Teton Ale." Three years later, they opened the state's first brewpub after a long campaign of lobbying the state government to allow breweries to sell beer direct to consumers.
As demand grew, the brothers broke ground for a new, high-capacity brewery at the base of the Teton Pass in Victor, Idaho in 1998. The site was chosen for its proximity to locally-grown barleys and Northwestern hops, as well as nearby Teton Glacier water. In the Fall of 2000 the company was officially renamed the Grand Teton Brewing Company in order to portray a more regional and recognizable character, while still retaining their proud history and tradition of beer-brewing in the area.
In 2009, Charlie sold the brewery to Steve and Ellen Furbacher, who have ushered in a new era. The couple has upgraded, added to, and repaired much of the brewery's equipment, and is working on additional warehouse and fermentation capacity. The brewery is well set up for growth, and we're excited to see where they go from here. If their Vintage 2014 is any indication, the sky's the limit.
By: Ken Weaver
One of our featured selections this month, Grand Teton's subtly named Vintage 2014, has as its base a blend of two well-regarded releases from the brewery. A two-year-old batch of XX Bitch Creek (referred to as a double ESB, which, written out, would be "double extra special brown"—which sounds super fancy) was blended with freshly made Coming Home Holiday Ale 2014, in a ratio of around two to one. The latter is a Belgian-style quad, which brings in a bit of spicy Trappist yeast character that made it a very appropriate fit for rum-barrel aging.
Blending beer is likely as good—and arguably as well intended, as a whole—as it's ever been. Belgian gueuze typically consists of a blend of one-, two-, and three-year lambics, combining the qualities of each (as those slow-working yeast and bacteria certainly take their good time). Barrel-aged beer releases, even those labeled with a specific spirit or producer, are often built from multiple blended barrels. There tends to be a lot of variation between each barrel, with porosity and temperature fluctuations and all other kinds of things slightly changing what the final barrel-aged beer in each tastes like. Blending offers a way to get a final profile just right.
(See also: Cascade, Lost Abbey, The Rare Barrel, FiftyFifty, Stone's Mixtape Ale Series, etc.)
There's a brewery called 4 Brothers Blended Beer Company out in Wisconsin that, for better or worse, focuses solely on blended beers. And, though I haven't tried my sample bottle of it yet, I'm already looking forward to this year's XVIII Anniversary Ale from Firestone Walker. This year, similar to previous incarnations, they recruited fourteen winemakers to compete in developing the best blend from a wide portfolio of beer. The art of blending's alive and well.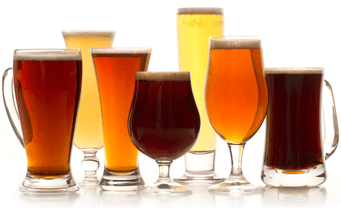 Unmatched Variety by style, brewery & country
Choose from Five different Beer Clubs offering unmatched variety by brewery,
country of origin, and beer style to suit your specific tastes.
DISCOVER OUR FIVE CLUBS