Grand Teton Brewing Company - Cellar Reserve XX Bitch Creek Double ESB
ABV:

7.50%

Serving Temperature:

45-50° F

Suggested Glassware:

Pint Glass or Snifter
To commemorate their twenty-year history, Grand Teton's brewers chose four of their year-round beers to strengthen and enhance. Their Bitch Creek ESB is a massively flavorful beer that was already pushing the limits when first brewed in 2003—and the Cellar Reserve version, known as XX Bitch Creek Double ESB, is the final release in their 2008 XX series. We had our eyes on this beer when we first got wind of it, and we've worked with Grand Teton before in our Domestic Beer Clubs—we knew it would age well, so we had them salt away some for us so we could check on it to make sure it was maturing as expected. At a full year after brewing and roughly ten months of bottle conditioning, we sampled the stash, and the stash was good… Very good… Already a cellar reserve when first released, our stash was cellared and reserved even longer (we can boast if we want to—this is important!), and has aged remarkably well, developing added complexities and nuances that only big-ass bottled-conditioned beers can provide. So rather than hoard it any longer, we're sharing with our Rare Beer Club family (hey, it's the holidays, right?). The beer is a collector's item just by virtue of the beautiful packaging. A big ol' quart+ bottle with wax-dipped swivel top and attached label showing the bottling date and story behind the beer. Now we're not going to lie to you, it's difficult to open. Best thing to do is to run the encased swivel band at the neck under very hot water for a minute or two to soften the wax, then give it a firm prying with both thumbs. Trust us, it's worth the effort. Expect a massive psst! and a visible blow off of beer mist, leaving behind an intriguing smoky vapor just down the neck of the bottle. The beer is gorgeous as well, pouring dark brown and clear, nearly cola-like in color, topped by a deep beige-colored head that clings nicely to the edge of the glass. Smells as advertized—a doubled up version of their Bitch Creek ESB, which is already an extremely aroma- and flavor-forward beer. Massive resinous hop aromas are piney but also approaching ammonia-like in their edge. Not a bad thing at all—some of the best hop-loaded beers get so jacked up with hop oils that pungent, ammonia-like notes come forth—it might not be "natural" for a beer to be this hoppy, but the aroma is completely natural. Expect the alcohol content to come through a bit too, but the mild 'burn' here comes from the massive hop content. The tremendous malt base that creates the original Bitch Creek ESB is here, but again, beefed up beyond all sensible proportions, yet somehow managing to still smell clean, like fresh wort (unfermented beer). Malts are toasty in nature with a caramel-on-steroids aroma. Musty citrus notes mingle with suggestions of vanilla and oak (although this beer was not barrel aged), grapefruit zest, fresh cut grass and timothy hay. At the start of that first sip, you think maybe all the gusto was just in the aroma, as it goes down very mellow, but two seconds later you'll realize you're wrong as the flavor practically explodes across the palate. Look for this beer to really bloom in the mouth quite quickly after the swallow as burnt caramel and coffee notes develop to featured prominence, followed by biscuits, tangerine, and some alcohol notes akin to apple brandy, with the aggressive level of hops providing that wonderful searing quality that only an overdose of hops can provide. As it warms, look for notes of caramel and chocolate imbued with pine oils to develop. We found the finish marked by massive bitterness with flashes of chalk dust and espresso and a very lengthy, grassy, bitter hop fade. As for food pairing, get yourself a very gamey dish, like goat or pheasant, or a pepper steak, or the hottest Thai coconut curry you can get your hands on—as you're going to need something very big and flavorful to stand a chance against this Bitch. A big fat Robusto, maybe a Churchill cigar, on the spicy side, would make for a fine partnering as well. This beer is so flavorful now, but we figure it's got at least another year in it if you want to load up on bottles of the stuff—we've kept a few bottles of our original stash and will be checking in every 6 months or so—thanks to the brewers at Grand Teton for the gift that keeps on giving!
In a quest for full-flavored, freshly-brewed, locally-produced beers, a couple of Wyoming brothers paved the way not only for themselves, but all of those who followed, to brew and sell beer in ways not seen in that state since Prohibition. Charlie and Ernie Otto, brothers of German-Austrian descent, had long been familiar with great beers. In fact, Charlie had become a well-respected area homebrewer. So accomplished was he that friends and family were constantly asking him to brew more beer (perhaps some of you know the feeling?). Of course, the demands soon spread to those who caught wind of his fine handcrafted ales, and that got the brothers thinking about starting their own commercial enterprise. But because Wyoming did not issue licenses to homebrewers, Charlie had to muscle up and take on the law. Through an ambitious effort, he eventually helped to get a bill passed which would allow him to start selling his beer commercially. In 1988, he was awarded Wyoming brewery license "no. 1". Pretty freakin' sweet. That license came just in time—the brothers had already built a small brewhouse in Wilson, Wyoming (just outside Jackson Hole)—so securing the first malt beverage manufacturers' permit issued in the state in over 35 years made it possible for them to start selling their delicious brew. In 1988 they did just that, founding the Otto Brothers' Brewing Company, officially the first modern microbrewery in the state of Wyoming. They soon began presenting their original amber "Teton Ale" to local draught establishments and for the next two years their beers were only available on tap. Seeking a wider distribution through bottling, the brothers decided to get creative. In 1989 they rediscovered a long forgotten container: a European, lidded tin-pail known as a "growler". The term "growler" was originally used for the tin buckets used to transport beer from the tavern at which it was purchased to the home or local eatery. The Otto Brothers' Brewing Company reintroduced it in a modern, 64-ounce glass jug version. No doubt you're familiar with growlers as they have since become commonplace at breweries throughout the nation, and the brothers Otto enjoy the credit for having resurrected and recreated this novel (and environmentally-friendly) idea. So thus far we've learned how these brewing brothers contributed to the good of the nation by setting the stage for a new generation of Wyoming brewers to spring up, and by bringing back the growler. You'd think these accomplishments would be enough for these guys to be contented, but they had big plans in the works still! The brothers wanted to bring Wyoming its first brewpub, but again, state law prohibited breweries to act as retailers (incidentally, this is still a fairly common Prohibition-era law that hampers the establishment of brewpubs across the nation). Not surprisingly, Charlie was undeterred and on the wings of previous legal triumphs he began three years of letter writing, phone calling and grass roots organizing to bring about the legalization of brewpubs in the Cowboy state. And wouldn't you know it, the guy came through for his fellow citizens; in 1992, Otto Brother's Brewing Company opened Wyoming's first brewpub. We'll just say it, this guy is a hero of ours—a true beer champion. The brewpub brought a surge in popularity to the Otto Brothers' beer line up (at that point numbering about three ales) and in 1992 they acquired a 22-ounce bottle production line. This meant higher portability and deliverability of their brews, prompting an even greater demand for their microbrews and leading the brothers to break ground for a new, high-capacity brewery at the base of the Teton Pass in Victor, Idaho in 1998. The site was chosen for its proximity to locally-grown barleys and Northwestern hops, as well as nearby Teton Glacier water. In the Fall of 2000 the Otto Brothers' Brewing Company was officially renamed the Grand Teton Brewing Company in order to portray a more regional and recognizable marketing approach, while still retaining their proud history and tradition of beer-brewing in the area. And just a short while ago, they celebrated their 20th anniversary, a major (and uncommon) milestone for any small brewer! Please raise a glass and toast to GTBC and their 20+ years of making a difference in the world of better beer. For more information about the brewery, brewpub or scheduled tours, call (888) 899-1656, or visit their website at www.grandtetonbrewing.com.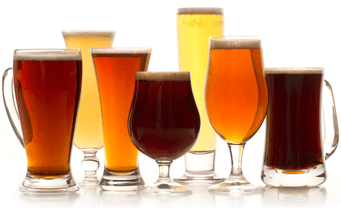 Unmatched Variety by style, brewery & country
Choose from Five different Beer Clubs offering unmatched variety by brewery,
country of origin, and beer style to suit your specific tastes.
DISCOVER OUR FIVE CLUBS