Green Jack Brewery - Baltic Trader Export Stout
ABV:

10.5%

Serving Temperature:

46–54° F

Suggested Glassware:

Small Nonic, Snifter, or Bordeaux Glass
We've been fans of Green Jack over in the UK for a while now, and a few of our Rare Beer Club members may have encountered the brewery's Golden Best bitter ale, or some of their other hop-forward releases. Given recent changes on the importer front, this has become an even more difficult find in the States, and we managed to secure some of the last bottles that made it over here. We snagged enough for this offer, and we think it's a great one for winter.
Green Jack's Baltic Trader Export Stout, for us, found itself a very pleasant nook between an imperial porter and an imperial stout. While the ABV's above 10%, this felt significantly soft and easy-drinking relative to most of the imperial stouts we've come across lately. The notes of leather and caramel contributed to a smooth core—plus just the right roasted, bitter malt.
(Bonus: it matches our snifters. We have some pretty awesome old ship-depicting glassware.)
This pours nearly pitch black with cola-colored edges, topped by sturdy off-white foam. The mélange of caramel mixed with darker roasted malt comes through from the aroma forward, with an appealing nuttiness and cola note. A lively carbonation plus a firm mineral bitterness are met with layers of dark chocolate, roast, leather, and burnt sugar: an ideal match between the creaminess of a generous porter and that warming, darker bitterness of an imperial stout.
Green Jack Brewery proudly lays its claim to the title of the United Kingdom's most easterly brewery. They're located in the ocean-side town of Lowestoft, in England's Suffolk County. While the brewery itself is a relatively new entrant to the world beer scene, its hometown has a rather storied history; it was one of the oldest sites of known human habitation in England, dating back to flint tools from upwards of 700,000 years back. (Beer options back then: iffy.)
In far more recent times, Lowestoft's seaside location helped it become an important fishing village from the Middle Ages forward, and trawlers and traders made livings from catches of cod, herring, and a flatfish called plaice. While its fishing industry has subsided over the years in favor of tourism and a burgeoning renewable energy industry—massive wind turbines and towers: that sort of thing—Lowestoft still has a very strong heritage there. Green Jack's beer names often reflect that precedent: like Red Herring, Gone Fishing ESB, and Baltic Trader.
Green Jack Brewery was officially founded back in 2003 by husband-and-wife team Timothy and Lee Dunford, with Tim currently serving as the master brewer. The brewery started as a pretty small operation, since becoming one of the larger real-ale breweries in the area. Today, about 90% of the production still heads into casks, while that remainder is allocated for their bottled releases. Green Jack beers were initially picked up for U.S. distribution by our friends at Vanburg & DeWulf, and a modest bit of the brewery's production manages to make it out to various international destinations. That said… distribution has been particularly tight as of late, and we're grateful to get the lion's share of this batch of Baltic Trader for our members.
Green Jack's award-winning Rippa (as labeled for stateside distribution, versus 'Ripper' back home) is their other main bottled product that's made a splash in the U.S. thus far. It's their take on a rich and fruity barleywine—though it's influenced by Belgian-style tripels. We dug both Rippa and Baltic Trader, in particular, but the brewery's other core releases have given some highly endearing experiences thus far. Following that session-ale heritage of their local surroundings, most of the other Green Jack main releases are on the lighter side of the ABV scale, with highlights including the Citra-hopped Orange Wheat Beer (4.2%), Drifter (4.0%, and dosed with Polish Marynka hops), and a nicely smoked beer called Red Herring (5.0%).
That final one, brewed with oak- and beechwood-smoked malts, points to more than just the nearby history. One of Green Jack's breweries was, in fact, previously a herring smokehouse.
Green Jack releases revolve around the use of locally malted wheat and Flagon winter barley, mixing whole-cone English hops with New World ones, and four main strains of English ale yeasts employed by the brewery that have, apparently, been in use for over a hundred years
The brewery's Rippa barleywine was previously the named Supreme Champion Winter Beer of Great Britain, among a slew of other awards. And our current release is no less renowned on that front, with a bunch of gold medals, for good measure. We've been really happy with what we've been tasting from this rising-star UK brewery—and we think you will be, too.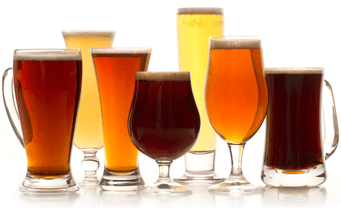 Unmatched Variety by style, brewery & country
Choose from Five different Beer Clubs offering unmatched variety by brewery,
country of origin, and beer style to suit your specific tastes.
DISCOVER OUR FIVE CLUBS