Jester King Brewery - Fantôme Del Rey
ABV:

8.8%

Bottle Size:

750-ml

Serving Temperature:

55–61° F

Suggested Glassware:

Snifter, Tulip, Chalice, or Pinot Glass
Jester King's Fantôme Del Rey was first produced in 2014 at the Brasserie Fantôme in Soy, Belgium in collaboration with legendary brewer Dany Prignon. He opened Brasserie Fantôme in 1988, occupying a small stone farmhouse, with equipment obtained from the original Brasserie d'Achouffe brewhouse. The name of the brewery stems from a legend of the nearby town of La Roche-en-Ardenne which says the ghost of Countess Berthe de La Roche can still be seen walking through the ruins of the town's castle. Dany Prignon is dedicated to the history of the surrounding towns having their own breweries where the manufacture and sale of beer was as common as a bakery or a retail shop. They were the places where townsfolk held meetings, made contacts, and garnered friendships. "This fraternal aspect," Dany says, "can be found in the ideology of the 'Brotherhood of the Ghost,' who is responsible for promoting the region through our product." Find out more about Brasserie Fantôme by visiting their website: www.fantome.be
In 2016, Fantôme Del Rey was brewed for the first time in the Texas Hill Country at Jester King Brewery. This month's feature was produced in 2022, representing only the second brewing of this rare and iconic beer at Jester King. The Hill Country well water, Texas-grown barley and wheat malt from TexMalt, organic Fuggle hops, and Jester King's own mixed cultures ground this beer firmly in the great Lone Star state. The unique surroundings of Jester King add a garrigue-esque aroma and flavor profile to all their beers, and it comes through in pronounced ways in Fantôme Del Rey.
It pours into the glass with a golden hazy orange color and an off-white head that is retained well but leaving behind a minimal amount of lacing after each sip. The truffle honey and coriander give off pronounced aromas, as do the mixed cultures used for fermentation. Earthy black pepper lingers in the background, as apricot, barnyard, and field herbs come to the forefront accented by a hint of Meyer lemon zest and bright candi sugar. On the palate the pungent truffle honey is ever present but doesn't define the flavors. Meyer lemon, dried apricot, and the spice from the black peppercorns give depth that is framed in farmhouse funk and a bit of tartness allowing you to taste the fields and farmland surrounding the brewery. This beer has a wonderful mouthfeel as it creates a lightly prickly mousse on the tongue. The organic Fuggle hops add bitterness and earthy flavors that further enhance its depth and character, giving a long, firm finish to this exceptional beer.
The potential for long term aging (5-8 years or more) is great in this beer. At 8.8% ABV it can stand the test of time but can be enjoyed now without any remorse over what could have been. We suggest pairing this with roasted game birds with peppercorn sauces and shaved black truffles, or rustic farmhouse cheeses.
Michael Jackson once remarked on Austin, Texas' counterintuitively rich beer scene. In the heart of a land not necessarily renowned for good beer, the Austin environs had numerous brewpubs and breweries, and offered a welcome breeding ground for better beer culture. Even the legendary Pierre Celis, famous resurrectionist of Belgian Witbier, settled there in the 1990s to open his U.S. brewery. Austin helped foster strong bits of creativity and growth for brewers in the microbrewery boom of the 1990s. But it didn't last... Various downtown brewpubs were almost all shuttered, Celis' own brewery was dismantled, and a few breweries evaporated in the brutal heat of Texas' overall feelings about beer. That was back then.
For much of its more recent history, Texas' craft brewers have had to be rather careful not to stray too far off the map, sticking to traditional, almost "starter" beers in their lineups. It was a training-wheels approach that seems to have lasted a bit longer than in other states. But the craft beer movement has helped pierce that balloon, and what's rushing through the aperture is better beer. The newest influx of Texas breweries hit the scene at a rapid pace.
One of them is the Jester King Brewery, located on a ranch in the Texas Hill Country on the outskirts of Austin. The folks behind the brewery have opted out of the "safe and careful approach," deciding instead to brew anything from authentic, oak-aged farmhouse ales made with wild Texas yeast harvested atop the brewery's rooftop, to a European-inspired, porter-colored mild ale, to a monstrous double stout. Not the standard opening lineup of an amber, a blonde and a pale ale, they instead debuted with an oaked rye IPA called Wytchmaker, and Commercial Suicide, their English dark mild ale—a 3% ABV session brew that drinks like a beer twice its strength. They have a passion for marrying the extreme with poise—which means some of their beers are made using techniques such as open fermentation, whisky barrel aging, and bottle-conditioning with wine yeast. Or, you know, brewed to 10%+ ABV. But remarkably, for extreme domestic craft beers, they've remained refined and balanced.
The Jester King brand continues to evolve while maintaining its artisan vibe. Local artist Josh Cockrell, who was at the brewery during our three initial visits giving tours, sterilizing things, filling kegs, rolling barrels—whatever was needed at the time—designed their label artwork, brewery logos, and tap handles. We found a couple of his tap handles while in Austin checking out the local better beer scene, and these handles are truly works of art. We've long been fans of Jester King's attention to detail, the passionate commitment to unleashing unconventional beers on the marketplace, the artisanship, the risk-taking, the do-it-yourselfism, the brewing prowess shown by these homebrewers turned pro, the will to experiment, and the drive to source and use local, organic ingredients and harvested rainwater. We think you'll dig what Jester King's up to. For more info, check out their website over at jesterkingbrewery.com.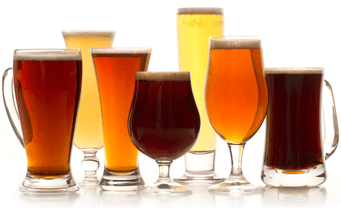 Unmatched Variety by style, brewery & country
Choose from Five different Beer Clubs offering unmatched variety by brewery,
country of origin, and beer style to suit your specific tastes.
DISCOVER OUR FIVE CLUBS