Jester King Craft Brewery - Black Metal Imperial Stout
ABV:

10.40%

Serving Temperature:

57-61° F

Suggested Glassware:

Goblet, Chalice, Snifter or Pint Glass
Brewed with six different malts, Magnum and East Kent Goldings hops, aerated & filtered Texas Hill Country well water and harvested rainwater, and fermented with dry English ale yeast (and black metal music played to the beer during fermentation). Essentially pure black in color at first glance, it's actually a super dark brown when held to a penetrating light source, blanketed by a very thick, brownish head. There's a show on display here as cascading effects fizzle down the side of the glass at the interface of liquid and head formation. Make sure the beer is served at the correct temperature—cold is this beer's only known weakness! Expect big notes of roasted barley, with quite a bit of coffee, anise, and even some toffee, and little suggestion of the wicked 10.4% ABV, at least when served on the lower end of the suggested serving temp (the alcohol does start to reveal itself with added temp). Some sweetness is implied by the aroma, with suggestions of a treacle-ish, singed syrup. From the aroma alone, it seems like this beer might have been played a softer, gentler kind of black metal during fermentation. But the first sip pegs the needle and kills that notion, with flavors initially heavy and unforgiving. Caught off guard, the palate is battered around like a small, helpless animal… Yet disturbingly, it wants more… the black metal has got us! Sure, it starts with some sweetness, but this is quickly dried up by the unleashing of alcohol, coffee (more espresso, really) some burnt currants, scorched raisins and charred wood. Esters are perceived as low, but they are there if you look for them, just weighed down by viscosity, and offset by quite a bit of spiciness from the alcohol. Finishes with heaps of coffee and treacle, and ends up pretty dry for the style, thanks to a very high attenuating English yeast strain, with a flash of citrus rind and earthy hoppiness contributing to the bitterness, though much of the bite in the end comes from the acridity of the black patent malt. This beer is a complete anomaly for Texan beer, and that's a very welcomed thing (and yet another sign of vigor within the craft beer movement!). Black Metal Imperial Stout is also a bit anomalous for the style itself in that it remains balanced for what it is and almost unnervingly easy to drink, with a sort of split personality: those who want crushing waves of flavor and intensity (American influence), you'll get it. If you seek subtlety and sophistication (a bit more English-leaning), you'll get that too—though it may take a particularly refined palate to realize it given the richness of flavor. This is not just a big bad monster of a beer thrashing about, beating its chest and crushing beer cans on its forehead, but a well crafted, smart, interesting beast of a beer that manages to retain balance and poise—and that's quite a juggling act, even for the ablest of jesters.

Count us impressed! We suggest pairing with a maduro cigar, some sinister heavy metal, a mace or other similar beat-down device, and maybe something by Dante for balance.
Michael Jackson once remarked on Austin, Texas' counterintuitively rich beer scene. In the heart of a land not known for good beer, the Austin environs had numerous brewpubs and breweries, and offered a welcome breeding ground for better beer culture. Even the legendary Pierre Celis, famous resurrectionist of Belgian Witbier, that famous beer style of conversion that has provided the "wow moment" for many who now enjoy craft brewed beers, settled there in the 1990s to open his US brewery. Austin, the capital of the largest Bud-Miller-Coors-frenzied state in the union, is unlike much of the rest of the state. A small dot of blue in a sea of red on those election night political maps, there's generally a more progressive attitude displayed by its inhabitants. That helped foster quite a bit of creativity and growth for craft brewers in the microbrewery boom of the 1990s. But it didn't last. The various downtown brewpubs were almost all shuttered, Celis' own brewery was dismantled, and a few breweries evaporated in the brutal heat of Texas' overall feelings about beer. To the rest of us who live elsewhere, when we think of Texan beer, we generally think "Don't mess with Texas."
One thing that the state does have going for it, which should translate to support of local beer makers, is a fierce sense of pride and loyalty to all things Texas. Unfortunately, it's been tough to muster the same support for her breweries as her college football teams, especially if the brewers take risks by creating anything other than pale, light lagers or tame ales. But a few have pulled it off, helping turn a reluctant populace on to the idea that new things in beer (which are actually much more like old things in beer—as in pre-Prohibition), can and should be embraced and endorsed. However, there's been a sort of compromise deployed along the way. For most of its recent history, Texas' craft brewers have had to be rather careful not to stray too far off the map, sticking to more traditional, almost "starter" beers in their lineups. It was a training wheels approach that seems to have lasted a bit longer than in other states.
But the craft beer movement has started to pierce that balloon, and what's rushing through the aperture is better beer. The next whoosh of Texas breweries has hit the scene at a rapid pace, with the Austin area seeing no less than five breweries (or brewpubs) set up shop over the past year. One of them is the Jester King Craft Brewery, located on a ranch in the Texas Hill Country on the outskirts of Austin. The folks behind the brewery have opted out of the "safe and careful approach," deciding instead to brew anything from authentic, oak-aged farmhouse ales made with wild Texas yeast harvested atop the brewery's rooftop, to a European-inspired, porter-colored mild ale, to a monstrous double stout. Not the standard opening lineup of an Amber, a Blonde and a Pale Ale, they instead debuted with an oak-threaded rye IPA called 'Wytchmaker,' and 'Commercial Suicide,' their English Dark Mild Ale, a 3% ABV session brew that drinks like a beer twice its strength. They have a passion for marrying the extreme with poise—which means some of their beers are made using techniques like open fermentation, oak and whisky barrel aging, and bottle-conditioning with wine yeast, or brewed to 10%+ ABV, but remarkably, for extreme domestic craft beers, they remain refined and balanced.
So who are the jokers who decided to setup a farmhouse brewery in the heat of central Texas, making crazy-funky, barrel-aged session beers, with the balls to call their debut beer 'Commercial Suicide?' This court has three jesters: Jeffrey Stuffings, his brother Michael Steffing (who changed his name after researching his family genealogy) and their partner Ron Extract. At the time this newsletter was written, the brewery still hadn't hosted their grand opening (on January 29th, 2011), so when we say these guys are new, we mean it. The beer we've lined up for you was brewed only weeks before you're getting it, and represents a fair amount of the total volume of beer that they've released to date. In fact, it's their first bottling! When we visited them last for a sit-down to review this month's beer, drawn fresh off the fermentation tank, the brewery was still missing a wall or two. The unseasonably cool hill country air that evening meant the jackets we were wearing during our walk from the earthen parking lot to the brewery, where we passed a pair of donkeys, some goats, a cow and a bull (there was no fence separating us, thankfully we hadn't worn red), remained on while "inside" the brewery. The guys are still in the process of constructing the brewery building, by hand. No joke, they've literally built the place themselves. Pretty impressive for a former attorney (Jeffrey), investment banker (Michael) and academic (Ron; not that he doesn't remain an academic, mind you).
"So how old is this building?" we asked.
"We built it a few months ago from salvaged materials" replied Michael, the host during our visit.
"And the electrical wiring?"
"That was pretty much us too…" Michael replied, as though he recognized we were slightly concerned about the open electrical box located next to the unfinished wall that was still open to the elements.
It's definitely a work in progress, but their efforts thus far would earn them praise from any hardened Texan country folk for building the brewery themselves (even if they use it to make some seriously "weird" beer, by local standards).
The Jester King brand may be in its infancy, but it's already truly artisanal. Local artist Josh Cockrell, who actually has been at the brewery on each of our three visits, giving tours, sterilizing something, filling kegs, rolling barrels—whatever's needed at the time—designed their label artwork, brewery logos, and tap handles. We found a couple when we were in Austin checking out the local better beer scene, and these handles are truly works of art (you can find images on the Jester King blog). The satyr's in the details, as they say. Ok, no one says that, but we're saying it now, because we love the attention to detail, the passionate commitment to unleashing unconventional beers on the marketplace, the artisanship, the risk-taking, the do-it-yourselfism, the saying-eff-you-to-the-man-and-quitting-your-day-job-ery, the brewing prowess shown by these homebrewers turned pro, the will to experiment, the drive to source and use local, organic ingredients and harvested rainwater, and the fact that you have to tango with livestock to pay 'em a visit.
For more info on the brewery, check out their website jesterkingbrewery.com, or the Jester King Facebook page—let the overstimulation commence!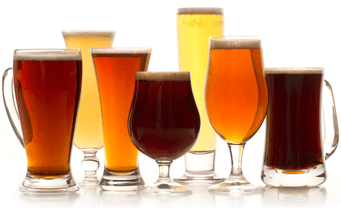 Unmatched Variety by style, brewery & country
Choose from Five different Beer Clubs offering unmatched variety by brewery,
country of origin, and beer style to suit your specific tastes.
DISCOVER OUR FIVE CLUBS