Jolly Pumpkin Artisan Ales - Bam Noire
ABV:

4.3%

Int'l Bittering Units (IBUs):

24
What's in a name anyway?
My favorite comment made upon hearing our moniker, Jolly Pumpkin Artisan Ales was: "You really ought to think about hiring one of those marketing companies. They can come up with names for you and everything. Is it too late to change?"
Jolly Pumpkin Artisan Ales . Seems people either love it or don't understand it. People always ask about the name, asking "where did it come from?" I usually just put a finger to my temple, smile, and sanguinely state "I have a very strange brain."
And then I tell this story:
The name bubbled forth years ago on a warm spring afternoon. It was one of those rare sunny March Michigan days, the kind that seems much warmer than March really has any right to be. Small piles of snow still dotted the yard as my wife and I sat on the patio in our shirtsleeves. Sipping beers and enjoying the sun on our faces after the long dark, cold Michigan winter. After firming up our business plan for months, the dream had finally evolved enough to need a name. So we sat, pen and paper in hand, brainstorming, smiling and laughing.
Many great names came forth that afternoon, but as the weeks passed, and spring finally sprung, the name that always made us smile was Jolly Pumpkin. It encompassed everything we wanted to express about our brewery. Fun and quirky, all that needed adding were the last two words; "Artisan Ales", the description of the brewery's products and mission; The creation of fantastic beers of truly outstanding artisan quality. Maintaining traditional small scale production, keeping beer a beverage of both outstanding complexity and simplicity, this would be our laudable goal. Complexity of flavor, simplicity of ingredient and process. This duality was perfectly balanced in the name. Simple and complex. Complex yet simple.
To our delight with our wonderful new found name we were able to combine some very fun and exciting images:
Everyone's favorite holiday; Halloween (Who doesn't enjoy the grinning Jack O' Lantern?)
Everyone's favorite Halloween costume; the pirate!
Some of my favorite locations; the tropics!
And my two nicknames: Brewmaster Spooky, and Captain Ron
And hence was born the strange name by the brewer with the dedication to rustic county beers!
With much aloha from my family to yours,
Ron Jeffries, Brewmaster
Dark, smooth, delicious. Aromas of worn leather and cool autumn nights. Notes of sweet plum and toasted raisin, hints of coffee and cacao. Lingering tart and refreshing finish. Only available for a few short months. Not to be missed.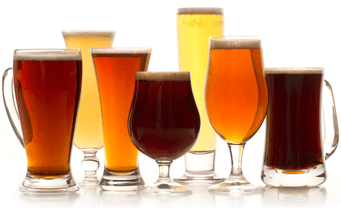 Unmatched Variety by style, brewery & country
Choose from Five different Beer Clubs offering unmatched variety by brewery,
country of origin, and beer style to suit your specific tastes.
DISCOVER OUR FIVE CLUBS