Jolly Pumpkin Artisan Ales - El Pastor (Rare Beer Club Exclusive)
ABV:

9.8%

Bottle Size:

750-ml

Int'l Bittering Units (IBUs):

35

Serving Temperature:

42–49° F

Suggested Glassware:

Tulip, Chalice, or Chardonnay Glass

Malts:

pilsner malt, wheat malt, rye malt, oat malt, Vienna malt, crystal rye, roasted wheat

Hops:

Perle, Strisselspalt, Vanguard
One of our two featured beers this month is a Rare Beer Club exclusive from our friends at Jolly Pumpkin: the delicious El Pastor. This release will be available exclusively through the club and the brewery's tasting room. El Pastor (roughly translating to "the shepherd") is a tribute beer to a very valuable member of our early beer club team: Murl.
Murl was an Australian Shepherd, and he served as a furry, tireless columnist for the club for years, providing members advice on beer and cigars, as well as invaluable tangents and not always super-relevant rants. The beer club was founded in July of 1994, with the first shipment going out in December of that year. Club founder Kris Calef has a sister Annie who's been a graphic artist for 30+ years, and she did a lot of free layout and promotional work for the club in the early years, even helping with the festival circuit in the early days. At one of the fests, Kris asked her what he could do to thank her for all the things she'd done. Half-jokingly Annie replied, "Well, you could give my dog Murl a column in your newsletter."
Murl started right around 1996, and a photo of Murl in sunglasses or, say, a Santa Claus hat, depending on the season, would become a regular fixture in club newsletters for years. Murl answered readers' questions with a healthy mixture of knowledge and sass. He was a beloved companion, whose wisdom seemed to surpass his 16 years on this earth.
Murl, this beer is for you. We miss you, boy. El Pastor's label shows Murl at his writing desk, writing to his friend Bam, the fearless Jack Russell to whom a number of Jolly Pumpkin beers pay tribute. And, finally, the tentacles are a nod of respect to Adam Forman, who was the label artist of Jolly Pumpkin for many years and often featured them in his work.
This tribute beer to our shepherd, El Pastor, is a wild rye tripel ale brewed and barrel-aged in fresh California Chardonnay oak barrels, for a period of 17 months. Perle, Strisselspalt, and Vanguard hops contribute to a healthy 35 IBUs of bitterness. And the ABV reaches almost 10%, incorporating pilsner malt, wheat malt, rye malt, oat malt, Vienna malt, crystal rye, and roasted wheat. The final outcome is a vibrant sour ale with the depths of a Flanders red.
El Pastor pours a deep copper color with reddish hues, capped by a modest foam. Generous aromatics of tart cherries, warming spice and oak, and subtle Chardonnay lead. This presents a number of qualities conjuring the Flanders red style: the firm presence of cherries and ripe red fruits, an edge of lean citrusy tartness, just a touch of under underlying caramelization… From the initial pour, it's a lean, mouthwatering sour ale with some surprising depths.
In the first sip, one finds well-detailed cherries, currant and blackberry notes—a bright show of fruit that's well met alongside notes of spiced wine and oak, rounded caramel, and a toasty almond texture. The cherry notes keep going, from ripe bing cherries to the almondy aspects of cherry pits. An exceptionally satisfying fruit character. The rye addition presents itself as a spicy underpinning note, while the complex fermentation and barrel characteristics continue to expand as this warms. A beautifully detailed release from Jolly Pumpkin, laden with bright red fruits and rounded barrel influences.
This is feeling quite fresh and vibrant at the moment and (particularly given the ABV) we expect this to continue to develop nicely over the next couple years. For food pairings, we're inclined to try this with buttery seafood: lobster, or mussels and frites.
This month we're proud to bring you a very special beer brewed exclusively for members of The Rare Beer Club by one of our favorite breweries, Jolly Pumpkin, and its founder and brewer, our friend Ron Jeffries. This is one of a number of Jolly Pumpkin exclusives that we've had the pleasure of featuring in recent years; others include Los Vivos y Los Muertos in 2014, Rosie del Barrio in 2016, L'épouvantail Noir in 2017, and The Regifted in 2018—all exceptional releases that captured our favorite aspects of this brewery. This latest exclusive is definitely a standout—a brightly expressed, potent rye tripel that's spent 17 months inside of fresh California Chardonnay oak barrels. It's also a tribute to Murl—the lovable Australian Shepherd who was a key member of our team early on. For years, as some of you will recall, Murl served as the tireless columnist of our beer and cigar club newsletters.
Approaching the nondescript structure that houses the Jolly Pumpkin Artisan Ales brewery, you might think the place looks more like a defunct paper products warehouse than a world-class brewery. But step inside and not only will you find shiny brewing equipment, you'll also encounter row upon row of wooden barrels in which beer of various ages, blends and funk-levels is maturing. The brewery performs barrel aging on all of the Jolly Pumpkin beers. The time, labor and expense required to age every ounce of beer they make in traditional wooden barrels, is, some would say, madness. But it's what breeds their awesome array of truly distinctive beers. Well, that and open fermentation, meaning that the yeast are left to work their magic in a container that's left wide open—instead of being inside a closed stainless steel tank. This means that any wild yeast floating about in the air can get into the beer and apply a bit of their own natural funk to the flavor of the beer. Talk about personalization—the combination of open fermentation and barrel aging is not only artisanal brewing, it's an additional element of the art of brewing that has largely disappeared from the craft. Sure, barrel aging has become increasingly popular among craft brewers and beer geeks, but as a proportion of the overall amount of beer produced in the U.S., few people are doing it, and fewer do it as well as Jolly Pumpkin. JP takes it a step further by even fermenting its beers in wood before aging them further—a risky process when it comes to consistency and quality control, but founder and brewer Ron Jeffries somehow manages to pull it off beautifully.
Ron has steered Jolly Pumpkin Artisan Ales since 2004, and the brewery currently operates under the Northern United Brewing Company. Visitors to Jolly Pumpkin's main brewery in Dexter, Michigan can tour the 50-barrel brewhouse that houses both Jolly Pumpkin and the non-wild-fermented beers of North Peak Brewing Co., which are also made on site (though kept well separated from Jolly Pumpkin's funky operations). For the latest info on setting up a tour, or for visiting one of the Jolly Pumpkin brewpubs in Michigan or Chicago, head over to their website at brewery.jollypumpkin.com for more info.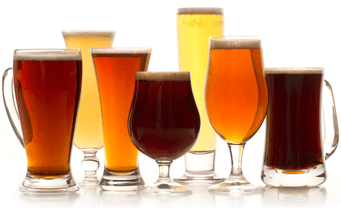 Unmatched Variety by style, brewery & country
Choose from Five different Beer Clubs offering unmatched variety by brewery,
country of origin, and beer style to suit your specific tastes.
DISCOVER OUR FIVE CLUBS