Jolly Pumpkin Artisan Ales - Flor De Los Muertos
ABV:

4.6%

Bottle Size:

750-ml

Serving Temperature:

42–49° F

Suggested Glassware:

Chalice, Tulip, Nonic, or Chardonnay Glass
This month we're pleased to share with our Rare Beer Club members another exclusive beer created especially for the club: a Day-of-the-Dead-themed grisette from the fine folks at Jolly Pumpkin Artisan Ales. As the brewery explains it: "During Day of the Dead, marigolds are placed on the graves of lost loved ones, and it is believed that the flower's vibrant colors and powerful scents will lure souls back from the dead to the land of the living." This incredibly sessionable grisette is brewed with lime and dried marigold flower, creating an exceptionally unique take on the rare grisette style. This is one of our favorite Jolly Pumpkin beers we've ever featured—and that's with a lot of strong competition over the past ten or so years.
Flor De Los Muertos is brewed in the style of a historical grisette, which traces its origins to Belgium's Hainaut province. Nicely dry, citrusy, lean, and effortlessly drinkable, grisettes are often considered to be a subset of the larger saison category of farmhouse-style ales: initially brewed during the winter, to be drank by seasonal laborers the following summer. One key distinction was that saisons were historically aligned with farming operations, while grisettes were brewed for mine workers. (Learn more at www.allagash.com/blog/what-is-a-grisette/.)
Jolly Pumpkin's Flor De Los Muertos pours a pale golden-straw color capped by some well-formed white foam, showing excellent retention and lacing that lingers in one's glass. Initial aromatics lead with vibrant citrus and a crisp mineral character, hinting at Pinot Grigio or a mineral-driven Sancerre. We found ripe fruits throughout, from a plump grape presence to lime and lemon zest, along with a hint of sulfur that's mostly textural and works well in this type of beer, slightly enhancing that perception of mineral character. Touches of marigold.
This grisette emphasizes that gin-and-tonic vibrancy from first sip, with that emphasis on its lime and botanical additions. Very refreshing, exceptionally flavorful beer at 4.6% ABV. The overall tartness is subtle in this beer right now and should increase in lemony presence with a bit of time in the bottle. We found this grisette from Jolly Pumpkin to be effortlessly lush, as hints of oaky chardonnay and honeyed earthiness provide secondary notes. Hugely crisp. A fresh, constant wedge of lime. Hints of coconut. We found so much to love about this beer, and look forward to getting one of our now all-time-favorite grisettes out to club members.
Given the lighter ABV on this, we'd encourage folks to drink this within the first six months or so, or at least occasionally sample a bottle if you plan on cellaring this. We also expect the impacts of the lime and marigold to be most pronounced early on. For food pairings, look to starter courses and lighter fare to match the impact of the beer: fresh goat cheese paired with seeded crackers, or seasonal salads involving a floral component.
This month we're proud to bring you a very special beer brewed exclusively for members of The Rare Beer Club by one of our favorite breweries, Jolly Pumpkin, and its founder and brewer, our friend Ron Jeffries. This is one of a number of Jolly Pumpkin exclusives that we've had the pleasure of featuring in recent years; others include Los Vivos y Los Muertos in 2014, Rosie del Barrio in 2016, L'épouvantail Noir in 2017, The Regifted in 2018, and El Pastor in 2020—all exceptional releases that captured our favorite aspects of this brewery. This latest exclusive is definitely a standout—an exceptional farmhouse-style grisette made with lime and dried marigold flowers. This grisette takes its inspiration from the Mexican holiday Day of the Dead/Dia de Los Muertos, where marigolds are often traditionally placed upon the graves of lost loved ones. It was believed that the bold color and fragrance of the flowers would be enough to lure souls back from the dead. (No promises on recovering any actual lost souls with this beer—but you never know.)
Approaching the nondescript structure that houses the Jolly Pumpkin Artisan Ales brewery, you might think the place looks more like a defunct paper products warehouse than a world-class brewery. But step inside and not only will you find shiny brewing equipment, you'll also encounter row upon row of wooden barrels in which beer of various ages, blends and funk-levels is maturing. The brewery performs barrel aging on all of the Jolly Pumpkin beers. The time, labor and expense required to age every ounce of beer they make in traditional wooden barrels, is, some would say, madness. But it's what breeds their awesome array of truly distinctive beers. Well, that and open fermentation, meaning that the yeast are left to work their magic in a container that's left wide open—instead of being inside a closed stainless steel tank. This means that any wild yeast floating about in the air can get into the beer and apply a bit of their own natural funk to the flavor of the beer. Talk about personalization—the combination of open fermentation and barrel aging is not only artisanal brewing, it's an additional element of the art of brewing that has largely disappeared from the craft. Sure, barrel aging has become increasingly popular among craft brewers and beer geeks, but, looking at the overall landscape of beer being produced in the U.S., relatively few breweries are focusing on barrel-aged beer production, and even fewer do it nearly as well as Jolly Pumpkin. JP takes the process a step further by fermenting its beers in wood before aging them further—a risky choice when it comes to consistency and quality control, but founder and brewer Ron Jeffries somehow manages to pull it off beautifully.
Ron has steered Jolly Pumpkin Artisan Ales since 2004, and the brewery currently operates under the Northern United Brewing Company. Visitors to Jolly Pumpkin's main brewery in Dexter, Michigan can tour the 50-barrel brewhouse that houses both Jolly Pumpkin and the non-wild-fermented beers of North Peak Brewing Co., which are also made on site (though kept well separated from Jolly Pumpkin's funky operations). For the latest info on setting up a tour, or for visiting one of the Jolly Pumpkin brewpubs in Michigan or Chicago, head over to their website at brewery.jollypumpkin.com for more info.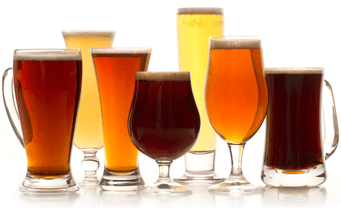 Unmatched Variety by style, brewery & country
Choose from Five different Beer Clubs offering unmatched variety by brewery,
country of origin, and beer style to suit your specific tastes.
DISCOVER OUR FIVE CLUBS