Jolly Pumpkin Artisan Ales - L'épouvantail Noir
ABV:

6.9%

Serving Temperature:

45–54° F

Suggested Glassware:

Tulip, Goblet or Pinot Glass

We're excited to be able to offer this release from the folks at Jolly Pumpkin as a Rare Beer Club exclusive. L'épouvantail Noir, an oaked saison with blackberries and pumpkin, is being made especially for our club members and will only be available through The Rare Beer Club and the brewery's tasting room. We've had a longstanding friendship with the folks at Jolly Pumpkin, and we're grateful for the spirited and delicious beers they've contributed to our club over the years. L'épouvantail Noir proves juicy, brilliantly tart, and hugely refreshing.
L'épouvantail Noir pours very much like a lambic in certain key ways—bracing tartness, at times, zesty core citruses and salinity—such that this is probably suited for a flute or lambic tumbler just as easily. This is deep and honeyed golden to its core, softly hazed and topped by sturdy white foam. Resilient lacing, though it doesn't quite coat the glass. Overall: this is vibrant, already boldly aromatic, and approximately hued between a lambic and an IPA.
The generous aromatics are led by tangerine, tart lemons and a touch of lambic-like salinity, the hint of aged cheese. The focus is brightly citrus-forward, packed with grapefruits, bitter orange and a subtle edging of funk. As we've noted elsewhere, there's a particular clarity to this beer that kept drawing us in: engaging levels of lemony tartness, a fresh-squeezed fruit character, soft supporting roles of blackberry and oak. The aroma of L'épouvantail Noir is mouthwatering, layered with intricate fruit dimensions, and hints at everything good ahead.
While there's potent sourness promised by the aroma, what we found most impressive about this beer was the degree to which it opens up into a soft, plush saison with just a bit of time in the glass. Vibrant bubbles lend an effervescent texture without things feeling fizzy, and an engaging level of lemony tartness lands time and again. It's hard to avoid a few comparisons to lambic, and that experience of bracing, lemony tartness and a complex sour core is, by all means, well met here, the oak-aging adding some modest tannin structure along with vanilla and almond. Both the pumpkin and blackberry additions keep to secondary roles behind the complex yeast character of this saison, but the blackberries come through with a nice aspect of dark-berry character alongside the vanilla and citrus; the pumpkin aspect is quite subtle, a bit more present near the finish than on the initial impact. Oak-aged saison remains the key focus of this beer: rustic, toasty underpinnings with boldly tart citrus and peppery yeast. It's one of our favorite Jolly Pumpkin beers to date, and a hugely flexible option for pairings.
As far as cellaring potential, L'épouvantail Noir's acidity should give it a bit of durability, but we're also big fans of this one fresh. Keep an eye on aging bottles. That core of bright citrus has us inclined to summery salads or seafood—but there's also a part of us that's inclined to check this out with some tangy pork barbecue. Well situated for a charcuterie plate, for sure.
This month we're proud to bring you a very special beer brewed exclusively for members of The Rare Beer Club by one of our favorite breweries, Jolly Pumpkin, and its founder and brewer, our friend Ron Jeffries. This is one of a number of Jolly Pumpkin exclusives that we've had the pleasure of featuring in recent years; others include Lúpulo de Hielo in 2011, Los Vivos y Los Muertos in 2014, and Rosie del Barrio in 2016—all of which were delicious releases. For us, this is a truly special one, and one of the best and brightest expressions we've encountered from Jolly Pumpkin to date. It's potent, mouthwatering oak-aged beer.
While a pumpkin beer (a Jolly Pumpkin pumpkin beer, to be precise), expect a boldly tart, fruit-driven saison rather than spice.
Approaching the nondescript structure that houses the Jolly Pumpkin Artisan Ales brewery, you might think the place looks more like a defunct paper products warehouse than a world-class brewery. But step inside and not only will you find shiny brewing equipment, you'll also encounter row upon row of wooden barrels in which beer of various ages, blends and funk-levels is maturing. The brewery performs barrel aging on all of its beers. The time, labor and expense required to age every ounce of beer they make in traditional wooden barrels, is, some would say, madness. But it's what breeds their awesome array of truly distinctive beers. Well, that and open fermentation, meaning that the yeast are left to work their magic in a container that's left wide open—instead of being inside a closed stainless steel tank. This means that any wild yeast floating about in the air can get into the beer and apply a bit of their own "natural funk" to the flavor of the beer. Talk about personalization—the combination of open fermentation and barrel aging is not only artisanal brewing, it's an additional element of the art of brewing that has largely disappeared from the craft. Sure, barrel aging has become increasingly popular among craft brewers and beer geeks, but as a proportion of the overall amount of beer produced in the U.S., few people are doing it, and fewer do it as well as Jolly Pumpkin. JP takes it a step further by even fermenting its beers in wood before aging them in cask—a risky process when it comes to consistency and quality control, but founder and brewer Ron Jeffries somehow manages to pull it off beautifully.
Ron runs Jolly Pumpkin Artisan Ales along with wife, Laurie, and son Daemon. They've been a family brewery since 2004, and an international sensation since shortly thereafter. Check out brewery.jollypumpkin.com for more information about this impressive brewery from Michigan, including what's behind their unusual name.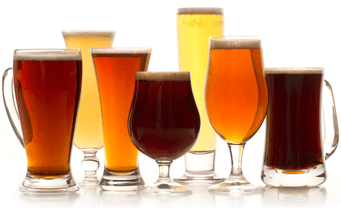 Unmatched Variety by style, brewery & country
Choose from Five different Beer Clubs offering unmatched variety by brewery,
country of origin, and beer style to suit your specific tastes.
DISCOVER OUR FIVE CLUBS