Jolly Pumpkin Artisan Ales - Rosie del Barrio
Alcohol by Volume:

8.2%

Serving Temperature:

52–60° F

Suggested Glassware:

Tulip or Pinot Glass

This is a special offering for us, and was made with the great folks at Jolly Pumpkin Artisan Ales as a tribute to a departed furry friend of The Rare Beer Club's owner, Kris Calef. Rosie was his 19-year old Maine Coon cat that passed this last October. Kris' words: "We wanted to make a big and unique red ale to match his personality and have the beer community and our customers name the beer. The people chose Rosie del Barrio, loosely translated to Rosie in the hood, which is pretty appropriate as he always pretty much made himself at home in my neighbors' houses and was always largely considered a neighborhood cat." As you might have figured, this beer is being offered exclusively via The Rare Beer Club.
Be sure to check out the label design on this one, showing Rosie in his natural state of being, jumping from roof to roof. The artwork is from Adam Forman, the label wizard behind Jolly Pumpkin's labels and a longtime friend of Ron and Laurie Jeffries at the brewery. We couldn't be more happy with the label art (Kris mentioned it reminds him of their old neighborhood).
We also couldn't be any more pleased with how the tribute beer inside turned out. There's a brilliant lemon-cherry vibrancy in the aromatics, and the charismatic house yeast character of Jolly Pumpkin appears as peppery, crackling, and laden with tree fruit. We're already looking forward to seeing how bottles of this will develop with some additional time inside the cellar. It's a mouthwatering, lightly tart wild ale with a hint of oak—and a perfect tribute for Rosie.
Digging a little deeper into the aroma, that lean white-pepper note along with subtle toasted oak serve to steer things, while fruity tartness (from red berries to plum and peach) serves to lift from underneath. One catches elements of pear and weighter spices, just accenting that oak-tinged amber wild ale that's the core of everything here. Rustic, running from earthy to fresh-squeezed pomelo, the complex start from Rosie del Barrio makes you want to dive in.
And the beer does nothing but satisfy that promise completely. This feels effortlessly juicy and weightless, with the lemony brightness on the tart side feeling seamless beside vanillas and warming oak from the wood contributions. The amber touches of this beer never veer into caramelized territory, with the closest thing being fresh berries—as this feels just super lean, with that Jolly Pumpkin yeast character taking over. (As it should!) The carbonation is on point, allowing free exploration of all that complexity without prickly bubbles or excess fizz. One of our favorite Jolly Pumpkin beers in memory, and a tribute beer brimming with life and zest and intrigue. If you're feeling generous, do pour a little out for Rosie.
As noted above: we're looking forward to seeing how this develops in the future. For pairing options, look into funkier, washed-rind cheeses, or baked fish to play off that oak and citrus.
This month we're proud to bring you a very special beer brewed exclusively for members of The Rare Beer Club by one of our favorite breweries, Jolly Pumpkin, and its founder and brewer, our friend Ron Jeffries. This is one of a number of Jolly Pumpkin exclusives that we've had the pleasure of featuring in recent years, others including Bière de Goord in 2010, Lúpulo de Hielo in 2011, Los Vivos y Los Muertos in 2014 – all of which were really superb efforts. For us, this is a particularly special release. More of that elsewhere in the newsletter.
Approaching the nondescript structure that houses the Jolly Pumpkin Artisan Ales brewery, you might think the place looks more like a defunct paper products warehouse than a world class brewery. But step inside and not only will you find shiny brewing equipment, you'll encounter row upon row of wooden barrels in which beer of various ages, blends and funk-levels is maturing. The brewery performs barrel aging on all of its beers. The time, labor and expense required to age every ounce of beer they make in traditional wooden barrels, is, some would say, madness. But it's what breeds their awesome array of truly distinctive beers. Well, that and open fermentation, meaning the yeast are left to work their magic in a container that's left wide open—instead of being inside a closed stainless steel tank. This means that any wild yeast floating about in the air can get into the beer and apply a bit of their own "natural funk" to the flavor of the beer. Talk about personalization—the combination of open fermentation and barrel aging is not only artisanal brewing, it's an additional element of the art of brewing that has largely disappeared from the craft. Sure, barrel aging has become increasingly popular among craft brewers and beer geeks, but as a proportion of the overall amount of beer produced in the US, few people are doing it, and fewer do it as well as Jolly Pumpkin. JP takes it a step further by even fermenting its beers in wood before aging them in cask – a risky process when it comes to consistency and quality control, but founder and brewer Ron Jeffries somehow manages to pull it off.
Ron runs Jolly Pumpkin Artisan Ales along with wife, Laurie, and son Daemon. They've been a family brewery since 2004, and an international sensation since shortly thereafter. Check out www.jollypumpkin.com for more information about this impressive little brewery from Michigan, including what's behind their unusual name.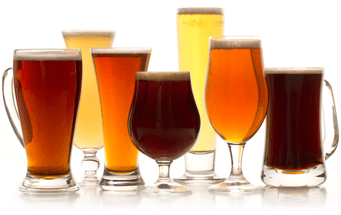 Unmatched Variety by style, brewery & country
Choose from Five different Beer Clubs offering unmatched variety by brewery,
country of origin, and beer style to suit your specific tastes.
DISCOVER OUR FIVE CLUBS