Jolly Pumpkin Artisan Ales - The Regifted
ABV:

7%

Bottle Size:

750-ml

Serving Temperature:

50–57° F

Suggested Glassware:

Tulip, Teku or Chardonnay Glass
We're really pumped to be able to get to offer this one as a Rare Beer Club exclusive. Jolly Pumpkin Artisan Ale's The Regifted is specially built for the holidays: it's inspired by rum-soaked fruitcake, and (though it includes no rum or rum-barrel aging!) this Jolly Pumpkin-esque riff on fruitcake is a beautifully constructed oak-aged sour ale with a slew of special additions. It incorporates dates, raisins, cherries, blackberries, passion fruit and ginger—creating a vibrant, refreshing sour ale with undertones suggesting both fruitcake and bubbly, spiked holiday fruit punch. While true to Jolly Pumpkin's vibe, it's definitely a unique release.
The fruitcake comparisons are quite strong in terms of how this beer's constructed and all of the special ingredients incorporated, but the actual similarities to fruitcake—particularly as it comes to heft and sweetness—are modest. This is refreshing, boldly packed with ripe fruits, and the parallels are a lot more fun if you're not expecting a glass of fruitcake. This pours a pulpy, pink grapefruit capped by a modestly formed off-white head, with modest retention. There's a hazed, juicy, farmhouse-ale aspect to this that's continually reminding us of holiday punches, given the combo of holiday overtones and a zesty front of fruit contributions.
The aromatics are led by forward tartness and citruses, headed by lemon and grapefruit, with some refreshing tropical notes of fresh-squeezed lime and passion fruit. The tart citruses are quite clean with just a touch of saltiness—very mild on the funk front—as this seems pretty streamlined as far as the Jolly Pumpkin spectrum goes. The ginger additions provide a great spicy component to push back against the fruit, while those darker, rounder, deeper notes of raisins and dates come through in the aroma a bit more clearly after this one warms up a bit.
For a holiday-themed special release, we kept coming back to how refreshing this beer is. It's got a beautifully executed fruit-melange impact that fully expresses itself with a bit more time in the glass: pulpy, plush berry-like tones of the cherries and blackberries leading beside all the tart citruses, while the ginger provides subtle spicy heat along the edges. The ginger's not necessarily obvious, but it does crucial work in terms of getting the feel of this beer exactly right. There's also the rich dark-fruit component coming through courtesy of the raisins and dates: perhaps the most fruitcake-like impacts you'll notice in this beer, but they add a ton of depth that works alongside the more nimble citrus and fresh berry notes. If firmly fruitcake-inspired, this is a fruit-forward holiday release that definitely heads off in its own direction.
Given the theming, we're definitely inclined to enjoy this one around the winter holidays. As such, a year or more will likely shift this beer's profile quite a bit, and much of the most fresh aspects of the special additions will fade somewhat quickly. We'd pop bottles early. As far as food pairings, remove the fruitcake mindset from the equation and work with the core notes here: vibrant citruses and deeper fruits, bold tartness and those ginger undertones. We'd put it alongside roasted chicken and turkey, or try it out alongside some creamy cheese options.
This month we're proud to bring you a very special beer brewed exclusively for members of The Rare Beer Club by one of our favorite breweries, Jolly Pumpkin, and its founder and brewer, our friend Ron Jeffries. This is one of a number of Jolly Pumpkin exclusives that we've had the pleasure of featuring in recent years; others include Los Vivos y Los Muertos in 2014, Rosie del Barrio in 2016, and L'épouvantail Noir in 2017—all delicious releases. For us, this is a standout—one of the best, brightest expressions we've encountered from Jolly Pumpkin to date. It's potent, mouthwatering, oak-aged beer that's built for the holidays.
Approaching the nondescript structure that houses the Jolly Pumpkin Artisan Ales brewery, you might think the place looks more like a defunct paper products warehouse than a world-class brewery. But step inside and not only will you find shiny brewing equipment, you'll also encounter row upon row of wooden barrels in which beer of various ages, blends and funk-levels is maturing. The brewery performs barrel aging on all of its beers. The time, labor and expense required to age every ounce of beer they make in traditional wooden barrels, is, some would say, madness. But it's what breeds their awesome array of truly distinctive beers. Well, that and open fermentation, meaning that the yeast are left to work their magic in a container that's left wide open—instead of being inside a closed stainless steel tank. This means that any wild yeast floating about in the air can get into the beer and apply a bit of their own "natural funk" to the flavor of the beer. Talk about personalization—the combination of open fermentation and barrel aging is not only artisanal brewing, it's an additional element of the art of brewing that has largely disappeared from the craft. Sure, barrel aging has become increasingly popular among craft brewers and beer geeks, but as a proportion of the overall amount of beer produced in the U.S., few people are doing it, and fewer do it as well as Jolly Pumpkin. JP takes it a step further by even fermenting its beers in wood before aging them in cask—a risky process when it comes to consistency and quality control, but founder and brewer Ron Jeffries somehow manages to pull it off beautifully.
Ron runs Jolly Pumpkin Artisan Ales along with wife, Laurie, and son, Daemon. They've been a family brewery since 2004, and an international sensation since shortly thereafter. Check out brewery.jollypumpkin.com for more information about this impressive brewery from Michigan, including what's behind their unusual name.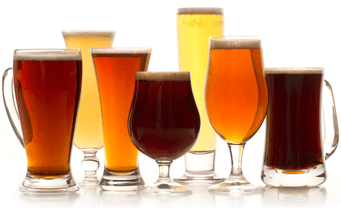 Unmatched Variety by style, brewery & country
Choose from Five different Beer Clubs offering unmatched variety by brewery,
country of origin, and beer style to suit your specific tastes.
DISCOVER OUR FIVE CLUBS