Jolly Pumpkin Artisan Ales - Ursae Majoris
ABV:

7.2%

Serving Temperature:

52–59° F

Suggested Glassware:

Tulip or Pinot Glass
"Behold our latest Rare Beer Club beer! Ursae Majoris, a sour brown ale of the oud bruin persuasion. You're probably thinking, why, they must like those guys a bunch; they seem to brew a beer for them every year or two. And you'd be right. We do! This beer is a blend of three batches of varying ages, refermented in the bottle for added complexity, and released for the Rare Beer Club's 21st anniversary." –Ursae Majoris label
We're longtime fans of the work of Ron Jeffries and company over at Jolly Pumpkin, and we managed to secure an exclusive release from JP for this month's Rare Beer Club offer. This oud bruin was blended just for our members, and we've been looking forward to releasing it out into the wild for a while now. It ended up being one of the best sours we've had in quite some time—which is saying something given how many pass through our tasting panels.
The tart, generous aromatics on this just spill out of the glass… But one thing at a time. This pours golden along the edges, like liquid honey, while the core color veers more towards rich mahogany and, of course, leather-bound books. We're fancy people, despite what our lovely significant others say, and this is, by all appearances, a fancy friggin beer: pulpy, honey hued, with lots of vibrant color variation from edge to center. We poured this into Pinot stemware, just fancy enough, and reminded ourselves that we're likely normal people who happen to be surrounded by abnormally good beer. An off-white head caps things, forming a quarter-inch foam before subsiding to reveal the color shift beneath. Modest lacing. A welcome haze.
The aroma on this is just stellar (Ursa Major pun intended; our apologies). And it gets better as this is allowed to warm up further. Intense, ripe fruit opens up to offer almond and oak. Notes of ripe peaches, apricots and limes are met by tart bing cherries and a mouthwatering, citrusy zest. Sturdy elements of toasty oak, woody spice and white pepper round things out.
It's hard not to continually go back to the nose on this, but the flavor follows suit in both its complexity and overall execution. Fresh, modestly sour red fruits (strawberries, cherries and apple) impact first, making the mouth water and establishing it as an ideal aperitif that won't overpower the palate as an opening beer—at least not in terms of puckering sourness. You'll want a fresh palate to dig into everything that's here: the tart opening followed by even fuller notes of light caramel, leather, and just the hint of tobacco (from the barrel, pepper and age). It all goes together beautifully, the fruit elements and that rounded core brought together by those oaky elements: spicy, packed with vanilla and almonds and toast, so perfectly built.
This month we're proud to bring you a very special one-off beer brewed exclusively for members of The Rare Beer Club by one of our favorite breweries, Jolly Pumpkin, and its founder and brewer, our friend Ron Jeffries. This is the fourth Jolly Pumpkin exclusive that we've had the pleasure of featuring in recent years, the others being Bière de Goord in 2010, Lúpulo de Hielo in 2011, and Los Vivos y Los Muertos in 2014 – all of which were really superb efforts. Ron might manage to squirrel away a couple cases of this month's feature, Ursae Majoris, to sell at his brewpubs, but outside of that, this is a beer that is being released solely to members of The Rare Beer Club. Once it's gone, it's gone.
Approaching the nondescript structure that houses the Jolly Pumpkin Artisan Ales brewery, you might think the place looks more like a defunct paper products warehouse than a world class brewery. But step inside and not only will you find shiny brewing equipment, you'll encounter row upon row of wooden barrels in which beer of various ages, blends and funk-levels is maturing. The brewery performs barrel aging on all of its beers. The time, labor and expense required to age every ounce of beer they make in traditional wooden barrels, is, some would say, madness. But it's what breeds their awesome array of truly distinctive beers. Well, that and open fermentation, meaning the yeast are left to work their magic in a container that's left wide open—instead of being inside a closed stainless steel tank. This means that any wild yeast floating about in the air can get into the beer and apply a bit of their own "natural funk" to the flavor of the beer. Talk about personalization—the combination of open fermentation and barrel aging is not only artisanal brewing, it's an additional element of the art of brewing that has largely disappeared from the craft. Sure, barrel aging has become increasingly popular among craft brewers and beer geeks, but as a proportion of the overall amount of beer produced in the US, few people are doing it, and fewer do it as well as Jolly Pumpkin. JP takes it a step further by even fermenting its beers in wood before aging them in cask. A risky process when it comes to consistency and quality control, but founder and brewer Ron Jeffries somehow manages to pull it off.
Ron runs Jolly Pumpkin Artisan Ales along with wife, Laurie, and son Daemon. They've been a family brewery since 2004, and an international sensation since shortly thereafter. Check out www.jollypumpkin.com for more information about this impressive little brewery from Michigan, including what's behind their unusual name.
By Ken Weaver
I just so happened to have a list of space beers. See… I used to live a very different life, such that I've ever since been inclined to try to bring those worlds—science and beer—together whenever possible. Albeit sometimes as random lists I later find in my freelance notebook.
My wife and I met as first-year physics PhD students. Her plan was to be an astronomer. My plan was to be a particle physicist. Basically, a classic love story. Life back then was a mixture of steady deadlines and beer—which suggests it maybe hasn't actually changed all that much after all. We now do very different things, but those core affinities haven't changed much.
Let me tell you: the one thing that gets you through physics grad school is beer.
The curiosities about how the world fits together haven't changed either. After enjoying Jolly Pumpkin's Ursa Major tribute, try some other stellar beers: Mikkeller Black Hole (or their To Øl collab: Betelgeuze), Driftwood's Singularity, anything with Galaxy hops, Half Acre's Galactic Double Daisy Cutter, or, as that list suggests, many others. There's even Ninkasi Ground Control: made with yeast that left Earth's atmosphere. Chill, maybe make a new friend, and follow The Oatmeal's sage advice: drink microbrews and talk about outer space.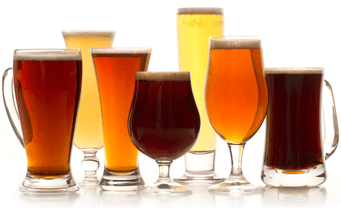 Unmatched Variety by style, brewery & country
Choose from Five different Beer Clubs offering unmatched variety by brewery,
country of origin, and beer style to suit your specific tastes.
DISCOVER OUR FIVE CLUBS