Jopen Bier BV Haarlem - Jopen Koyt
ABV:

8.5%

Serving Temperature:

44–52° F

Suggested Glassware:

Tulip, Goblet, or Pinot Glass

Jopen Koyt is brewed with gruit, a medieval blend of herbs in which sweet gale picked according to ritual was essential. Legend has it that, to avoid its hallucinogenic properties, sweet gale could only be picked at full moon by nude witches. The spicy flavour is highly complex and smooth. This reddish-brown beer is a reproduction of a Haarlem beer and is brewed according to the brewer's statute of 1407.–Brewery notes
This is the first time in seven years that Jopen Koyt's gruitbier will be making it to the States. Our Rare Beer Club members can expect to get this a month in advance of it hitting any U.S. retail shelves, and the total allocation for 2016 is expected to be very light. Also, according to the historical notes above, it might involve naked sorcery. What more could we ask for?
Also: It's delicious.
We've crossed paths with plenty of unhopped gruits that left us wanting more, or at least got us understanding why hops would be historically most welcome to the brewing process. But in this case, we're happy to leave hops behind for a while. Jopen Bier BV Haarlem's Koyt is a masterfully done take on this historic approach, based on an original city recipe from 1407.
This pours a honeyed, golden-brown color, almost with the viscosity and range of color of a rich barleywine (though the flavors and aromas take us in a somewhat different direction). A well-formed tan head inhabits another half inch of the glass: small in bubble size, retained to a considerable degree and leaving behind some mix-bubbled lacing when it finally dissipates. It ultimately has the feeling of barrel wood, or liquid caramel—heading herbal in the aroma.
Those aromatics? Immense, herbaceous… conjuring meadows and the piney forest beyond. You wouldn't necessarily know that all the woodiness, resin and earth came from something other than hops, at least perhaps not at first. There is a clarity that feels like an ESB that's been hitting the gym: supplementary notes of caramel and toffee, subtle fruitiness, stacked herbs. Ripe red fruitiness fills the middle, alongside notes like bright cedar and a sprig of spearmint.
Spend some downtime with this beer. One of the most endearing aspects of Jopen's Koyt is how it develops from the first pour, with the sweetgale (aka bog-myrtle, or myrica gale—the the latter sounding semi-patriotic if you say it right) and other added herbs opening up quite a bit as this warms. Some rounded, caramelized sweetness at the core is kept in check by the lively carbonation and herbal bittering elements, while notes approximating caraway, juniper berries and heather roll forth smoothly, with increasing volume. For the amount of turns we found Koyt taking, it always stays perfectly crisp, minty and generous—never overstepping.
Executive summary: Jopen Koyt is the tastiest gruit we've ever crossed paths with, and we're pretty much incapable of resisting such things. We hope you dig this just as much as we do.
For pairings, we're inclined to play up herb-minded options: roasted chicken or heartier fish, though be careful with any potential clashes or overemphasis on the spice, depending on the main dish's seasoning. The brewery puts a best-before date on these about two years into the future, and we're inclined to see how these develop with at least a bit more time in the cellar.
From the 14th century onwards, Haarlem was a city with a thriving brewing culture. Today Jopen again brews historic beers alongside innovative craft beers in the city centre, in a beautifully restored church, now serving as brewery, pub and restaurant. –Jopen Koyt label notes
We were intrigued by the background story of Jopen—and their beers quickly sealed the deal on every other front. The Jopen Koyt Gruitbier in particular traces its origins back to at least 1407, back when the city of Haarlem was a significant brewing center in the Netherlands and had its products being freighted elsewhere via the Spaarne River. The long period of brewing in the region didn't last forever, though, and the last Haarlem brewery closed back in 1916.
In the 1990s, the Haarlem Beer Society made plans to speed along the recovery of Haarlem's lost brewing heritage—in tandem with Haarlem celebrating its 750th year of existence. Beers were brewed based on recently found recipes dating from 1407 and 1501, and they ended up being pretty excellent. The first of the beers was called Hoppen, based on a 1501 recipe, and this was essentially the official start of an eventual brewery. Their actual brewery in Haarlem, named the Jopenkerk, was eventually opened in November 2010, inside of a former church. This return of Haarlem brewing includes a grand café, restaurant and rectory meeting spaces.
In addition to the Jopen Koyt Gruitbier, these folks are making some pretty lovely stuff. The aforementioned Hoppenbier is a golden reproduction of that hoppy 1501 recipe. There's the Gerstebier, based on a session-strength, bitter ale style popular back in the late 19th century. There's Ongelovige Thomas (Doubting Thomas), a heavyweight hoppy quad. There's also a hoppy wheat: Malle Babbe, showing some weizen clove character, and the expressiveness of Saphir hops. And there's a bunch of other great, earnest beers in the portfolio of Jopen Bier BV Haarlem. We're pretty excited to get the Jopen Koyt headed out to our members, which was for us the current standout of the lineup: an expansive gruit example, endlessly smooth.
by Ken Weaver
Jopen Koyt is admittedly pretty far up there as far as gruits go. But if you're looking for non-hoppy options, there are still a bunch of really excellent examples to be found, showcasing as wide a range of herb additions as you may imagine. Locally we've got Brian Hunt over at the world-class Moonlight Brewing Company creating a variety of herbs-not-hops beers, such as Working for Tips (brewed with redwood tips for bitterness) and Legal Tender (with yarrow, wild rosemary and redwood branches). Check the local folks for an occasional gruit attempt.
Upright Brewing's Special Herbs is their Reggae Junkie gruit aged in Old Tom gin casks, and the result is an effervescent, lemon-lime-forward nectar that's wholly its own thing. One can track it down as an occasional bottled offering, with modest distribution. There's also a 13th Century Grut Bier that's making its rounds in the States, made with bay leaves, ginger, anise, caraway, rosemary and gentian. (Zero clue what gentian is.) Most interesting-seeming include Cigar City's cedar-aged Humidor Series Gruit and a beer named Fleur Desay from De Garde Brewing in Tillamook, OR: sour farmhouse gruit aged in Chardonnay oak barrels, of course.
For the truly gruit grateful, International Gruit Day will be here again on February 1st. Since 2013 it's been pretty much the best time of year to go gruit gathering. Join in via #GruitDay.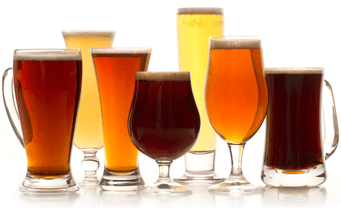 Unmatched Variety by style, brewery & country
Choose from Five different Beer Clubs offering unmatched variety by brewery,
country of origin, and beer style to suit your specific tastes.
DISCOVER OUR FIVE CLUBS