Jopen B.V. & Brouwerij de Molen - Sin & Remorse
ABV:

10%

Bottle Size:

750-ml

Serving Temperature:

52–59° F

Suggested Glassware:

Snifter, Tulip, or Pinot Glass
Sin & Remorse from Jopen and Brouwerij de Molen is a four-grain imperial stout brewed with a multi-grain base featuring traditional English brown malt as well as 38% rye, 24% oats, and a touch of wheat. The combination brings together both the full body that De Molen is known for and the epic amount of grains typically used in Jopen's offerings. We just loved this imperial stout—it's pretty traditional but also super nuanced and unique.
Sin & Remorse pours a super deep, chocolate-brown color, capped by a modest covering of coffee-colored foam. It's a weighty, pretty opaque pour, and head retention's rather modest given the ABV. We poured our samples into snifters, which felt like the best option, as this is absolutely a big beer. Generous amounts of toffee and roast lead in the aromatics, further built out by accompanying malty notes of coffee, brown sugar, and dark chocolates. There's a bit of rye spiciness and oatmeal character as well, hinting at the overall impact of those additional grains. Nicely smooth aroma, with a whole lot going on from first pour.
The immediate impact of this beer is that of a textbook imperial stout: offering up loads of roasted malt and chocolate and coffee, nicely rounded mouthfeel, and a touch of warming alcohol along the perimeter. All the key pieces are there and Sin & Remorse feels, well, a lot more wholesome and satisfying than its name might otherwise suggest. But there's a whole lotta nuance to this beer as you dig in, which is particularly where that many-grain approach of Jopen comes into play. The hefty malted oat addition brings in smoothness along with a nuttiness and oatmeal notes, budging right up alongside the chocolates and coffee from the English brown malt. And that spiciness from the malted rye adds a whole extra dimension to this stout, further building out the core malts. Definitely allow this one to warm up a bit, as some of the secondary notes become more apparent as this approaches ideal temperature.
From start to finish, though, Sin & Remorse keeps super smooth. There's loads of rich malts to dig into in this collaboration beer, and the final result really kind of encourages you to dig in a bit more, carefully avoiding any rougher edges. We really dug this beer, and we hope our Rare Beer Club members find this one as satisfying as we did. Definitely a great one to share over the holidays, but certainly sturdy enough to enjoy some additional time in the cellar.
There seems to be a fair bit of room for this to comfortably develop with some cellar time, so don't be afraid to tuck away a few bottles of this. We found it drinking quite nicely right now. Sin & Remorse will find easy pairing with spicy beef and lamb, and could also go well with desserts focused on chocolate or vanilla. Pretty versatile within traditional stout turf.
From the 14th century onwards, Haarlem was a city with a thriving brewing culture. Today Jopen again brews historic beers alongside innovative craft beers in the city centre, in a beautifully restored church, now serving as brewery, pub and restaurant. –Jopen Koyt
We were intrigued by the background story of Jopen—and their beers quickly sealed the deal on every other front. The Jopen Koyt Gruitbier in particular traces its origins back to at least 1407, back when the city of Haarlem was a significant brewing center in the Netherlands and had its products being freighted elsewhere via the Spaarne River. The long period of brewing in the region didn't last forever, though, and the last Haarlem brewery closed back in 1916.
In the 1990s, the Haarlem Beer Society made plans to speed along the recovery of Haarlem's lost brewing heritage—in tandem with Haarlem celebrating its 750th year of existence. Beers were brewed based on recently found recipes dating from 1407 and 1501, and they ended up being pretty excellent. The first of the beers was called Hoppen, based on a 1501 recipe, and this was essentially the official start of an eventual brewery. Their actual brewery in Haarlem, named the Jopenkerk, was eventually opened in November 2010, inside of a former church. This return of Haarlem brewing includes a grand café, restaurant and rectory meeting spaces.
In addition to the Jopen Koyt Gruitbier, these folks are making some pretty lovely stuff. The aforementioned Hoppenbier is a golden reproduction of that hoppy 1501 recipe. There's the Gerstebier, based on a session-strength, bitter ale style popular back in the late 19th century. There's Ongelovige Thomas (Doubting Thomas), a heavyweight hoppy quad. There's also a hoppy wheat: Malle Babbe, showing some weizen clove character and the expressiveness of Saphir hops. And there's a bunch of other great, earnest beers in the portfolio of Jopen. We snagged enough of their Sin & Remorse, an imperial stout collab with Brouwerij de Molen, and we're pleased to be able to offer it up this month as a Rare Beer Club exclusive.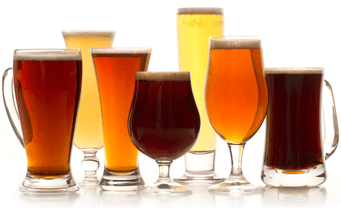 Unmatched Variety by style, brewery & country
Choose from Five different Beer Clubs offering unmatched variety by brewery,
country of origin, and beer style to suit your specific tastes.
DISCOVER OUR FIVE CLUBS