Jopen B.V. - Gritty Young Thing
ABV:

7.5%

Bottle Size:

750-ml

Serving Temperature:

48–55° F

Suggested Glassware:

Tulip, Nonic, or Thistle Glass
In the Middle Ages, prior to the use of hops to add bittering balance to beer, a blend of herbs and spices, called "gruit", was instead used to offset the sweeter flavors produced by malts and grains. Jopen's Gritty Young Thing is a Scottish-style gruit ale that builds off of the successes and lessons learned from creating their exceptional gruit, Jopen Koyt. The mixture of grains used for Gritty Young Thing were chosen to prioritize those that would've been used more often in ancient times: a combination of 40% malted oats, 20% wheat, 20% rye malt, and a modest 20% barley malt, as well as some dark candi sugar. Gruits ultimately serve to highlight their expressive use of herbs, and Gritty Young Thing includes the traditional gale along with star anise and sweet orange. A tiny portion of smoked malt was included to provide an additional layer of texture to this sweeter style, while the 7.5% ABV provides a touch of fruity warmth.
Gritty Young Thing pours a deep amber-brown color capped by well-formed tan foam. The early aromatics bring a generous impact from the herbal special additions, conjuring notes for us like bay leaf, eucalyptus, and freshly peeled orange. The toastiness of the smoked malt provides some welcome structuring bitterness, while the dark specialty malts continue to get more pronounced as this warms, providing toasty caramel and toffee and fluffy wheat. The aromatic gale and star anise keep things focused firmly within an earthy, herbaceous space.
Jopen's latest gruit features a full-bodied mouthfeel that still feels soft courtesy the heavy use of oats and wheat in the grain bill. Vibrant herbal notes and spiciness lead the charge, with a light smoked character and bitter herbaceousness that helps to balance the sweet, full impact of this gruit's core maltiness. Notes of caramel, toastiness, and subtle roast emerge with a bit of time in the glass, and the mixture of wheat malt, oats, and specialty barley malts provide a deep complexity that accentuates the herbal qualities of this beer perfectly. Gruits present an incredible combination of earthy, herbal special additions and core malt complexity that we think's perfectly captured in Jopen's Gritty Young Thing. Toasty, dark malts lead the finish.
Although Gritty Young Thing's a touch lighter in ABV than Jopen Koyt (7.5% vs. 8.5%), the brewery still expects this to be a very interesting beer for aging. We'd keep an eye on things by popping a bottle every six months or so. This herbaceous gruit should pair nicely with smoked salmon, rich stews, potent cheeses, or steamed mussels and frites.
From the 14th century onwards, Haarlem was a city with a thriving brewing culture. Today Jopen again brews historic beers alongside innovative craft beers in the city centre, in a beautifully restored church, now serving as brewery, pub and restaurant. –Jopen Koyt label notes
We were intrigued by the background story of Jopen—and their beers quickly sealed the deal on every other front. Their Jopen Koyt Gruitbier in particular traces its origins back to at least 1407, back when the city of Haarlem was a significant brewing center in the Netherlands and had its products being freighted elsewhere via the Spaarne River. The long period of brewing in the region didn't last forever, though, and the last Haarlem brewery closed back in 1916.
In the 1990s, the Haarlem Beer Society made plans to speed along the recovery of Haarlem's lost brewing heritage—in tandem with Haarlem celebrating its 750th year of existence. Beers were brewed based on recently found recipes dating from 1407 and 1501, and they ended up being pretty excellent. The first of the beers was called Hoppen, based on a 1501 recipe, and this was essentially the official start of an eventual brewery. Their actual brewery in Haarlem, named the Jopenkerk, was eventually opened in November 2010, inside of a former church. This return of Haarlem brewing includes a grand café, restaurant and rectory meeting spaces.
In addition to Jopen Koyt Gruitbier, these folks are making some pretty amazing stuff. The aforementioned Hoppenbier is a golden reproduction of that hoppy 1501 recipe. There's the Gerstebier, based on a session-strength, bitter ale style popular back in the late 19th century. There's Ongelovige Thomas (Doubting Thomas), a heavyweight hoppy quad. There's also a hoppy wheat: Malle Babbe, showing weizen clove character and expressive Saphir hops.
And as one of our two featured Rare Beer Club selections this month, we're pleased to offer Jopen's Gritty Young Thing—a traditionally minded gruit ale that builds on the success of their classic Jopen Koyt, while also showcasing some more traditional grains that would've been used more often than barley back in the day: malted oats, wheat malt, rye malt, and just a touch of smoked barley malt for character. This ale is being imported exclusively for Rare Beer Club members, and we couldn't be more excited. This herbaceous, expressive gruit might be our favorite release by Jopen so far, and we're looking forward to digging into the details on this one. For the latest from the folks at Jopen, head over to their website at jopenbier.nl.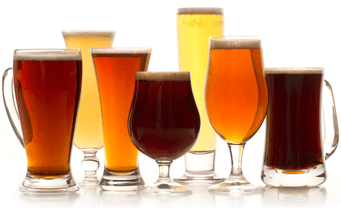 Unmatched Variety by style, brewery & country
Choose from Five different Beer Clubs offering unmatched variety by brewery,
country of origin, and beer style to suit your specific tastes.
DISCOVER OUR FIVE CLUBS