La Choulette Brewery - La Coulette Framboise
ABV:

6.00%

Serving Temperature:

40-45° F

Suggested Glassware:

Flute or Small Tulip
Framboise (pronounced: fram-bwahz) is French for raspberries and is typically associated with "lambic," a style of beer that is traditionally made in the southwest of Brussels, Belgium, where ambient airborne yeast spontaneously ferment the beer in open, lidless vats (no yeast is added by the brewer; the beer is left in an attic space, vents to let in outside air are opened, and fans are turned on—and nature takes its course). This region of Belgium is one of very few in the world where this natural, wild yeast inoculation is possible. La Choulette Framboise is not a lambic; it's a Bière de Garde, France's only indigenous style of beer, with raspberries added. The result is a less tart, but still fruity, beer that delivers the spiciness and drinkability of the Bière de Garde style, with the aroma of fresh-picked fruit. This amber colored beer pours a pink hue with a white, tight-laced head of a slightly pinkish hue. Not surprisingly, it smells like fresh, unwashed berries, complete with the woody notes you get in the stems and pistil remnants (the small hairlike protrusions in the fruit) of fresh-picked raspberries. Look for a slight cranberry note, as well, with a clean malt sweetness. Alcohol is absent from the bouquet, which is surprising given that this is one-and-a-half times the strength of most commercial Belgian framboise beers. By comparison with most commercial lambic-based framboise beers, it's far more subtle and dramatically less sweet, and has very little tart (acidity) character. Expect the berry flavors to taste ripe and very natural—no artificial extracts here! Instead of whacking you over the skull with raspberry notes and cloyingly sweet character, this beer tastes as though it's bathed in raspberries rather than saturated with them. As it warms, a faint chocolate note is detected, giving this beer a great dessert quality. Finishes approachably dry rather than overtly tart, with a raspberry and biscuit fade and faint wood and iron notes. More an experience of "fruit in your beer" than a "fruit beer." Rated "Exceptional" during the 2003 World Beer Championships in Chicago. Whereas more tart examples work nicely with bitter, dark chocolates, this one works quite well with milk chocolate, particularly something with raisins, blueberries, and/or cranberries. Want to elevate a "Chunky" bar to something of gourmet caliber? Pair it with this beer. Or enjoy with a sweet crepe loaded with blueberries.
Translation: La Choulette Brewery (a 'choulette' is the wooden ball used in a European sport, Crosse, popular in the 1800s & described as a cross between golf and field hockey) County: France City: Hordain Regional Locale: Central Northern tip of France, near Lille (about 100 miles north of Paris) Official Language: French How To Say Beer There: Bière (pronounced: b'yaire) Continent: Europe Bière de Garde (meaning "beer for keeping") is the indigenous beer style of France. Similar to Belgium's Saison style, it, too, is a farmhouse ale. Developed in the northern corner of France, near the Belgian border, it was brewed in early spring and kept for drinking in the warmer summer months. Bière de Garde is most often likened to Saison, but indeed there are differences, with the former typically more malt-focused, less spicy, less tart, and often possessing more of a cellar-like mustiness than the wild "horse blanket" character often found in the latter. There are a few artisanal brewers who still brew the style, though it was in danger of complete extinction some years ago. At the dawn of the 20th century, there were nearly 250 breweries making Bière de Garde, but the crushing popularity of lager beers effectively led to an almost whole-scale demise of the farm country brewery style. One very small brewery that has survived (there are fewer than two dozen that remain today) is Brasserie La Choulette, located in Hordain, France. Their beers are critically acclaimed, but what's a bunch of accolades these days—seriously, if Britney Spears can win a Grammy, what's that say about awards? Fortunately, these folks actually have talent, truly deserving the high praise earned by their beers. The brewery dates from 1885, having been in the hands of the current owners, Alain Dhaussy and his wife, Martine, since 1977. Yes, lager beer lust effectively shut it down. Though Alain had studied pharmacy, his grandfather was a brewer and his son a beer wholesaler. It seemed natural to embrace the family tradition and become a brewer himself. An amateur historian, he ultimately brought the brewery back to its roots by returning to the tradition of brewing Bière de Garde, and has since been recognized internationally as producing some of the world's finest examples of this traditional French farmhouse style. The La Choulette beer we've selected for you is a Bière de Garde with a twist (check out the beer review below for more details). Enjoy! For more information about the brewery, check out their website at www.lachoulette.com.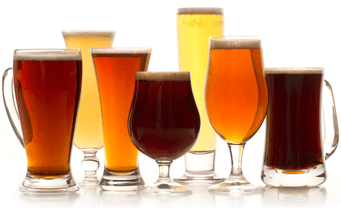 Unmatched Variety by style, brewery & country
Choose from Five different Beer Clubs offering unmatched variety by brewery,
country of origin, and beer style to suit your specific tastes.
DISCOVER OUR FIVE CLUBS